A gardening project provides nutrition and income for men and women in Niger even during the dry season
By Brittany Breedlove, program development officer for Samaritan's Purse Niger
This year, Samaritan's Purse helped establish dry-season gardens in four communities in the region of Tillabery, Niger. The objective was to increase year-round availability of food in times when water is scarce and to improve diversity in the diet.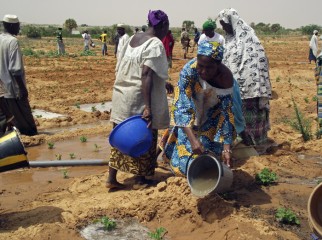 One of these gardens is located in Ayorou-Hausa, where 180 women and 50 men are daily caring for their newly-planted vegetables. Dedicated women and men make the tiresome trek each day to the garden site to water, prune, transplant, and properly care for their precious vegetables.
The women in Ayorou-Hausa are particularly excited about the project because it gives them the opportunity to participate in a new activity that brings both nutritious food and income to their families.
"Before we were just at home sitting around or sleeping," explained Oumou Sidi, a garden beneficiary. "We had no work, and if you don't have work you can't eat."
Hadiza Amadou, an elderly women who has been chosen as a representative of one of the four garden sections, also has been impacted by the project.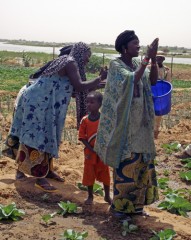 "We are so happy to have a type of work that we have never done before," she said. "We are especially happy because it is not just any type of work that we are doing; it is work that will benefit each of us."
Ramatou Malaki, who is a young mother of three small children, added, "Before we had to rely on our husbands for food because we didn't have any work. We never knew if our husbands would be able to supply enough food or not. Now we have our own work and we know that we will have food and money."
The project provided seeds and tools for garden participants to plant a variety of vegetables on one hectare of land. However, encouraged by the project's initiative, participants decided to expand the garden and continue planting even beyond the garden's limits.
"It has become our garden, our very own," Ramatou said. "We can eat from it, and our children can eat from it".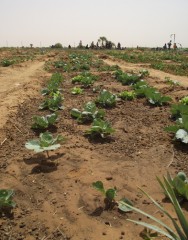 Echoing Ramatou's sense of pride and ownership of the garden, Hadiza said, "We have already filled the entire garden! We are going to need more room!"
In the garden, they have planted tomatoes, carrots, peppers, eggplant, cabbage, lettuce, onions, and potatoes.
In order to help the women better incorporate these new vegetables into their diets, all beneficiaries are attending weekly nutrition classes. In these nutrition lectures, the women learn about the importance of dietary diversity and the many different ways they can prepare the vegetables. They also learn about basic health and nutrition, as well as hygiene and sanitation.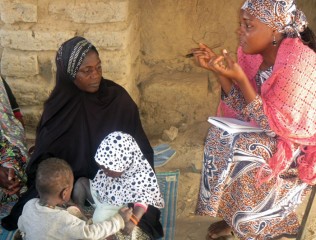 Concerning the nutrition education, Hadiza said, "We appreciate the agents who teach us. They are very helpful and always available when we have questions."
The women in Ayorou-Hausa have proven to be motivated and dedicated to their gardens. Soon, they will be able to harvest their produce and begin fulfilling their dreams of obtaining their own diverse, nutritional foods for their families to eat as well as income when they are able to sell the surplus of vegetables.