Melanie Cushman is a ministry programs intern and training coordinatorwith Samaritan's Purse in the Philippines.
The van was quiet as the ministry team took a moment to rest and study training material on the van ride to our second training of the day. We had spent the morning hosting a training session for pastors and church leaders about the importance of an evangelistic worldview and were headed to present similar material to a local Bible school.
It was about 1:30 p.m., so we had the air conditioner blasting as a nice relief to a morning in the heat and humidity of the Philippines. It was a familiar drive to me, just down the road, around the roundabout in Tacloban, and into the nearby community of San Jose.
But instead of taking the road to the airport, we turned off onto a road that leads straight to the sea. Unlike the rebuilt downtown area, Barangay 89 was more rural and nestled right against the shoreline. This entire community had been violently invaded by Typhoon Haiyan on November 8, 2013, and I could still feel the people's pain as we drove through the barangay two years later.
No one in the van said much as we passed the rubble of concrete buildings that had been shattered to pieces by the super typhoon that devastated this community, but I could tell that they were looking out, thinking and remembering. Every so often they would point out the rubble of a concrete building and tell me what it used to be before the typhoon. It's an eerie feeling to drive though a place knowing the terror that occurred there, knowing that people drowned right where I was passing.
After driving along the shore for a while, we arrived at the ELM Bible School, an old concrete building with green curtains and home to 25 students eager to learn more about the Word of God. The students were so happy to have visitors that their joy brought life back to a place of sadness. They responded openly to the Bible concepts we presented to them on this first day of training. It was a joy to witness such a light in the darkest of places.
I caught up with one of the students from the Bible school a few weeks after the training. We chatted about the class, and I was interested to hear her thoughts from a participant's perspective. I asked what impacted her most.
"We are responsible for these [unreached] people," she said. "We know the truth, and we have to share that with them. I need to pray for the people. I am filled with compassion for those who do not know about Jesus Christ. I am so thankful for this course because it made me realize that I need to care for them. God died on the cross not just for us but for them."
I spoke little in our conversation because she had so much to say. She beamed from ear to ear as she told me all the practical ways she had been applying the course to her everyday life. She had been genuinely moved and motivated to share the Gospel with those who have not heard and to pray that people in her community and around the globe will be moved by Christ.
To say that the Lord is moving in the Philippines is an understatement. He is breaking down barriers, redeeming tragedies, opening people's minds, and softening their hearts. I'm so thankful to be able to witness it firsthand!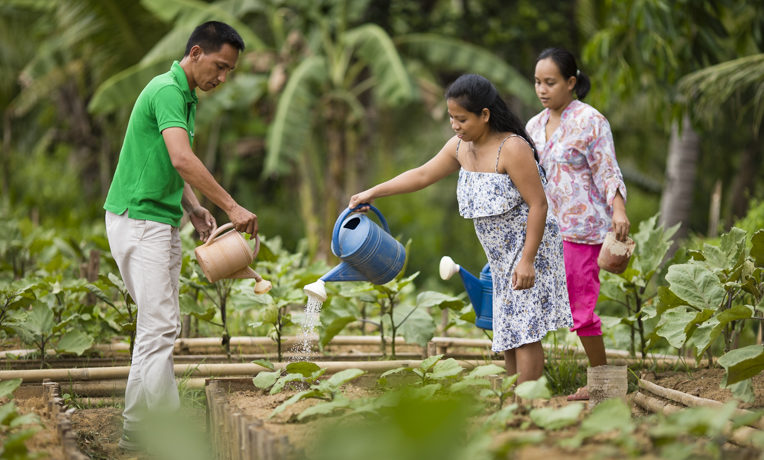 Philippines Projects
Samaritan's Purse is working to improve the quality of life for impoverished families in both rural and urban areas of the Philippines. We are training women and expectant mothers on best feeding practices for infants and young children. Our teams are providing malnutrition screening, medical care, clean water, latrines, and hygiene education. We're also supporting families through livelihood projects such as community gardening and pig raising, as well as vocational skills and microenterprise training. Most importantly, our staff are sharing the Gospel. We partner with local churches to offer evangelism and discipleship courses so that they can reach their communities with the hope of Jesus Christ.
---
Philippines Projects 013395