Syrian refugee girls express themselves in a Samaritan's Purse art class.
M.R. is an intern with Samaritan's Purse in North Iraq.
Editor's Note: Names have been changed for security.
I often take happiness for granted and assume that laughter comes with ease. I forget that some smiles fade too quickly and dark memories persist despite a moment of light. I realized this privilege as I observed 10 preteen girls slouch in their chairs with their long ponytails dangling over the seatbacks.
They were at an art class at the Northern Iraq Community Center, which is run by Samaritan's Purse. They closed their eyes as they do at the start of each class and watched the colors of their inner eyelids dance to the sounds of an Arabic song in the background.
I looked over at Farrah, the art teacher, for an explanation.
"I like to give them a time to dream," she said.
My heart filled with joy as I watched lips find rest in soft smiles and shoulders keeping rhythm with the music.
"They are happy today," Farrah whispered, and her eyes glimmered with appreciation for the peacefulness so unmistakably present on the faces before us.
I glanced around the room at the colorful artwork celebrated on the walls and the balloons that lined the ceiling. It only seemed natural to find happiness in a place so intentionally designed for youth, but when I closed my eyes, I understood why Farrah valued this moment so much.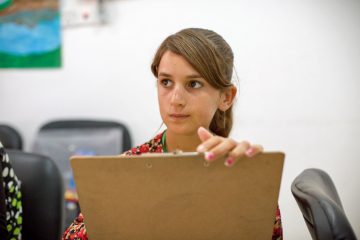 Without my sight, my imagination took over and created images to accompany my thoughts. For a group of girls who recently witnessed the loss of homes, family, and friends, the dreams they paint in that empty space might occasionally contrast the brightness of the room that surrounds them.
Farrah pointed out a girl in a long, flowery dress whose closed-eyes tightened, making both her nose and forehead crinkle. My face must have expressed concern because she quickly reassured me that today the thoughts were good. As contentment smoothed out the crinkles, I immediately thought of Jesus, the Great Teacher, who intimately knows and cares for each of us individually. These girls are blessed to have a teacher whose love for them resembles that of Christ.
The song ended, and eyes blinked open to adjust to the light of the room. With dreams complete and spirits high, Farrah assumed her position at the board and demonstrated the day's task. The girls concentrated intently on each movement she made with the pastel crayons, memorizing how each stroke added to the creation of a boy's face on the paper.
As they started drawing for themselves, I noticed that some sketched quickly while others put calculated energy into each line; some experimented with color while others played with the shading. In the end, all of the works were different, and all of them were beautiful.
While easels and crisscrossed legs cluttered the floor, I talked with Farrah and soon realized that she shares a similar story with the girls she teaches. About two years ago, her family fled from their home in Syria.  Some of her siblings now live in North Iraq, others found refuge in Germany, one remains in Syria, and another lost his life. She settled in a refugee camp with her parents, and the thought of returning home was destroyed by a bomb.
Despite the heartbreaking details of her past and present, Farrah continues to love people in a beautifully abundant and selfless way. Although it's difficult to process such a reality, she reminded me that strength builds slowly as each new day comes and life continues to move you forward.
I thought of Ecclesiastes 3:1 and the verses that follow: "To everything there is a season, a time for every purpose under heaven" (NKJV). So many have wept, mourned, given up, or filled their hearts with hate, but a season of healing will come. Those same hearts will search, mend, laugh, and dance. Above all, they will learn to love again.