A man in Niger finds faith in God and begins changing his and his family's lives
By one of Samaritan's Purse Niger's Community Development Agents
Several years ago, a young man we'll call Sani* was granted the rare occasion to be born into a Catholic family in western Niger. But when the young man reached primary school age, his parents decided that in order for him to receive a quality education, he would need to leave the village and live with his uncle in the capital city.
Sani's uncle was a devout and strict Muslim. Thus, like the majority of young men in Niger, Sani was brought up memorizing verses from sacred Islamic texts and praying toward Mecca five times a day. Sani followed the path that society expected from him, completed his studies, and married his first wife. He later divorced her and married two others. (Husbands were allowed up to four wives at a time in this religious context.)
Years later, right before Sani's father passed away, he had a series of intriguing dreams. In the first, he saw images of Jesus being crucified. Having grown up with Catholic influences in his life, he recognized Him and asked, "Is that you, Jesus?"
Shortly after, Sani had another dream about Jesus. This time, he saw Jesus ascending into heaven surrounded by a great light.
These dreams drove Sani to search for answers, and he decided to visit a Catholic priest as well as a Muslim Imam. Sani came to the conclusion that his dreams had meant nothing and that he was still destined to be a Muslim.
Sani's career as an elementary school principal eventually led him to settle in a small town in western Niger where Samaritan's Purse is working. I first met Sani on my way to visit another village. I started to share the Gospel with him but immediately got the impression that he didn't want to listen to me. He abruptly left the conversation and went inside his home.
I decided to wait, and when Sani came back we started talking about Islam's holy book. I realized that Sani liked to talk about this subject and was quite knowledgeable about it. I decided to bring up passages from this holy book that talks about Jesus. This caught his attention.
As we continued to talk, a crowd started to gather. Sani and I moved our conversation into his office so that we could have more privacy. Once we were in his office, I shared the Gospel with Sani. He listened intently, and after our long discussion, he confessed his desire to accept Jesus Christ as his personal Savior. We immediately prayed together.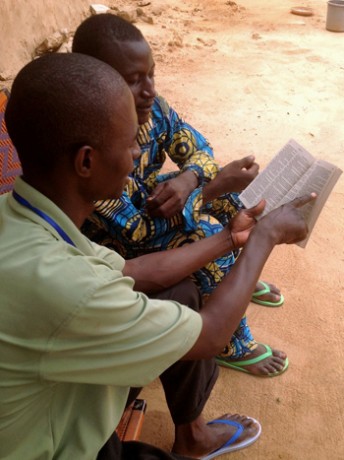 "When you told me that everything that a man is going to do in life is worthless if he doesn't have assurance of his salvation, it really touched me because even in Islam it is said to pray that God will show you the right path," he said. "But in the Bible, it shows us that Jesus is the right path."
I have continued to visit Sani regularly. He told me about the dreams of Jesus that he had years earlier. I was excited and told him that they were God's way of revealing Himself to him. This seemed to further encourage Sani and provide assurance in his faith.
Now that Sani has sincerely accepted Christ, the real challenges start. He has two wives, seven children, and several other family members who live with him. He also has a small mosque at his house, which is where all of the men in the neighborhood come to pray each day. Sani is excited about his new faith and ready to share it with others but is being wise and cautious, as he knows that persecution is real.
One of Sani's wives was raised Catholic as well, but when she married Sani he forced her to convert and do the Muslim prayers each day. She was the first person that Sani decided to share his faith with. Sani and I shared the Gospel with her, and she immediately decided to give her life to Christ as well. She has been sick for more than six years and suffers from something like panic attacks often. We prayed for her health in the name of Jesus, and she hasn't had another attack since.
Sani's younger brother, who also lives with him, was the next member of the family to dedicate his life to Christ, and another brother soon followed after.
We must continue to keep Sani and his family in our prayers. The road ahead for him will not be easy as more and more people learn of his faith. But no matter what trials he faces, he can rest assured now knowing that his eternal fate it secured.
*Name changed for security reasons
Niger Projects
Niger is one of the poorest countries on earth, as drought and instability plague this West African nation. Samaritan's Purse works to meet physical needs through livestock and agriculture projects, as well as monthly food distributions to tens of thousands of displaced people. Our community health programming includes medical projects as well as education for families on gender-based violence and mental health issues. We also provide clean water through new wells and BioSand Filters. The filters are handmade and sold by local women who are able to earn desperately needed income. As we work across this Muslim-majority country to alleviate suffering, we partner with trained local evangelists to share the true hope found only in Jesus Christ.