Two couples follow God in obedience and serve at Galmi Hospital in Niger through our Post-Residency Program.
Post-Residency Program
013765
Long before they met during residency training in Fort Worth, Texas, Steve and Katie Hoyt felt called to serve in Christian ministry. However, neither had planned to go into the medical field.
Steve was studying to become a pastor. Katie was interested in social work.
"Someone gave me the book Jesus MD by David Stevens. God showed me through that book I could help people AND share the Gospel," said Steve. "I changed to pre-medical and went on a few trips to Africa to experience missions. I decided to do family medicine, to have as broad a training as possible."
Katie switched to medicine as well, specializing in obstetrics and gynecology. After discovering they both felt called to the mission field, the young couple turned to the Post-Residency Program for help getting there.
"We highlighted Galmi as an option because we felt like God was drawing us there. He had put it in our hearts, one, to be in an unreached place, and second, where there was high maternal mortality. My skills could be used in that way," Katie said.
The Hoyts moved to Niger in January 2018 and quickly realized the immense need for those skills. In a country of 23 million, there is only one doctor per 30,000 people.
Galmi Hospital is a 184-bed facility in the southern part of the country that primarily serves people from the Hausa, Fulani, and other regional tribes. Many of the patients come for treatment of HIV or diabetes.
"Patients will wait days to see you, because there is such a shortage of good care. And there's an even bigger need for the Good News," said Steve.
One of those patients was Adaobi (name changed). An insulin-dependent diabetic, she had been in the hospital for an extended stay receiving treatment. Her family took her home when her condition stabilized, but had to bring her back a month later. With no electricity in their village, they were unable to properly store Adaobi's insulin in the desert heat.
The staff taught her how to give herself insulin. They also devised a way for Adaobi's family to keep the medication cool at home by placing it in a plastic bag in a jar of water, wrapped in a wet cloth. Adaobi has to return monthly to receive a fresh supply of insulin at the outpatient clinic.
During their time in the hospital, Adaobi and her mother learned about Yesu, the Hausa name for Jesus. Adaobi enjoyed singing songs about Jesus. As they came to understand the Gospel message, both prayed to receive Him as their Savior.
"We want to follow Yesu," they said. Upon discharge, the hospital gave them a solar-powered radio (fitted with SD cards that include the Bible in Hausa and the "JESUS" film) to help their family and neighbors learn more about Jesus. Adaobi especially prays that her father will come to faith in Jesus too.
"We want to follow Yesu."
Later in 2018, Dr. Glenn Maas, his wife, Sonja, and their four children joined the Hoyts at Galmi. They are among a growing group of missionary doctors who are coming to the hospital through the Post-Residency Program.
One general surgeon arrived in 2020, and World Medical Mission is sending two physician couples to Galmi this year. In addition, the hospital staff includes two doctors who are graduates of the Post-Residency Program and have been serving long-term for several years.
"I'm a big fan of the program," said Stephen Montgomery, the retired director of Galmi Hospital. "From our perspective, it's just fabulous to get young doctors fresh out of training, fresh out of residency, out into a field placement, where they can bond and explore missionary medicine in a developing world context."
Maas was not accustomed to the degree of suffering and death he saw upon his arrival at Galmi. The family medicine physician/obstetrician says it's still hard to accept.
Of his first impressions, Maas says, "I was put in charge of the emergency room. In America, ER was not something I liked. I don't like to see the patients waiting. Wow, the need here is beyond the ability of any human to meet, ever."
But Maas is encouraged as he helps to bring new life into the world and to venture out with Steve Hoyt and Hausa translators into nearby villages to visit former patients. Their outreach has borne fruit as seeds are planted for the Gospel.
On one occasion their team drew a crowd as the village elders beckoned them to sit down and share Bible stories. As they spoke of Jesus raising Lazarus from the dead, one of the elders commented that he had heard that Biblical account during a stay he had in the hospital. Others in the crowd nodded. The team continued to share the Good News and invited the people to follow Christ.
With their two-year terms now completed, the Maases and the Hoyts feel God is calling them to return to the mission field, this time on a long-term basis. Both families are currently in the United States raising support.
"God gave us a strong vision and calling. This is not just a passing phase that we'll get out of our system, come back home, and settle into the American dream," Katie said. "God can always change the plan, but as far as we know, this is what He has called us to do."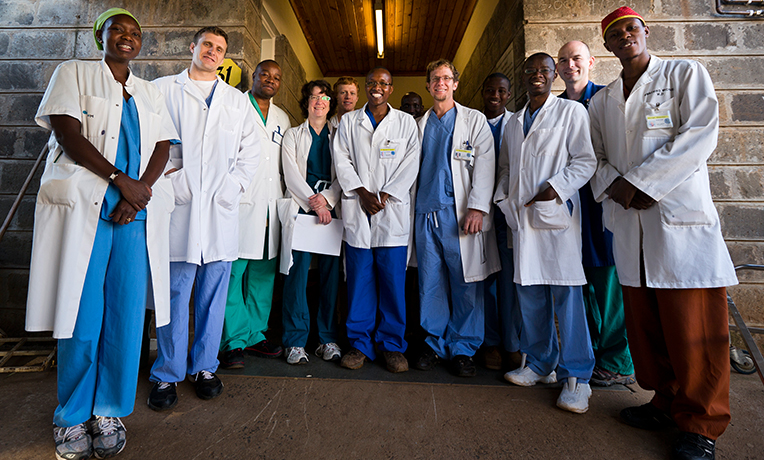 Post-Residency Program
The World Medical Mission Post-Residency Program is a fully funded two-year program for Christian physicians and their families who have been called to medical missions. Following their residency, doctors are placed at a mission hospital to serve within their specialty alongside career medical missionaries. We provide logistical and financial support to these young men and women as they treat patients and share the love of Jesus Christ.
---
Post-Residency Program 013765