A Samaritan's Purse livestock program in this war-torn nation is helping shepherds overcome drought and provide for their families.
Livelihood and Vocational Projects
013970
Due to a lack of rainfall and soaring feed prices, many of Syria's shepherds are currently in dire straits. Samaritan's Purse is coming alongside these men and women by supplying them with both animals and fodder to help provide for their families.
Ashraf*, for one, lost his home to ISIS attacks in 2016, leaving his family with just his flock of 20 sheep. Forced to live as a nomad, he migrated back and forth between the north and the south of the country for four years, grazing his flock wherever he could.
During this time, drought hit Syria, taxing his animals severely. Fodder was only available in limited quantities and at inflated prices.
Like many other shepherds, Ashraf had to make the difficult decision to sell some of his flock so he could afford to feed the rest. Eventually, he was left with only three sheep.
He took those prized possessions and he settled in a village in the north where he split his time between caring for his sheep and working daily as an agricultural laborer. Most shepherds in the region were in a similar situation.
But in June 2022, Samaritan's Purse staff launched the Revival of the Sheep program in Ashraf's village. The program offered to provide ewes and a ram to interested shepherds along with vaccines, fodder, technical training, and follow-up visits.
Ashraf's wife distinctly remembers the day they were scheduled to pick up their sheep. Her husband was so excited that he forgot how to turn on their car!
No words could express what it meant to the couple to begin replenishing their herd. When Ashraf returned home with eight ewes and a ram, his wife helped water and feed them, taking them out to graze in the field for the first time.
Life Lessons from Sheep
In addition to supplying animals and fodder, the program also works to introduce recipients to Biblical values by discussing life lessons that can be gleaned from sheep. Focusing in part on the parable of the lost sheep in Luke 15, recipients learn how to be better shepherds by seeing God's heart to leave the 99 to go after the one that is lost.
Ashraf said this is one of his favorite stories because it reflects a dream he had a few years back. He dreamt he was working in a green pasture with a flock of sheep following behind him. Ashraf, however, couldn't fathom that the sheep in the dream were his, because at the time, his own flock was dwindling and there were no green fields in sight. But after learning Bible stories from Samaritan's Purse, Ashraf now believes his dream meant that God would not forget him, but provide for his family.
Thanks to the support he received from Samaritan's Purse, Ashraf now plans to focus on breeding his flock. As it grows, the sheep will provide steady income for his family. Ashraf also hopes to return to the south where his family has lived for generations and rebuild his home that ISIS had destroyed. There, he wants to send his kids to school and expand his herding efforts to include more agriculture.
Until these dreams become a reality, Ashraf is helping his neighbors who have also received sheep from Samaritan's Purse. As an experienced shepherd, he has much to offer others who are in a situation similar to his own.
'The Best Day'
The night before Majid*, 20, received his sheep from Samaritan's Purse, he was so excited he couldn't sleep. He was the first to show up at the distribution, carrying a can of green spray paint to mark his flock. He even spray painted the date of this momentous occasion on the side of his house, calling it "The Best Day."
Majid is deaf, so he carefully watched the training offered by the veterinarian. He understands well as today the majority of his eight ewes are already pregnant. In addition, after receiving training in medicine and vaccines, Majid, in turn, taught his uncle everything he had learned. Majid's new expertise is a blessing to his family who rely on livestock production for their livelihood.
Majid continues to work at growing his family's flock with hopes of having a flock of his own one day to support his siblings, who face other disabilities.
Ashraf and Majid are just two of 150 shepherds in Syria to benefit from Samaritan's Purse Revival of the Sheep livestock program. Each of these recipients have learned through the training that the sheep and fodder they receive are, in fact, gifts from God, the Good Shepherd.
*Name changed for security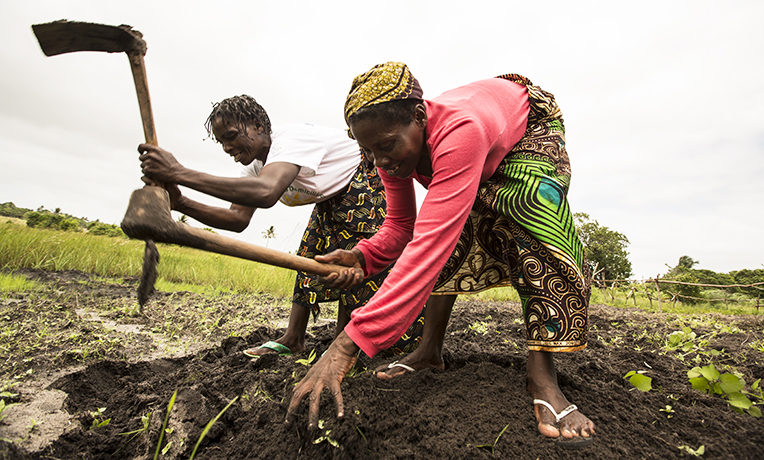 Livelihood and Vocational Projects
By improving farm and garden harvests, increasing the productivity of livestock, opening up access to markets, and providing training in business and job skills, we help households and communities make the transition from subsistence living to income generation, securing a better future.
---
Livelihood and Vocational Projects 013970