Christians being helped by Samaritan's Purse describe the horrors of facing death at the hands of Islamic militants in Iraq
On August 7, the ancient Christian town of Qaraqosh was overrun by jihadists known as the Islamic State of Iraq and Syria (ISIS). Thousands of Iraqi Christians were forced to leave. Many drove to the city of Erbil, the largest metropolitan area in northern Iraq, where they received relief from Samaritan's Purse.
Our staff and local partners working the area have found that the men and women recently displaced from the plains of Nineveh (Mosul/Qaraqosh area) are eager to tell the world of their awful plight. This rough information was compiled from interviews conducted between August 12 and 17.
Habiba's Story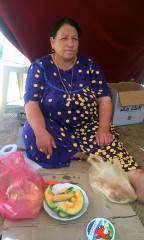 Habiba is a widow from Qaraqosh and the mother of five daughters and one son. Her son was driving in Qaraqosh on Thursday evening, August 7, when a rocket hit his car. Shrapnel ripped through the vehicle, but her son was not injured. He ran home and the entire family began fleeing on foot.
She said that ISIS militants were shooting at the cars trying to escape the city.
"We love our land but we are ready to leave because we do not want to be in Iraq anymore," she said. "Find us a solution; we are really tired."
Salah's Story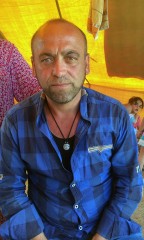 Salah, 27, was born in Qaraqosh. He is married, and the couple has a young daughter and son. Salah served as a guard protecting the Chaldean church in Qaraqosh. On August 7 he heard an announcement by loudspeaker to run and evacuate the city.
Peshmerga (Kurdish soldiers) were running alongside him. He then shed his own military clothes because he realized he would be a higher target for ISIS if they saw him in fatigues. He also said that ISIS militants were shooting at civilians as they tried to flee.
When asked what he would you like to tell Americans, he replied, "I want to immigrate to America or America has to promise us they will protect us here in Iraq."
Samaritan's Purse has provided Salah with two tents for temporary shelter. He reports that 46 people are living in these tents and under a makeshift tarp of bed sheets.
Eman's Story
Eman is a widow raising two daughters. She is originally from Baghdad.
Her terrifying story begins there in 2007. She said Islamic militia came to her family's home and asked her husband, Tarik, if he was a Christian. "Yes I am a Christian," he replied. She said these men then cut Tarik's head off right in front of her. (Her daughters were not present.) That same day she fled to Qaraqosh.
She lived there until August 7 this year, when she was forced to flee again from advancing ISIS forces. She wants to leave Iraq with her daughters.
Samaritan's Purse has provided them with a tent as well as food.
Our local partners and staff are working to respond to this crisis in multiple locations within Kurdish-controlled areas. In total, 200 tents have been distributed so far, along with 2,300 baskets of food, thousands of pillows and mattresses, about 4,500 pairs of shoes, and hundreds of Bibles, among other items.
Middle East Relief
Samaritan's Purse is providing a variety of relief to families who have fled violence or been affected by natural disasters. We also support local ministry partners throughout the region as they provide physical relief in Jesus' Name to suffering people.
---
Middle East Relief 013711