A mother knows how to recognize malnutrition because of her job at a Samaritan's Purse health clinic
Kathleen Nolin is an intern with Samaritan's Purse in Niger.
The drive from Niamey to Banibangou can politely be described as bumpy. In reality, one should probably bring an extra seat cushion. The deteriorated road leading to the small Nigerien village passes mud huts, sand, cows, desolate trees, sand, dried riverbeds, sand, and more sand. The infamous soil can be whipped up at a moment's notice to not allow a driver to see more than 500 meters in front of them. London has fog; Niger has dust and sand storms.
Also journeying along the road is the occasional person, either riding a donkey cart with twigs used for fuel or a group of girls carrying a branch dangling with jerry cans full of water. Their clothes and faces are caked in and blasted by the wind and sand, but on they walk, going from one daily chore to the next in order to survive.
The reality for the majority of Nigeriens is that they are born into families with not enough food to fill all its mouths, they won't have the chance to go to school because their hands are needed to work a desperately dry land, and a woman can expect to marry around 13 years old and have about seven children, while her husband also takes another two or three wives. On top of all these hardships weighs extreme poverty that seems to cement most people into this cycle.
In the midst of these adversities, I recently met Haoua Sadou and her 11-month-old daughter, Nafissa, at a Samaritan's Purse health clinic in Banibangou. On the day I visited, the clinic was scheduled to have a food distribution for pregnant and lactating women and children under the age of 5 who were malnourished.
There were around 80 women and their small children, with a few husbands, gathered in the desert under a reed-thatched roof. The women lined up to have measurements taken in order to see the progress they've made away from dreaded malnutrition. As they reached the head nurse, the women handed him a card with their identification number and stuck out their arms to be measured. The measurements were recorded in the nurse's large, green journal. Many of their arms resembled the twigs in the back of the donkey carts.
Once all the ladies had been measured, the nurse gathered them around a small pot sitting atop an open flame. For me, it resembled something I've seen when camping, but for many of the women here, it's the only way they can cook meals for their families. This is when I first met Haoua and Nafissa.
Haoua has worked at the clinic for the past three years, and her job this particular day was to demonstrate how to cook the special nutritious food the women were about to receive. With Nafissa strapped to her back, she measured a portion of the food, boiled the water in the tiny pot, poured the food into the pot, and waited for it to start bubbling, signifying it was ready.
After the cooking demonstration, it was time for the beneficiaries to line up to receive their biweekly allotments of food. As people filed in with their buckets, bowls, and identification cards, the clinic staff members worked to prepare the food by stirring oil into the flour with large wooden paddles, measuring out each beneficiary's portion, checking the identification card, and handing the food over.
As Haoua stirred, she told me her story. She's 37 years old and from a small village outside of Banibangou. She has five surviving children—two girls and three boys. Their ages ranged from 19 years old to 11-month-old Nafissa. She has been working at this clinic for the past three years and says she likes helping care for the children and moms of the village.
Her experience here prepared her to spot the signs of malnourishment when they showed in little Nafissa. Haoua explained that after 6 months of exclusive breastfeeding, she no longer had enough milk for Nafissa, so she had to switch her to other foods. By 10 months, Nafissa was malnourished, and Haoua had to take her to the clinic where she has seen so many other malnourished babies.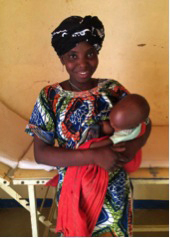 The day I visited was their second visit, and Haoua received supplementary food for Nafissa. Her baby was weighed and showed improvement. Nafissa can now walk more steadily and is back to playing with her siblings.
Although many mothers in Niger know health is important, they face challenging circumstances like Nafissa and Haoua in an extremely harsh environment. That's why Samaritan's Purse is now reaching 5,500 people through our maternal and child health malnutrition projects. We have 16 centers, just like the one in Banibangou, throughout Niger. These centers have a 70 percent success rate, which means that more mothers in Niger are now able to smile as their children grow healthy and strong, just like Haoua and Nafissa.