Women in Iraq learn how to preserve their excess produce and start small businesses with their new product.
Livelihood and Vocational Projects
013970
Around the outskirts of Mosul, Iraq, 100 women recently participated in a new program that taught them how to preserve and market food. A partnership between Samaritan's Purse and the World Food Programme, the project gathered 10 groups of 10 women each and instructed them in canning techniques, literacy, and mathematics. Now the women are selling pickles, jams, and tomato paste among other products, and earning much needed income for their large families.
Last year, each of these participants were part of a mother-to-mother support group where they received instruction in breastfeeding as well as dietary diversity. Through that effort, they received seeds for "kitchen gardens" that would include radishes, spinach, garlic, broad beans, carrots, okra, summer squash, sweet onions, turnips, and cucumber.
This year, women's groups learned food dehydration and pickling techniques. The end-products were healthier options than those typically sold in the market because they are made without chemicals. Women also were taught how to create marketing and business plans as well as financial savings strategies that would allow them to invest in future endeavors.
"We learned a lot—such as preserving food, writing, reading, and to act independently," said one participant. "We learned how to make healthy tomato paste, pickles, and jams. We were [taught] about fertilizing and its importance for our gardens and farms."
Instilling Confidence and a Sense of Community
As the women gathered, not only did they learn new skills, they learned more about themselves.
"The experiment increased our self-confidence," said one. "We learned that women can work and be useful to the community besides managing their houses. We should encourage women to become independent, qualified to create their own business."
Another added, "The training impacted our lives so positively. We lived such boring lives before, just busy at home, isolated. We used to go out [only] once or twice a month, mostly to visit relatives. The training created a routine for us to wake up every morning aiming to learn new information and enhancing our self-confidence."
As the women began meeting in these groups, a new sense of community formed. These ladies found that, in many cases, they shared a common bond of circumstances such as financial difficulties or the loss of a relative. They said of the gathering, "It's like having a circle of community support but only meant for women."
As the sale of their new food products provided extra income for their struggling families, the women also found that their relatives, and society as a whole, appreciated them more.
New Possibilities for Iraqi Women
At the close of the training, each woman received a food processor to encourage their continued creativity in the kitchen. In addition, each group of 10 also received a professional-grade canning machine to seal their products properly before selling.
Participants were grateful for the opportunity to participate in this unique program. "We learned how to act as independent women by creating associations and businesses," said one. "Due to this training, the 10 of us became close friends."
Please pray that Iraqi women will continue to be equipped to help provide for their families and for Samaritan's Purse staff as they serve them in Jesus' Name.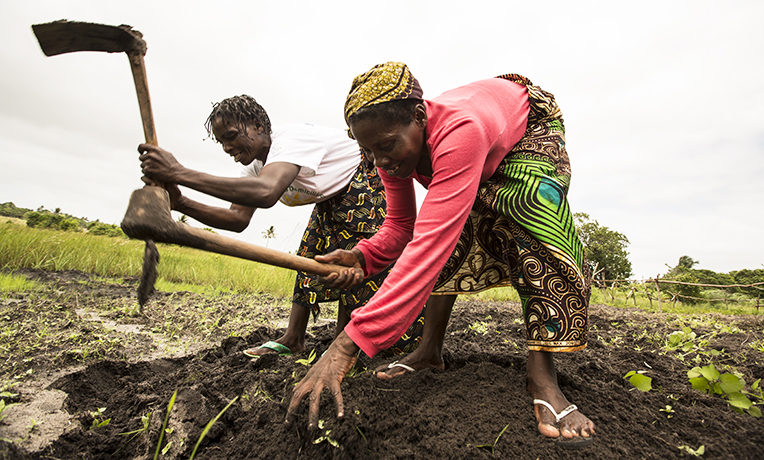 Livelihood and Vocational Projects
By improving farm and garden harvests, increasing the productivity of livestock, opening up access to markets, and providing training in business and job skills, we help households and communities make the transition from subsistence living to income generation, securing a better future.
---
Livelihood and Vocational Projects 013970