Samaritan's Purse is working in Niger's Abalak Region, where drought, conflict, poverty, and spiritual darkness have left many communities in a constant struggle for clean water and for hope.
It's no surprise that water is treasured like gold in Abalak, Niger, a part of the country that skirts the scorching-hot Sahara Desert. It's one of the driest places on earth.
For many years, Samaritan's Purse water, sanitation, and hygiene (WASH) teams have worked in Abalak, digging wells and restoring boreholes there as part of an integrated WASH project in the region.
This is how we met Samuel,* a 49-year-old farmer and father. He said that for five long years their family and community had been hoping once again to use the hand-dug well that had supplied them with water for more than a decade.
Formerly a reliable water source, the damaged well had become dry and sandy. So he and his children have had to spend hours each day collecting water from the next nearest sources, in a neighboring village more than six miles away.
"The children even had to drop out of school to help," he said.
Samuel was clearly emotional as he recounted this, remembering the day the well fell in. This can be catastrophic out in the Sahel, which is the name of this region—an east-west band of geography that divides the dry Sahara sand from the lush green in much of Africa's southern latitudes.
He had hoped that his children would be educated and have better lives. His dreams had all but dried up until he heard from the elders about the Samaritan's Purse program supplying clean water to remote areas. And that we would be coming to their community.
Rejoicing Over Water
When he saw our teams show up in his village, he had a hard time believing it. Over the next several days and weeks, they assessed the well and also other WASH-related needs. They removed debris and restored the well's structure and its ability to hold water.
As they repaired the well, with community involvement in the project, they also provided training in proper waterpoint maintenance and ground water protection. Our teams were also able to share with the many families about the Living Water, Jesus Christ.
Then, as water began to rise in the well again, Samuel cheered. He and his children tried the pump, watching the water flow into their buckets and jerry cans. We praise God that Samuel, his family, and his community experienced the gift of clean water and God's goodness in their lives.
"This project is a miracle for us after enduring five years without a water point. Fetching water has become a joy for our children because it takes less than five minutes," he said. "You have shown us God's love through this. This has given us life and hope."
This is just one of many communities in the larger Tahoua region of Niger, a remote area in the western part of the country far from any municipal water sources or the medical clinics that can quickly treat waterborne illnesses.
Lack of access has put many people, especially children under 5 years old, at risk of waterborne illness in remote parts of Niger.
Restoring Hope
This is why Samaritan's Purse is working in this part of the country to build and restore waterpoints such as wells and boreholes; construct latrines; provide water, sanitation, and hygiene training; and teach families how to make reliable home filters—known as biosand filters—constructed from locally-found sand, rocks, and other materials.
Even among those with access to an abundance of water, there's an almost constant threat of waterborne illness.
Children play in and drink from the same watering holes the animals use.
Along the Niger River, this is a common sight. The women come to wash clothes in the same slow channel of water at the river's edge, a space between a growth of reeds and the bank where others come to collect the evening's water for drinking.
Drinking this untreated water has led to another common site, a local villager being rushed upriver hoping to reach the medical clinic before waterborne illness has claimed them.
Our integrated WASH program, though, has improved health for a number of villages along the river.
In a small island village located in the Niger River, the need for clean water has created opportunities for innovative solutions all while sharing the hope found in Jesus Christ.
Marie*, a 62-year-old woman from the island, explained that for years the community relied upon the river for drinking water, resulting in frequent sickness in her family.
Throughout 2022, a Samaritan's Purse WASH project trained Marie and other community members to create home-use biosand filters. These have provided women with a useful skill and a lifesaving source of clean drinking water—all made from the readily available materials in their community. And they last for many years.
Marie was a bit hesitant to participate in the project—Samaritan's Purse being a Christian relief organization in a majority-Muslim nation. But, she can now say: "We have been helped by people who don't know us, but who have acted out of love for God. This has changed our lives."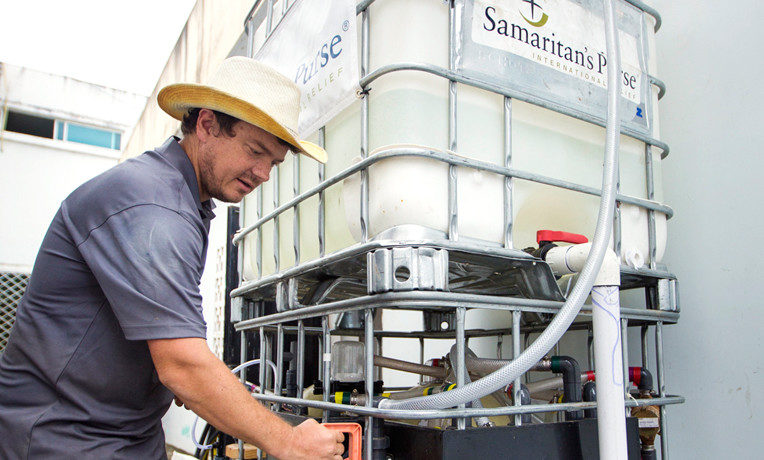 Clean Water
Your gift for clean water can provide tanks, filters, latrines, hygiene training, and other essential measures to protect water sources and prevent the spread of disease as we seek to meet physical and spiritual needs in the Name of Jesus.
---
Clean Water Projects 013659
Suggested Gift: $75