My internship in Niger has shown me water's worth
Abby Newton is a communications intern with Samaritan's Purse in Niger.
As someone born and raised in the southern U.S., I have always thought of water simply as the ice in my tea, the pool I jump into, and the sprinklers that keep the grass green. Water has always been a comfort. Living in a charming oasis kept me ignorant of its true value—until I left the oasis for the desert.
Niger is one of the hottest countries on the planet. With the Sahara to our north, and sand, dirt, and sun just about everywhere else, it is often dry and quite toasty. Rain, when it comes, takes place within the span of about two to three months. However, during the first few weeks after my arrival, the weather was beautiful, and I frequently remarked on it.
"Just wait," I was often warned. "The heat will be here soon."
That comment always brought a smile to my face and an admittedly overly-proud shrug.
"I'm from Texas," I would reply. "I'll be fine."
It didn't take me long to stop using that phrase. Yes, we may know of heat, but it takes the absence of an air conditioner to be fully acquainted with the word. As I visited Nigerien villages for the first time, I was struck repeatedly by how truly challenging it is for people to access water—especially clean water.
In the absence of wells, people often turn to open, unclean sources of water for their daily needs. The health consequences can be costly. Even so, when it is the only option available, there is no choice. Villagers without water walk as much as two to five hours daily to the nearest source for collection.
All this takes place with an ever-present shining sun above you and red dirt on the ground below you, reflecting the sun from that direction too. Wells in Niger often go as far as 328 feet deep to reach water. It's a scarce resource in the desert.
I'm sheepish to admit it now, but until these village visits, I had not realized that it was hard work to get water even with access to a well. As my roommate and fellow intern, Elisheva, wearily told me after attempting to pump water herself, "it is so much harder than it looks."
It was within the context of this experience that I was able to see a Bible story I've heard since childhood with completely new eyes. In John Chapter 4, we are told the story of the woman at the well. Jesus tells her of the Living Water only He is able to bestow that enables people to "never thirst" again. She says to Him in verse 15, "Sir, give me this water, that I may not thirst, nor come here to draw" (NKJV).
It was as if I had never understood that sentence until this moment. How could I comprehend her deep thirst for the special water Jesus offered when by comparison I satisfy my own everyday thirst with an easy walk to a refrigerator? It is grueling to physically draw your water daily.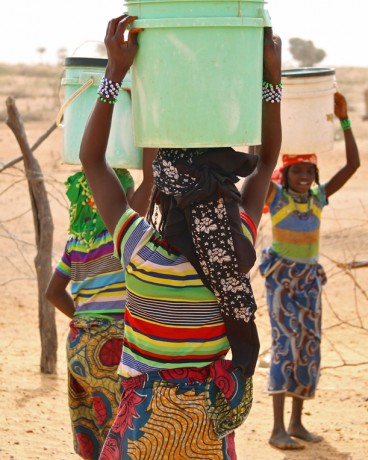 Yet the women we interacted with during our visit did not complain. With true admiration and deep self-consternation, I watched young girls more than half my age draw water, fill buckets, lift them to their heads, and walk back to their village to deposit the water there—multiple times. I wish I could say I was as dutiful and joyful in my childhood chores as these young girls were in theirs.
I continue to be humbled by the reaction Nigerien people have to challenges and adversity. Where I would give up, they persevere. Where I would feel hopeless, they have hope. When you go to a developing country having lived in a developed one, it's easy to feel like you are the one with knowledge or gifts to impart. But I'm finding that it is most often the reverse.
God delights in using the weak to lead the strong. He is truly teaching me what it means to deeply thirst, physically and spiritually. Even in one of the hottest places on Earth, He is actively working to bestow the water that forever takes that thirst away.