Many mothers displaced by ISIS are fighting to care for their children in difficult camp conditions. Samaritan's Purse is there to help with breastfeeding support, screening and treatment for malnutrition, and infant care kits.
When you live in a displacement camp, you're assigned one tent for your whole family. Your bathrooms are at the end of the block—along with your kitchen and access to water. How do you prepare food for your child? How do you keep your child safe?
Haley Wilson, Samaritan's Purse health program manager in Iraq, described this challenging situation and went on to explain that displaced Iraqis still face issues with malnutrition. As the emergency response resources taper off, a decrease in food rations and lack of nutrient supplements can make it difficult for families to maintain adequate health inside of the camps.
"In 2016 when the fighting in Mosul intensified, thousands of families were displaced and relocated to these camps. Today in 2019, these families are still living here," Haley said. "Many of them have tried to return home but have found that there's no home or work waiting for them. In the coming months, camps across the region are posturing to take on new arrivals of Iraqis returning from Syria, and we expect the need for nutrition programming to remain key."
Care Kits and Encouraging Visits for New Moms
Fatima remembers the escalating situation in Mosul well.
"We were so afraid. We were starving. It was difficult to find food."
She and her family fled for their lives—eventually reaching a collection point where they boarded a bus that took them to their new home, the camp. Soon after she was expecting her fourth child. Samaritan's Purse health workers began visiting her tent to train her in how to care for her baby.
"I received counseling regarding breastfeeding and learned the benefits of colostrum. I learned not to give the newborn water for six months. In our culture, we give water and sugar to the baby on the first day."
When her baby Asim was three days old, some of our Samaritan's Purse health workers—who are also displaced people—returned to check on them and deliver an infant care box. Inside the large box, Fatima found a bassinet, a blanket, diapers, and a washcloth.
"I'm so joyful to receive them," Fatima said. "The team is so supportive."
Care for Mothers and Babies
013717
Fatima is one mother among many in the camp to benefit from an infant care kit from Samaritan's Purse. In the past two years, more than 1,700 mothers have received these kits for their newborns.
Despite the prevalence of malnutrition in the country, young Asim is healthy and growing.
When asked how she would like mothers around the world to pray for her, Fatima said, "Pray that we'll be able to get out of the camp." They remain there because the food rations they receive help them survive.
Overcoming Malnutrition
More than a year ago, little Rashid was hungry, resorting to eating dirt and rocks. Samaritan's Purse health workers at the camp where he was born screened him and discovered he had severe acute malnutrition. Enrolling him in our program for a few months, we equipped his mother Hiba with peanut-based supplements to feed him and help him grow.
Now she reports, "His appetite is good. He's sleeping, and he's starting crawling. I was always thinking he was sick and thin. When I saw him improving, my mind finally relaxed."
She is deeply grateful to Samaritan's Purse for the assistance.
"I am so thankful that there is a program that treated my child and now he is healthy."
Relieved on this front, Hiba wrestles on others. She wants to bring Rashid and his older sister back home to Mosul and struggles with the realities of life in the camp.
Without income in the camp, she notes, "It's difficult when your child needs something and you can't provide for them." Like many mothers, she simply wants happiness for her children.
Focusing on the First 1,000 Days
Since January 2017, Samaritan's Purse has screened over 10,000 children and pregnant women for malnutrition in displacement camps across the Nineveh Plains.
Our trained, all-female team of health workers goes tent to tent throughout the camps providing monthly screening to all children under 5. When they encounter severe or moderate acute malnutrition, they enroll the child in the Samaritan's Purse program for treatment and ongoing monitoring. So far, Samaritan's Purse has treated 600 of these boys and girls for acute malnutrition.
Considerable focus is given to a child's first 1,000 days—from conception through two years old. It is a foundational time for the child that often impacts their entire lives.
Samaritan's Purse also supports expecting mothers with iron and folic acid supplements as well as nutrition counseling for them and their babies. Our health workers train mothers in breastfeeding and foster mother-to-mother support groups which encourage women that they are not alone in this daunting role.
Haley said, "We hope that through our presence and care, families can better experience God's love."
NOTE: This article was originally published on May 9, 2018 and was updated to reflect the current situation.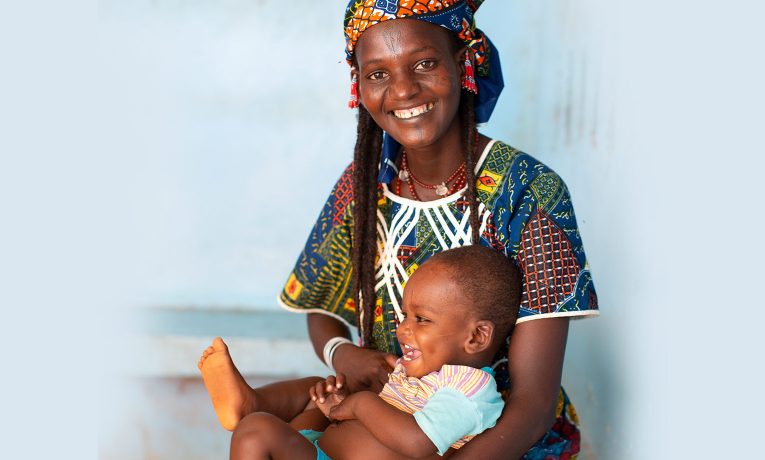 Care for Mothers and Babies
Tragically, hundreds of young mothers and thousands of newborns die every day from preventable causes. Your gift can help Samaritan's Purse reduce the mortality rates of women and their young children by improving obstetric care, teaching essential nutrition practices, and increasing access to quality healthcare.
---
Prenatal & Maternity Care 013717
Suggested $75