Samaritan's Purse is bringing water projects to remote communities in desperate need.
Women get up before the sun rises and make their first trek to the closest water source, which can be more than a mile away. By the time they go back a second or third time, they're walking in the heat of the day with no shade in sight. Although they try to be very careful, sometimes precious drops of water fall from the containers they balance on their heads or on the backs of livestock.
The arduous journey isn't limited to time-consuming walks. Once the women arrive at the water source they may have to wait in long lines. Sometimes the water is rationed and each person only gets a small amount.
Sadly, the water the women are bringing home isn't always clean. But they have no choice. Their families need water to survive.
Although bottled water is sometimes available, families can rarely afford to buy it. The years-long civil war in Yemen has led to a harsh rise in the cost of living, while the value of local currency has dropped significantly.
Such is the plight of many women in remote communities of Yemen. That's why Samaritan's Purse is now busy providing clean water and hope to these oft-forgotten areas. We're rehabilitating water treatment facilities, piping water directly to individual households, and teaching about proper hygiene practices so that families can begin a path of renewed health.
Water Transforms Lives
Amira's father is unable to work since he's recovering from a heart attack. So, Amira and her brother are responsible for providing for the family. Yet, the many hours she spent gathering water took her away from her job as a school teacher.
She sometimes walked six hours a day over the course of multiple trips to reach the closest water source. "Sometimes I had to wait half an hour for my turn to get water," she said. "That's really hard after walking so far already."
The water she brought home was contaminated, but without a safe source, they had to use it for everything—drinking, cooking, bathing, and washing clothes—resulting in waterborne sickness.
"We were affected by worms and diarrhea. Sometimes we wait to go to the clinic because we don't have money to get medication," Amira said.
Also serving as a midwife, Amira is well aware of the critical need for clean water access. Labor and delivery is a safer process when Amira can use clean water for sterilizing instruments and caring for both the newborn and mother.
"I'm very grateful. I'm very happy for this project."
She said the new Samaritan's Purse clean water project in her rural community has made a "huge difference" in helping to reduce disease. "I'm very grateful. I'm very happy for this project."
Our team rehabilitated a water treatment system in the village that had been neglected due to the war and civil unrest. Now, Amira has safe water being piped directly to her home.
Samaritan's Purse also trained her as a community health volunteer so that she can educate others on healthy hygiene practices. "I teach the community to help limit the spread of disease, especially among children."
Nabiba has six children and also cares for her uncle who is mentally disabled. She often needs help from her children to gather water, which means they are absent from school. The young mother is thankful that now, because of the Samaritan's Purse project, her children no longer have to haul water and miss school.
"They get higher marks now in their studies," she said.
In Nabiba's village, our team rehabilitated a water tank and installed solar panels, which provide reliable power to run the water pump as needed.
Nabil, who lives in the same village as Nabiba, is also grateful for the water project. His family's health has improved as well. He has eight children who formerly got sick from drinking dirty water. "It was difficult with eight kids to just go to the doctor."
Nabil desperately wants to provide for his family. When employment became scarce in Yemen because of the conflict, he spent many years in a neighboring country trying to earn an income sufficient to meet their basic needs. As hard as he worked, he still struggled to afford the doctor visits and medications.
He did return home, but still found daily life difficult, especially before our team came to the community. "Challenge is everywhere. My children didn't change their clothes because there was no water to clean them," Nabil said. "We didn't have water to clean our house."
Nabil's family is not only healthier now because of our water project, but they are saving money because they are spending less to treat waterborne illness. He said that his family is finally on their way to a healthier future.
"There are no words to express my gratitude to Samaritan's Purse."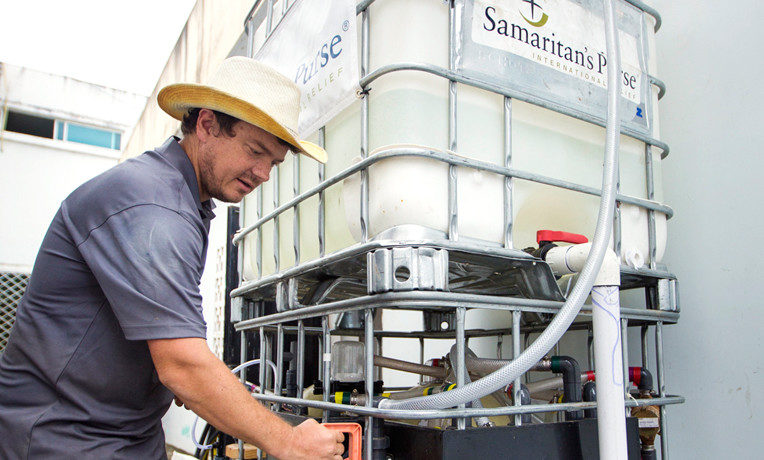 Clean Water
Your gift for clean water can provide tanks, filters, latrines, hygiene training, and other essential measures to protect water sources and prevent the spread of disease as we seek to meet physical and spiritual needs in the Name of Jesus.
---
Clean Water Projects 013659
Suggested Gift: $75