Samaritan's Purse supports a clinic in Syria that is providing desperately needed medical care to those weary from war.
Provide Relief as the Syria Crisis Continues
014047
Hana* has endured a brutal civil war in Syria for more than a decade. As the fighting drags on, her beloved country now looks nothing like what she once knew. But the violence became deeply personal for Hana when the frontlines came to her hometown over a year ago.
She and her husband and two boys had to flee for their safety, leaving their home and land behind. For more than a year now, they have lived in a different city where her husband has yet to find work. Now, as the couple is expecting their third child, a daughter, they are taking advantage of the medical services Samaritan's Purse offers—free of charge—in their new town. Hana comes regularly to the clinic we staff for prenatal care for her baby.
"If the clinic were not here," she said, "I wouldn't be able to have check-ups every other month."
She is grateful that, so far, all her tests have shown good results.
"This clinic is so important for all of us," Hana said. "Thank you to everyone who works here and supports this facility."
Meeting a Great Need
Aisha* too had to leave behind her home as fighting approached. Her family fled on motorcycles with just the clothes on their backs. Sadly, as they were escaping, a four-wheel drive vehicle hit them and threw them off the road. They sustained injuries, so they had a harder time than most of the displaced who were beginning again in a new city. Her husband still has not found work.
Now, as a 30-year-old, Aisha is expecting her first child.
During her lab tests and routine care at the clinic, doctors determined that a cesarean section would be necessary to deliver the baby properly, and referred Aisha to the national hospital for the procedure.
"If the clinic were not here, I would have to borrow money to go to the doctor," Aisha said. "I hope this clinic continues, because all the people need it."
Services Freely Provided
Raja*, a mother of three, could not agree more with Aisha's point. At the clinic, she has been treated for her high blood pressure and her two sons have received care as well. Her son with asthma obtained a nebulizer to help him with his breathing, and doctors prescribed her younger son medicine for his sore throat.
"I don't know what I'd do without the clinic."
"This clinic provides everything we need for free," Aisha said with gratitude. With the money her family is saving on medical care, she is buying bread and other food as well as other important things for her children.
"I don't know what I'd do without the clinic," Aisha said. "It'd be a big problem."
'Everything Is so Clean'
Talitha's* family also had a house and land before war invaded their city. They fled for their lives with nothing but what they were wearing. Now in their new city, they rent a home and her husband works for daily wages to try and make ends meet.
Talitha is grateful the clinic's emergency room is open 24 hours a day. Her three daughters take advantage of their medical services every time they need a nebulizer. Doctors also treated her 6-month-old for a cold and stomach issues.
"I got a lot from this clinic," she said, citing medicines her daughters received as well as the education she's gained about COVID-19. If the clinic were not there, she would have to go directly to the pharmacist without seeing the doctor first.
"I want to thank everyone who supports this clinic for the services they provide for us," Talitha said. "They treat us so good and everything is so clean."
Please pray for Samaritan's Purse as we seek to save lives and alleviate suffering in war-torn Syria. Ask that the displaced will feel loved and cared for as we serve them in Jesus' Name.
*Names changed for security.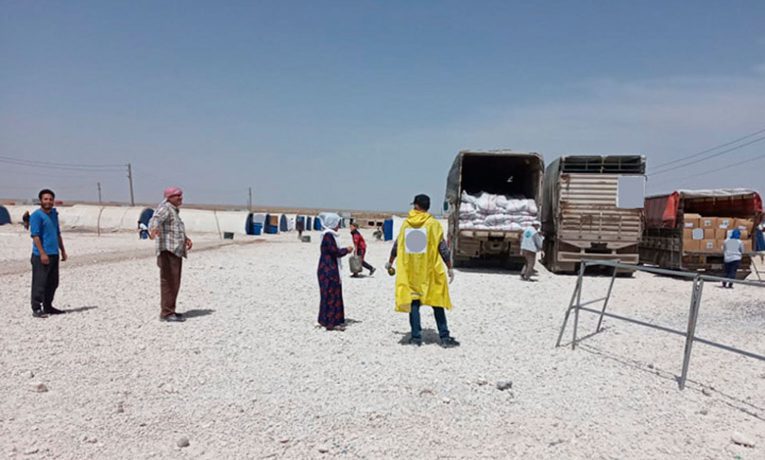 Provide Relief as the Syria Crisis Continues
Samaritan's Purse is providing critically needed relief in Syria as thousands have been displaced and had their lives disrupted by the ongoing crisis there. Working in Jesus' Name, we're helping to provide critically needed medical care and food, among other forms of assistance. Please pray for the many Kurds, Christians, and others who are caught in the middle of this conflict.
---
Kurdish Relief-Syria 014047