Our DC-8 airplane transported winter clothing, tarps, and water filters from North Carolina to Iraq to serve some 18,000 displaced people.
Provide Relief as the Syria Crisis Continues
014047
Samaritan's Purse DC-8 aircraft left Greensboro, North Carolina, on Thursday, Nov. 7, loaded with more than 20 tons of relief supplies to aid displaced Syrians. The four-engine cargo jet landed in Erbil, Iraq, on Monday, Nov. 11, and was met by our disaster assistance response team (DART) members.
The cargo load of tarps, water filters, and winter clothing will provide much needed relief to displaced Syrian families as cold temperatures are quickly coming to the area. Already, the crowds—consisting largely of women and children—are trying to stay warm because they fled their homes with just the clothes on their back. The jackets, boots, gloves, socks, thermal underwear, and blankets Samaritan's Purse distributes in Jesus' Name will offer them hope just to face another moment in their dire circumstances.
"Thousands of Syrian refugees have fled devastating circumstances only to be met with harsh conditions as they arrive in northern Iraq," said Samaritan's Purse President Franklin Graham. "We're called to go into difficult areas of war, famine, and crisis to bring relief, but most importantly to bring God's comfort and love to hurting people."
"Please pray for God's comfort as families have left everything they know and for our teams as they bring critical relief to families who are suffering."
Samaritan's Purse began our relief response in mid-October following the Turkish incursion into Syria. To date, about 15,500 people, primarily Kurdish Syrians, have made the difficult journey to cross the border into Iraq. Our staff has met them upon arrival with water, blankets, and hygiene kits at Sehela transit center. Families stay at this temporary stop operated by the United Nations for up to 24 hours before being transported to a camp. So far, we've distributed 1,500 blankets and nearly 4,000 hygiene kits, complete with soap, a toothbrush and toothpaste, diapers, wipes, and feminine products.
Most of the recently arrived Syrian refugees are now settled at Bardarash camp where Samaritan's Purse is providing water, sanitation, and hygiene services. We distributed over 700 tanks to give families easier access to water. Now, instead of having to walk long distances to gather this necessity with a jerry can, the tanks make a full day's supply available nearby. Also, where restroom facilities were previously unusable, Samaritan's Purse has repaired more than 500 latrines and restored to refugees some of their most basic dignities. We are also going tent-to-tent offering teaching on basic sanitation practices such as hand-washing while also raising awareness about lice and scabies. Fire extinguishers have been given to families as well.
Also, Samaritan's Purse continues to assess opportunities to provide medical care in Bardarash camp in the near future.
In addition to our operations in Iraq, we are working through local partners to serve the needs of the displaced who remain in northeast Syria.
"For some people this is the third, fourth time they've been displaced," said Samaritan's Purse staff member Joey Francis. "You can imagine the amount of loss. Just keep them in your prayers that in the midst of all of this that they'll encounter Christ—that they'll encounter His love, His peace, His security…that they'll feel His presence and be comforted."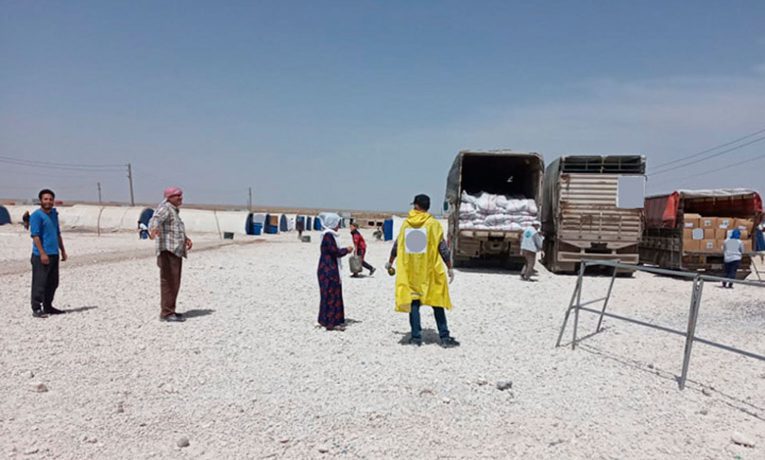 Provide Relief as the Syria Crisis Continues
Samaritan's Purse is providing critically needed relief in Syria as thousands have been displaced and had their lives disrupted by the ongoing crisis there. Working in Jesus' Name, we're helping to provide critically needed medical care and food, among other forms of assistance. Please pray for the many Kurds, Christians, and others who are caught in the middle of this conflict.
---
Kurdish Relief-Syria 014047