Grace Community Center in Northern Iraq is training a displaced, persecuted minority in many skills, including how to tend kitchen gardens and make handicrafts to sell abroad.
Vocational Training
013714
On the edge of a sprawling camp for internally displaced people In Northern Iraq, Samaritan's Purse is offering Yazidis the opportunity to do something they haven't done for a long time—work with their hands. Many of these families used to earn a living by farming before ISIS forced them to flee their homeland of Sinjar in 2014. But for the last eight years, they've been dwelling in tents in cramped quarters with little to do. Grace Community Center is reaching out to these hurting families by offering carpentry classes for men, sewing classes for women, and providing safe places for the children to learn and play.
Tending Kitchen Gardens
Over the past three years, the Grace Community Center carpentry students have made 600 garden boxes, which Samaritan's Purse staff has distributed throughout the camp. These wooden structures, complete with an accompanying cover that provides a greenhouse effect, are allowing families to get their hands dirty growing vegetables again.
Along with the boxes, the families also receive 10 types of seeds ranging from radishes, carrots, and onions to celery, eggplant, and strawberries. In addition, Samaritan's Purse provides good soil, manure, tools, and training for the Yazidis to care for their kitchen gardens well.
Mayan* is especially grateful for these resources because they help her better feed her family of five.
"I didn't buy any vegetables from the market [before]," she said.
But Grace Community Center taught her much. She said, "When I joined the class, they showed us how to plant in a box and when. Every plant has a season." She also received the trowels and shovels she needed for gardening from the Center.
Now the healthy plants of chard, arugula, celery, and leeks in her box allow her to cook the traditional Iraqi dishes her family loves. She's even been able to cultivate a spot near the box to grow radishes and onions in the ground as well.
"Our vegetables are always fresh," she said. "We can cut and eat anything we want."
'I Have Hope Inside of Me'
Mayan's oldest, now 8, was just an infant when the family fled their village north of Sinjar Mountain in 2014. Her husband was a well-known professional photographer there, but after they fled, he was injured in a car accident. This left him with pain in his legs and the inability to do hard work. They have lived in the camp ever since, and their 4- and 1.5-year-old daughters have known no other home. But Grace Community Center's classes continue to be an encouragement to them.
"I have hope inside of me," Mayan said. "I see it is difficult, because we have been here many years, but still, I have hope."
To those who support Samaritan's Purse and make the classes at Grace Community Center a reality, Mayan said, "God bless you, and thank you!"
Setting Their Hands to Crafts
A similar sentiment stirs in Sipan*, 19, who lives in the camp with her parents and five siblings.
"I would love to learn anything I can do with my hands," she said "because I didn't go to school."
Grace Community Center made her wish come true. She is learning how to make bags, tablecloths, coasters, and bracelets, while other women in her class are mastering pillow cushions, plant holders, and macrame wall hangings.
Laila*, their instructor, said her goal is to "teach them everything from the first knot of sewing to the last so they can earn money through it."
In addition to the handicraft skill she is imparting to her students, Laila is also providing business and entrepreneurial training to equip the women to market their own product.
As an added bonus, they don't have to wait to earn a profit. A business partner in Taiwan contracted with Grace Community Center to receive more than 350 of their handicraft items to sell in Asia. These products are going for anywhere between $5 to $20, with roughly a 75-percent profit coming back to the women who created them.
Sipan is so moved by all that she's benefited from the class that she says of Laila, "I find she is like my mother—not only my teacher." This relationship and all that it brings is continuing to fuel her hope for greater things.
"I would like to have a brand name in the world through this," Sipan said. "I know it's a big dream, but it's my right to dream!"
She and her fellow classmates know they have much for which to credit Grace Community Center. She said, "Thank you for your effort with us and for making this possible!"
Please pray that displaced Yazidis as well as Samaritan's Purse staff would see God answering the prayer of Psalm 90:17 on their behalf: "Let the beauty of the LORD our God be upon us, and establish the work of our hands for us; yes, establish the work of our hands."
*Name changed for security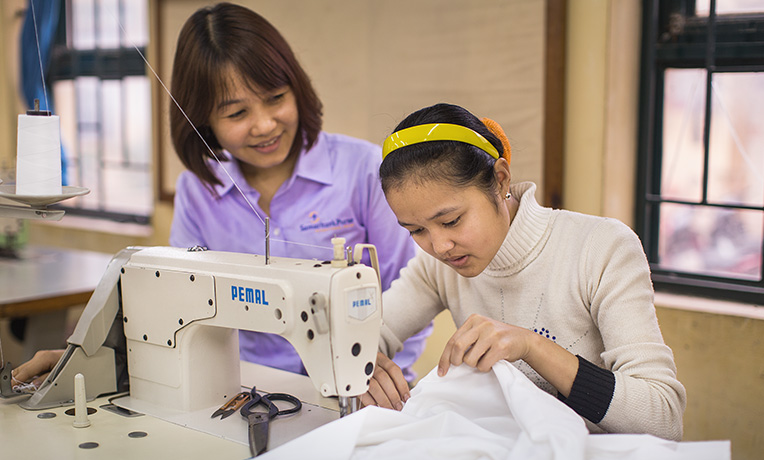 Vocational Training
Jesus told a parable about jobless people getting a day's work in a vineyard. No matter what time they were hired, the landowner promised everyone would receive "whatever is right" as payment (Matthew 20:4). At the end of the day, he rewarded them all equally. In our vocational training programs around the world, Samaritan's Purse works with people who might not be the first to be hired, but once we give them training and an opportunity, they can become productive, respected, and self-sufficient. We provide widows, single parents, and others the skills they need to do a job or open a small shop. Participants learn how to develop their trade while working for the glory of God. For $100 we can train and equip a person for sewing, carpentry, food service, or another productive livelihood.
---
Vocational Projects 013714
Suggested Gift: $100 | Share the Cost: $12