Through Raise A Village, Samaritan's Purse will be able to transform the lives of every family in Guidan Gado
On July 10 we launched Raise a Village, a 10-day effort to raise enough money to transform the village of Guidan Gado, Niger, by providing basic necessities such as goats and other livestock, seeds for cultivating crops, and clean water. In just two days, we surpassed our original goal of $85,000. We are thanking and praising God for using your prayers and support to change the lives of every one of the 1,400 people in Guidan Gado. 
Because of the overwhelming support, we will be able to expand our programs not only in Guidan Gado but also in the surrounding area.
The people of Guidan Gado welcome visitors from Samaritan's Purse wholeheartedly. Hunger is an almost constant state for the 1,400 men, women, and children who live here, and we have come with the desire to end that. We want to change the lives of every family in the village by improving livestock and food production, giving them the means to pay for the food and medicine they need, and expanding access to clean water.
In this predominately Muslim village, the people who have come in the Name of Jesus represent hope for the future here.
As we spoke with the people, we asked each of them: "What is your hope for your children?"
Saratou Salifou: Hopes for More Food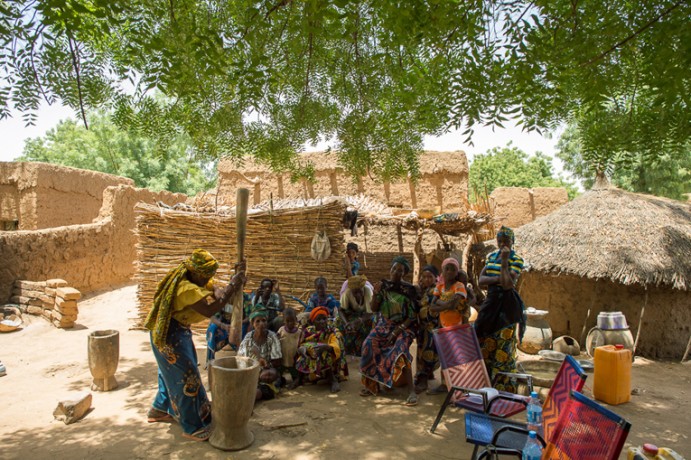 In almost any culture, when women meet in a home, they gather in the kitchen and speak over the sounds of interrupting children and meals cooking on the stove. It's no different in Saratou Salifou's home, though her kitchen is the earth beneath a tree and the temperature of her cooking fire doesn't feel much hotter than the air around her.
Several of her peers join the conversation, telling us about their daily lives. To cook, wood must be gathered and water must be drawn from a broken well. They must also have millet to cook, and that is never a given in Guidan Gado.
The women say they'd like to have goats to provide more nutrition for their children. Goat's milk comforts their young ones when they cry. When asked if their kids often cry from hunger, one woman answers, "Even us adults cry because we are hungry!" The women around her nod and exclaim knowingly at the truth of her words.
"If you're a mother and you see your child crying because she is hungry, you feel compassion for your child and you cry also," Saratou said. "It is the cry of poor people."
The women agree that the men of Guidan Gado work hard to provide for their families, but the farms and gardens are not plentiful.
"We have to work very hard too. Look at our hands," they said, reaching out with muscled arms and palms that are calloused.
Saratou remembers a time when things were better, when she was a child. She agrees with Zaha Illia and her sister Harit.
"Our hope for the future of our village is that we can eat and drink until we are full."
Mariama: Hopes for Health
Mariama was not born in Guidan Gado, but she moved to the village after she married. As her family gathered for a photograph, a new child or two emerged between each click of the camera.
Mariama has nine children and 15 grandchildren. Traditionally, families here do not send their daughters to school and Mariama is no exception. None of her three daughters have attended school and the two eldest are now married with their own families.
Rachida, the youngest daughter, is 14 and helps at home while she waits to marry. Rachida blushed as she quietly spoke through rogued lips and said she hopes she can marry and remain in Guidan Gado with her own family. Unfortunately, most of the young men are leaving the village in droves to find work and better lives elsewhere.
Mariama's wish for the future of Guidan Gado is simple.
"I hope for the health of everyone."
Chief Mahaman Chaibou: Hopes to Help Neighboring Villages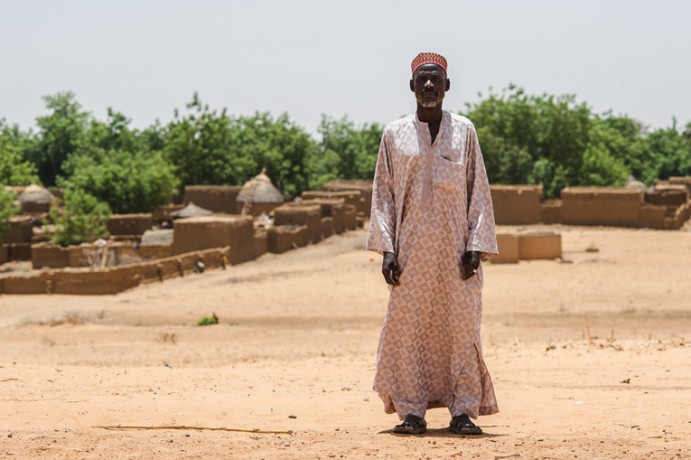 Mahaman Chaibou is the fifth chief of Guidan Gado. Niger is a landlocked nation and constantly works to secure its borders from radical terrorism. But Mahaman's hope for the next generation of his villagers is that they will build peace through relationships.
Perhaps that is why he is so excited about the possibility of Samaritan's Purse staff working in his village.
"Our doors are open for Samaritan's Purse to come because we've heard and we've seen what you're doing in our neighboring villages," he said. "Anytime I see Samaritan's Purse people, I feel like I should carry you, tie you on my back and go around with you because I don't want you to leave. I'm happy to see you and keep you with me."
The verb the chief used for "carry" in his native language is the same verb used for the way women carry babies on their backs. The word indicates sustaining care and support.
Such openness to Christians is rare in many Nigerien communities, but the chief sees a bigger picture. He hopes that our work will allow his people to help neighboring villages in turn, and alter the future of coming generations. His vision for his children is that of any loving father – that they will succeed in school and in their professions, and that they will have "the wealth to feed their families and take good care of themselves."
Niger Projects
Niger is one of the poorest countries on earth, as drought and instability plague this West African nation. Samaritan's Purse works to meet physical needs through livestock and agriculture projects, as well as monthly food distributions to tens of thousands of displaced people. Our community health programming includes medical projects as well as education for families on gender-based violence and mental health issues. We also provide clean water through new wells and BioSand Filters. The filters are handmade and sold by local women who are able to earn desperately needed income. As we work across this Muslim-majority country to alleviate suffering, we partner with trained local evangelists to share the true hope found only in Jesus Christ.