In response to an outbreak of illness in the war-torn nation, Samaritan's Purse opened a Cholera Treatment Unit to provide urgent medical care and education in prevention.
Fight Infectious Diseases
013901
The nation of Syria, home to 7 million internally displaced people, continues to struggle through years of horrifying conflict. To compound their troubles, an outbreak of cholera hit the country in early September. The illness has affected more than 20,000 people so far, resulting in more than 200 deaths. To help save lives and alleviate some of the suffering, Samaritan's Purse set up a Cholera Treatment Unit in one hard-hit city.
"Cholera is an acute diarrheal disease resulting in severe dehydration," said Medical Director Cindy Albertson. "While cases can be mild, if untreated cholera can kill within hours."
Local health authorities in this city were already overrun with other work when their suspected cholera cases soared to 1,500. Unprepared to fight this disease and provide the timely care that is critical, they asked Samaritan's Purse for help. The Cholera Treatment Unit we stood up in early October saw more than 800 patients in the first three weeks of operation.
'Thank You for Feeling Our Challenges'
Dunia* is six months pregnant and lives next to the local hospital with her husband and 14-month-old daughter. Since the city water supply was cut off, their biggest challenge has been finding clean drinking water. They are now forced to buy water from a service that trucks it in, but this essential item is also a luxury they cannot afford. Their only source of income is her husband's work as a day laborer. Yet even with the purchased water, they must boil it before it can be used.
A week ago, her daughter starting vomiting and developed a fever and diarrhea. Dunia brought her to several places in search of help before someone told her about the Cholera Treatment Unit. She was very thankful for the care Samaritan's Purse provided and said her daughter is already doing better.
"Thank you for feeling our challenges and thinking about us," Dunia said.
Our staff of more than 70 medical professionals, the majority of whom are Syrian nationals, offer patients like Dunia's daughter triage and treatment ranging from oral rehydration salts with several hours of monitoring to inpatient care complete with intravenous fluids and antibiotics.
Patients also learn how to prevent cholera, including how to practice good hygiene and safely prepare water for consumption. For ongoing care, they are discharged with a package that includes other educational material, oral rehydration salts, and tablets to purify their water sources at home.
The Source of the Outbreak
Cholera is a waterborne disease that spreads quickly. The Euphrates River, while normally life-giving to the region, is now the source of the problem. Syria is currently enduring a drought so their usual water treatment centers are currently out of service. In desperation, people have turned to the contaminated waters of the river for drinking water and agricultural irrigation. Unfortunately, crops watered with unsafe water make the harvested food contaminated as well.
Please pray for the people of Syria to rise above the current health crisis with resilience. Please also pray for Syrian medical professionals as they have been mentored and coached by Samaritan's Purse staff to be prepared for future cholera outbreaks. We will transition the Cholera Treatment Unit to their leadership on Nov. 10.
*Name changed for security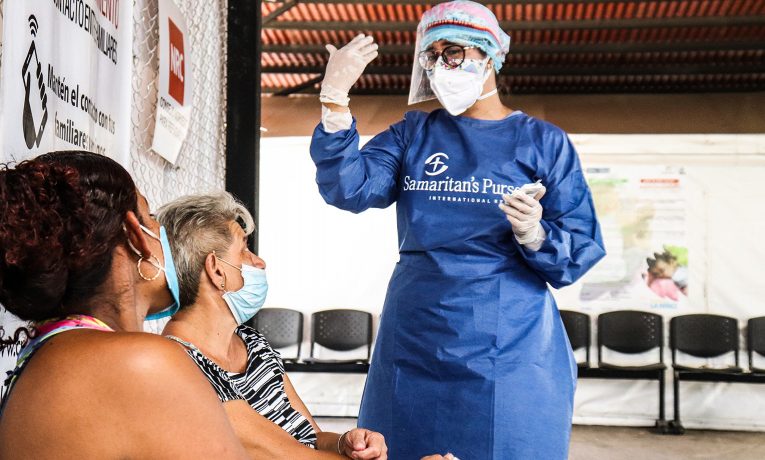 Fight Infectious Diseases
Samaritan's Purse does not shy away from the challenge of infectious disease and provides care and relief in Jesus' Name to those who are suffering. It is critical to be ready to respond quickly when these outbreaks occur, and we often work alongside our worldwide network of missionary hospital partners. We also carry out public health initiatives aimed at preventing the spread of disease and protecting vulnerable populations, which can include providing PPE, clean water, and needed food. Your gift enables us to help people in a variety of ways as communities battle illnesses such as COVID-19, Ebola, malaria, cholera, tuberculosis, diphtheria, or HIV/AIDS.
---
Infectious Diseases Fund 013901