NIGER, AFRICA
Rising from the Ashes
Support Churches in Niger
"Your support and prayers will be a strong encouragement for the persecuted believers in Niger who are standing strong for the Gospel of our Lord Jesus Christ."

~Franklin Graham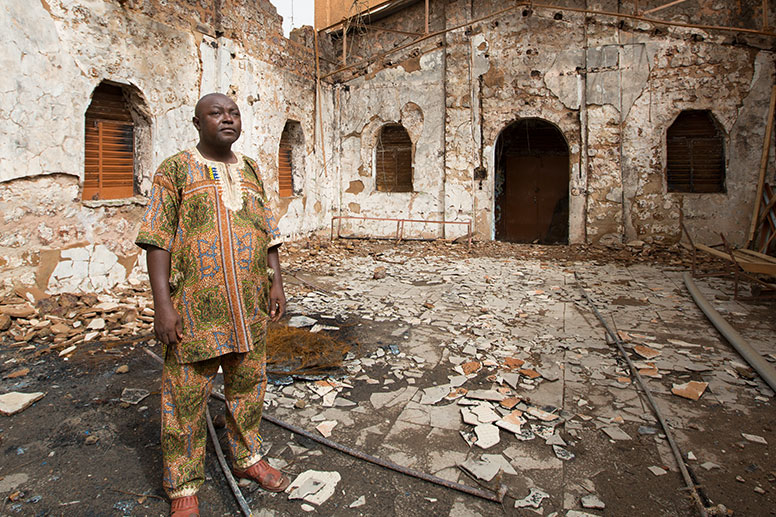 It's been more than two years since angry Muslims began their demonstrations in Zinder, Niger, to protest a cartoon of Muhammad that appeared in the French satirical magazine "Charlie Hebdo." The trouble started when people entered Christians' homes, stealing what they wanted, and burning the rest. The damage quickly extended to churches and missionary schools. By the end of the next day, 70 churches across the country had been burned.
"Either you die for nothing, or you stand for your faith." #RebuildNiger

Although it was a blow that no one had expected, Christians didn't let the burnings stop them. Many churches still held services the following day. Across Niger, they stood among rubble and ashes under the sweltering desert sun and sang praises to God.
"Either you die for nothing, or you stand for your faith," said Bishop Kimso Boureima, president of the Evangelical Alliance in Niger.
While the congregations met outside, surrounded by reminders of what had happened, the pastors preached forgiveness. Many admitted that it was difficult. They sometimes stood in front of angry groups of Christians and had to remind them of God's love.
Christians across Niger slowly put down their desire for revenge in favor of forgiveness. Many made public statements and reported that their Muslim neighbors showed remorse for their actions—some even cried when they heard the message.
Meeting outside was not a longterm option for the churches. Temperatures in Niger can reach 130 degrees, and church services often last three hours or more. But all of the churches knew they would be unable to rebuild the buildings that once stood. Missionaries built most churches in Niger in the 20th century with materials shipped from other countries. They had been big, expensive endeavors that the churches—now run by locals—couldn't afford to replace.
In July 2015, Samaritan's Purse announced a plan to rebuild 20 churches in Niger. Thanks to support from many donors, we surpassed our financial goal and are working to rebuild even more churches. Read the stories of six churches below.
Chapter 1:
Church at the Round Point
One of the largest and oldest churches in Niger with around 500 members, the Baptist Church at the Round Point was built in 1929 by American missionaries, with most materials brought from the U.S. When the building was burned in 2015, the church didn't have the equipment necessary to build back what they once had. But that didn't stop them from meeting amid the rubble and ashes after the burnings. Soon, they had used iron from the burned roof to build a temporary shelter.
"It's really a miracle for us to see this building" #RebuildNiger

Members from the church began going into the community and forgiving their neighbors. They also distributed Operation Christmas Child shoeboxes to Muslim children, bridging the gap that had formed since the burnings.
Samaritan's Purse is helping to build the church building back, and, with significant contributions from the congregation's members, the new church will be almost double the size of the first church. Pastor Jacques Houeto hopes this will give the church room for new children's programs and more classes. He also hopes that the church will be able to host more community events, bringing neighbors into the church.
"It's really a miracle for us to see this building," Jacques said.
Church members have been encouraged to see the progress of the building, and it has persuaded people who were passive in their faith to begin attending church again.
"The fact that [Samaritan's Purse is] working alongside with us, we feel like we're not alone," Jacques said. "I can see that [the members'] faith is very boosted because the fact that they even see this work, it's encouraging them more."
Despite the violence, no Christians died in the attacks. Many were warned beforehand and were able to escape. Pastor Issa Elhadjkouldjami has a church in Zinder, sometimes described as the heart of radical Islam in Niger. He took his family and church members to the local gendarmerie base after his son heard a warning from children at school.
Since the burnings, the church has two new converts. The first was a man who was watching some demolition before rebuilding could occur. He started talking with church members and has faithfully attended since that day. The other was a woman who lives close to the church. She talked with a church member about the burnings, and after a few conversations, he led her to Christ.
Jacques thinks that the church will be so successful in reaching the community that he hopes they can plant a church to strengthen the faith of more new converts. He believes that, one day, Niger, which is currently around 98 percent Muslim, can become a Christian country.
"My hope is that the church takes possession of the whole country," Jacques said. "I know that God will do a very, very big work here in Niger."
Chapter 2:
Salama Church of Niger
The word "salama" means "peace." For years, Salama Church always had its doors open for its 200 members and for community members, including Muslims. There were prayer meetings, women's fellowship, youth meetings, and choir practice in addition to the regular Sunday service.
"...better things are coming out from the ashes." #RebuildNiger

Pastor Zackariah Jadi and his family lived on the edge of the church compound, so when rioters burned the church, they also destroyed his home. Zackariah was warned and had escaped with his family, but they hadn't had time to take clothing, important documents, other necessities, or irreplaceable items.
Despite their circumstances, the church didn't stop proclaiming the Gospel. Without chairs, electricity, or running water, the church continued to meet.
Church members were able to find a new home for Zackariah, and Samaritan's Purse committed to rebuild the church. The new church building opened just in time for a Christmas service in December 2016 and is bigger than the old facility, which Zackariah said is a welcome challenge. He looks forward to filling it with new converts.
"We realize that the best has just begun," Zackariah said. "The Lord answered our prayers, and new things are coming out, better things are coming out from the ashes."
Since the burnings, Zackariah said many members have recommitted themselves to Christ, and he has seen the faith of the congregation grow stronger. Their boldness has impacted the community, especially when members gave Operation Christmas Child shoeboxes to the children of people who had helped burn the church.
"This thing really touched them because they could not understand what really is happening with us," Zackariah said. "They came, they burnt our places, and we come back to them and give them gifts."
Zackariah said he has already seen new converts in the community, and he's had the opportunity to share about Christ with government leaders. He believes the persecution will purify and strengthen the church.
Chapter 3:
Boukoki Church
Boukoki is the largest evangelical church in Niger. When it was built in 1976, it was one of only five Christian churches in Niger. When community members marched from the local mosque to Boukoki to burn the building and books, rip off the roof, and dig out electrical sockets, church members knew they would be unable to rebuild.
"Having this church means to the world ... that still we can stand." #RebuildNiger

"As children of God, this is not new for us," said Pastor Maman Halidou Kashe, who took over as pastor of Boukoki about a year after the burnings. "As children of God, we should know to rejoice in the times of happiness, but when things are not, also we should give thanks to God. We know that God is in control."
In the week after the burnings, the church continued to meet. There was a surge in attendance, especially at the prayer meetings. Church members quickly arranged to distribute Operation Christmas Child shoeboxes to their neighbors. Since then, they have continued distributions in several surrounding villages.
Boukoki met in a temporary shelter for a time. Though hot and uncomfortable, Maman said his congregation didn't complain.
In addition to support from Samaritan's Purse, Boukoki raised funds for its rebuild project and has also worked to improve the roads around the church, which has helped the entire community. Maman said he hopes that the new building will allow the church to implement more projects for the surrounding community.
"This building means a lot for us, not because of how big it is but because of what it represents," Maman said. "Having this church means to the world, especially to the people that have destroyed the churches, that still we can stand. We are not alone as Christians. We have people that can help us."
When Pastor Emile Yeye and his wife, Kadidia, first saw the remains of their church, they fell on their knees and worshipped God, despite their pain. As quickly as possible, they gathered their church members and asked them to pray that God would forgive the people who had burned their church building.
"I have a very glorious hope for the church in Niger." #RebuildNiger

"When I came and I saw everything was destroyed, I was not happy," Kadidia said. "I was hurt. But quickly, I remembered that the Lord said we will be going through challenges, but we should be encouraged. When I thought of these words, I started praising the Lord. Of course, I was crying, but I was still praising the Lord."
Emile said he took each teaching opportunity to preach about forgiveness, and, after two weeks, he saw his congregation's hearts begin to mend amid the rubble they were meeting in.
"The church is not about the buildings," Emile said. "The church is composed of people who believe in Jesus Christ."
Although members knew they wouldn't be able to complete a rebuild on their own, they began repairing the walls and roof. That's when Samaritan's Purse stepped in to help by finishing the roof and ceiling, painting, and doing all the electrical work.
In March 2016, the new church building opened its doors. In the year that the congregation went without a building, they had grown closer and learned to rely on God more. Upon seeing the completed building, Emile said they realized that God had never left them. There was a special church service to celebrate the finished work.
The church is using its new building as a base for prison and hospital evangelism, sharing the Gospel one-on-one with people who desperately need it. The new building also hosts celebrations throughout the year, including for Christmas and Easter. Emile said the church has invited Muslims neighbors to join in, and several people have accepted those invitations.
"I have a very glorious hope for the church in Niger," Emile said. "This is what is burning inside us."
Chapter 5:
Harobanda Church
When Muslim neighbors burned Harobanda's building, they assumed the church would leave the area. But church leaders quickly cleaned away the debris and held a short service of encouragement the next day. While many members were fearful and sad afterward, they quickly decided to rebuild. The members continued to spend time with their neighbors and showed kindness to them despite their involvement in the burnings.
"God never does things by accident ... He has a better plan for the church." #RebuildNiger

"The church never changed the way they relate with people," said Pastor Bilimpo Ouoba. "They didn't change their lifestyle [or] the support they gave to the community. They didn't show hatred toward the neighbors."
Most of the protesters close to Harobanda were young people. Eventually older members of the Muslim community went to the younger ones and asked them to return items they had stolen, including the church benches.
With these items back in their possession, the church didn't have to worry about buying all new materials. But they knew they could not afford the expense of a rebuild. When Samaritan's Purse agreed to rebuild the building, the church knew their prayers had been answered. With the renovation, trust in God grew again.
"God never does things by accident," Bilimpo said. "It's because He has a better plan for the church."
Since the church has a new building, the youth have started an outreach program in the community. Bilimpo said their neighbors used to be hostile, but now they are open to the church's ministry. A recent convert has begun attending Harobanda, and Bilimpo hopes that person will be just the first of many more Nigeriens to come to Christ.
Chapter 6:
Bethel Horizon
Pastor Issa Moussa was sitting under a tree at Bethel Horizon with a church elder when the attacks began. Neighbors chased away the first wave of would-be attackers. When the next wave arrived, the result was the same. But when a third group came with machetes and stakes, Issa asked his neighbors to step down because he didn't want bloodshed.
"I have big hope for the church of Niger ... This is somehow a way of revival." #RebuildNiger

"When we realized it's going to be a massacre, we decided to just not oppose," he said.
The attackers broke down the church doors, stole everything they wanted, and set fire inside the church. The same neighbors who had tried to protect the church tried to quench the fire, but it was too late.
While the smoke still billowed, Bethel Horizon members came to the church to clean the debris. On Sunday, the next day, they returned to pray. Over the following months, the members bought chairs, a sound system, and instruments. When Samaritan's Purse came alongside the church, they provided the ceiling, wiring, lights, paint, and all finishing touches. The church celebrated its new building in May 2016, and many Muslim neighbors came to see the completed project.
Among other activities, the new building is being used by Issa's wife, Aissa, for a women's ministry. She starts each session with prayer and then shares the Word of God. Aissa said that some participants have received Christ and others have stopped their daily Islamic prayers and rituals. She is also teaching them vocational skills, such as sewing, and is slowly seeing change in the community.
"I have big hope for the church in Niger," Issa said.
Chapter 7:
How Can You Help?
Since July 2015, Samaritan's Purse has worked with local Christians to rebuild 22 church buildings, and 10 more are currently in progress. By the end of 2017, we will have rebuilt or renovated 43 churches.
"We are encouraged, we are strengthened and we believe our faith is not in vain." #RebuildNiger

"We are encouraged, we are strengthened, and we believe our faith is not in vain," Bishop Kismo said.
But that's not the end of the story. Many churches, like the Baptist Church at the Round Point, are planning to plant churches as the Christian population around them grows. Samaritan's Purse is aware of 45 newly formed churches that need buildings. We hope to also help with these needs and to train pastors in Niger who currently have little to no Biblical education.
The Nigerien church is thankful for the support from our donors. Please continue to pray for these churches as they reach out to Muslims in their communities and for newly formed churches as they wait for meeting spaces. Your support can help us continue to spread the Gospel in Niger.