Discover the stories of Syrians crossing into northern Iraq and how Samaritan's Purse is helping.
Ayuda para la crisis continua de Siria
014047
More than 13,000 Syrian refugees have fled through conflict zones in their own country to find safety in neighboring Iraq. Their first stop across the border is the Sehela transit center where Samaritan's Purse staff has been present to greet them, help serve a meal, and offer them hygiene and dignity kits, complete with soap, lotion, a toothbrush and toothpaste, feminine products, and other essentials. We have distributed 2,900 of these kits to date.
After less than 24 hours at Sehela, the refugees board buses that take them to a more permanent refugee camp. More than 12,000 people now reside in Bardarash camp—the majority of whom are women and children. While necessities are scarce, Samaritan's Purse is providing water, sanitation, and hygiene services to ease their burdens. We have repaired over 400 latrines that were previously unusable.
"We're here to show them that we care and, more importantly, that God cares about them," said Samaritan's Purse staff member Jessica Lutz.
We invite you to come alongside us as we serve in Jesus' Name and meet some of these precious people who have endured so much on their harrowing journey.
'I Ran for My Children's Lives'
Mirko scrambled to leave the heart of the conflict area together with his wife, two sons, and his parents as Turkish planes bombed their homes. They fled immediately, with only the clothes on their back.
"I left everything," he said. "It was very difficult for me. I left my house open, just to run away for my life." But after further thought, he clarified what he meant: "I didn't run for my life, I ran for my children's lives. I care for them."
His family's trek to Iraq was taxing on all of them. "The journey was very difficult and hard," Mirko said. "My father is 90 years old. I had to carry him on my back across the border."
Mirko's extended family found relative safety at the Bardarash camp roughly a week ago, but the adjustment was not easy. His children initially cried because the tent and other parts of their new environment were so foreign to them. They are beginning to get used to it, "but still, it's very cold to them," Mirko said.
He and his family are grateful that Samaritan's Purse gave them some dignity by repairing their bathroom and shower. "Thank you very much," they said. "We appreciate it."
'I'm Praying for God to Get My Country Better'
Due to the rising conflict in Syria, Diyar paid $2,000 to smugglers to transport his family of four across the Iraqi border. Now he has roughly $20 left, which he is using to buy canned foods for his two sons to supplement what they are given in the camp. These funds should supply him with anywhere from three to ten more days of extra food.
"I'm not asking for a lot. I can survive for five days with no food, but I'm asking for a few things for my kids."
His son with special needs only has one month's supply left of his medication. Diyar's only plan to get more is to go back to Syria: "I'm praying for God to get my country better."
Still, Diyar said, "There are families that are much more in need than me."
'I Don't Have Any Food to Give to My Children'
Adan first arrived in Bardarash camp in 2015 after being injured by a rocket propelled grenade in Syria. He eventually made it home again, but just over two weeks ago, he returned to the same refugee camp in Iraq with his wife and seven children.
He vividly recalls what made them leave their home near the Turkish border: "Suddenly it started raining bombs and guns over our heads," Adan said. "We just went out and saw everything destroyed. We took everything we could carry and went away."
When they eventually made it to the border, they paid $700 a person for passage into Iraq. They sold their home and all their possessions and also borrowed money from friends and family to cover the expense.
Even after they crossed the border, their journey continued to be arduous. "We had the hardest and worst days of our lives. We didn't have even water to drink, no milk, no food, rice, and other things," Adan said. "We got very hungry. We slept on the ground in the middle of nowhere."
When they finally arrived in the camp, he was relieved. "Although we lost our country, our house, and whatever we have there, but thank God that we have a small tent and are living here now," Adan said. "Here it's safe."
Now his worries are no longer for his safety, but for his children's health and education. A few of his teenagers are still unable to write their names, but Adan has no money to buy them schoolbooks. Worse yet, they often go to bed hungry.
"I don't have any salary or food to give to them," Adan said. "I just want something, or anyone, just to give me a piece of bread to give to my children. This is the most important thing for me."
Adan is grateful for the services being provided in the camp. "Thank you very much for your kind help," he said. "I would like to thank Samaritan's Purse people for the mercy and the kind heart you are having and for helping us."
Samaritan's Purse counts it a privilege to serve families like these. "People all over the world can be praying for the refugees that God would comfort them, that He'd provide for their needs," Jessica added. "People can be praying for us as Samaritan's Purse that we'd be able to meet some of these needs in Christ's Name."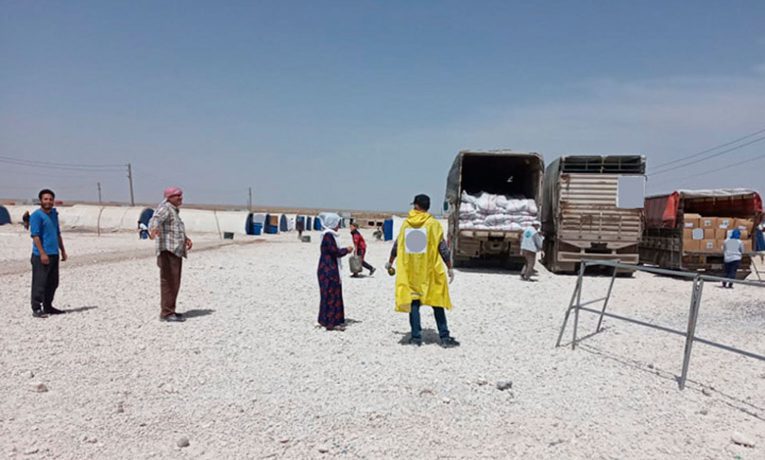 Ayuda para la crisis continua de Siria
Samaritan's Purse proporciona ayuda críticamente necesaria en Siria, donde miles han sido desplazados y sus vidas se vieron alteradas por la crisis actual. Trabajando en el nombre de Jesús, brindamos la ayuda críticamente necesaria de atención médica y alimentos, entre otras formas de asistencia. Por favor, ora por las muchas personas curdas, cristianas y otros que están atrapados en el medio de este conflicto.
---
Ayuda para kurdos de Siria 014047