Franklin Graham Update  | 

December 2022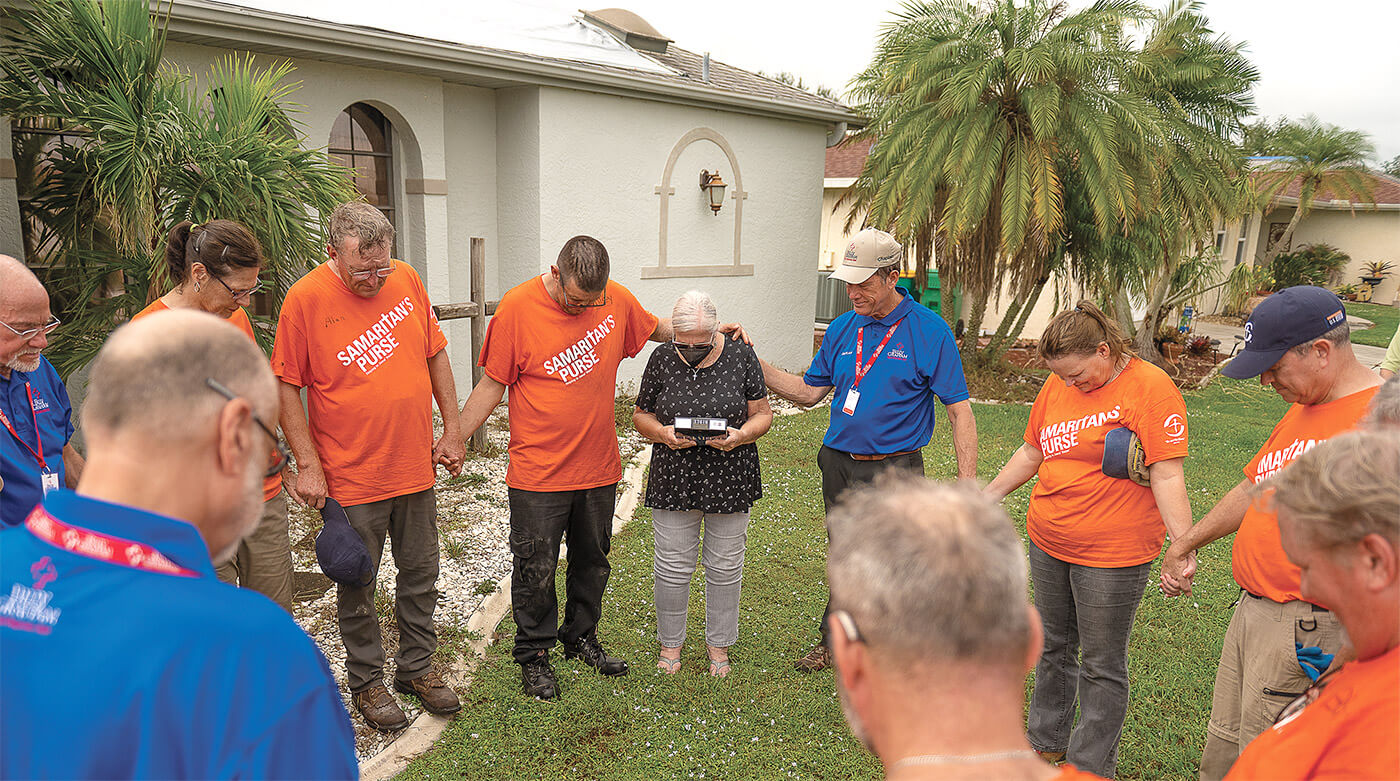 AMAZING GRACE
AFTER THE STORM
Dear Friend,
When Samaritan's Purse responds to a disaster, our volunteers do far more than tarp roofs, cut fallen trees, and clean out mildewed houses. They also serve as ambassadors for Jesus Christ, bringing the hope of the Gospel to those who desperately need it.
In the two months since Hurricane Ian, our teams in Florida have not only worked on over two thousand houses but have had the opportunity to see more than 400 individuals trust Jesus as their Lord and Savior.
One widow in Port Charlotte, Florida, even called the hurricane a blessing, because of how the Lord used it to bring her to salvation. Marti Taber had been through hurricanes before, "but this was the most terrifying thing I've ever been through. I had no power. I had no way of getting in touch with anybody. I was here alone through the whole storm."
She has a generator but couldn't get to the shed because of fallen trees all over her yard. She cranked up her late husband's chainsaw and tried to cut her way through—her toughness reminds me of my mother—but the saw was not designed for a left-hander, and the limbs were too big for her to move.
Then a team of Samaritan's Purse volunteers came to her rescue, removed the trees, and tarped her roof where the shingles were damaged. But they also took time for the most important job—to minister to her soul. "I lost my husband in December, and going through the hurricane was like going through this horrible thing all over again. They stayed and talked to me and it was just incredible—and they gave me a Bible. At the beginning, we met and prayed by the back of the truck."
Through the witness of our volunteers, she learned that she could have a personal relationship with Christ, and chaplains from the Billy Graham Evangelistic Association shared the Gospel and guided her as she prayed to invite Jesus into her heart.
We thank God for 7,000 volunteers who have worked with Samaritan's Purse in Florida to help the hurricane survivors. They even worked on Thanksgiving Day, and we are also planning to have crews working on Christmas, as there are still hundreds of households who need our help to get their homes ready for repairs. Our U.S. Disaster Relief teams will be working in Fort Myers and Englewood well into January. We are also working in Mayfield, Kentucky, to rebuild houses for victims of a tornado just before Christmas last year; and in Houma, Louisiana, which is still recovering from Hurricane Ida. If you or your church can help, please sign up at spvolunteer.org.
It's been a busy year for Samaritan's Purse. We are still working in Ukraine, where millions living under siege with no power need our help as they face a bitterly cold winter. We have distributed more than 100 million pounds of food this year, and our teams are working around the clock to provide wood stoves, warm clothing, blankets, and other supplies to help people survive the harsh conditions. Our medical teams are working close to the frontlines and have treated patients with shrapnel wounds and various illnesses. Meanwhile, many other parts of the world need our help. Samaritan's Purse has ongoing projects in dozens of countries as we work to save lives, relieve suffering, and share the hope of the Gospel.
Everywhere Samaritan's Purse works, we look forward to sharing the true meaning of Christmas, the birth of our Lord and Savior, Jesus Christ. "Then the angel said to them, 'Do not be afraid, for behold, I bring you good tidings of great joy which will be to all people. For there is born to you this day in the city of David a Savior, who is Christ the Lord'" (Luke 2:10-11).
This will be a hard Christmas in Ukraine, as well as for many in Florida and other places stricken by calamities. Thank you for your prayers and support. May God richly bless you.
Sincerely,


Franklin Graham
Ways to Help
Ways You Can
Help
Pray
Pray for the work of Samaritan's Purse as we minister to victims of Hurricane Ian in Florida and the conflict in Ukraine. Continue to lift up children receiving shoebox gifts through Operation Christmas Child.
Year-End Giving
Now is an ideal time to prayerfully consider a tax-wise gift to Samaritan's Purse to help meet urgent needs and share the hope of the Gospel. For information about giving appreciated stocks, tax-free IRA rollover gifts, or charitable gift annuities, please call our Donor Ministries department at 833-345-3422 or visit samaritanspurse.org/PlannedGiving
U.S. DISASTER RELIEF

Samaritan's Purse needs disaster relief volunteers year-round as we repair and rebuild houses for storm victims. If you or your church can help, go to spvolunteer.org to see our locations and sign up.

U.S. Disaster Relief

013622

UKRAINE RESPONSE

Your gift will help relieve suffering in Ukraine by helping Samaritan's Purse provide wood stoves, food, clean water, medical care, and other urgent assistance. A stove costs about $160.

Where Most Needed

Your gifts to "Where Most Needed" equips Samaritan's Purse with the resources—including personnel, materials, supporting services, and equipment—to fulfill our mission of relief and evangelism.
You can also make a donation by mail. Send to: Samaritan's Purse, PO Box 3000, Boone, NC 28607