Ministry Overview
2022 Year-End Impact Report
Thank You
Samaritan's Purse remained steadfast this year in our mission to relieve suffering and proclaim the Good News of Jesus Christ. We ministered in Jesus' Name to refugees, impoverished families, and victims of disaster and crisis situations. We thank God for using Samaritan's Purse to bring healing and eternal hope to people in desperate need.
"We are here to show the love of Jesus in a time that is so dark in their lives," said one of our Disaster Assistance Response Team nurses who served with us in Ukraine. "We step in for a minute to show them God's love and be a safe space for them."
Thank you for your partnership with Samaritan's Purse and churches around the world as together we labor to share God's love and grace with a hurting world. We pray that this report is an encouraging testament to your generosity and prayers.
U.S. Disaster Relief
In 2022, our U.S. Disaster Relief teams served more than 3,000 homeowners in Jesus' Name during 21 disaster relief responses in 13 states. We praise the Lord that as a result of these deployments, more than 350 people came to know Jesus Christ as their Lord and Savior.
Ronnie Banks, a National Guardsman, is among those homeowners who received help in a time of desperate need. Ronnie, his wife, and two children listened as torrential rain continued to pound their home in Breathitt County, Kentucky. By the time the storm was over, their home—which they had just moved into a couple months before—had four feet of water in it.
"When we finally got back home, we couldn't even open the door," Ronnie said. "The floodwaters had thrown everything around the house. There was mud all through everything. It was a big mess."
The Banks family began cleaning up what they could, but the work was overwhelming. They were relieved when they saw a Samaritan's Purse disaster relief truck coming down their road. After three days of hard work, our volunteer teams cleared the home of mud and debris, setting up the family to begin rebuilding.
Ronnie was incredibly grateful for the help, hope, and encouragement offered by Samaritan's Purse volunteers during a difficult time. "How much they've done is amazing. Their help is going to keep our house," he said. "And we're learning about the calm after every storm. God is showing us what He wants us to see in the storm."
In September, Hurricane Ian slammed into southwest Florida as a Category 4 storm that delivered 150-mph winds, heavy rain, and a massive storm surge. It was one of the most powerful storms to hit Florida and claimed more than 100 lives.
We quickly responded and volunteer teams began working from bases at three partner churches in hard-hit communities. Both Franklin and Edward Graham were on the ground to see the devastation firsthand and to encourage homeowners.
Michael Massey rode out the storm in his Fort Myers home. The winds nearly lifted the roof off of his house and left it in shreds. Over a dozen volunteers helped to repair the roof.
"These are just wonderful people," Michael said of the volunteers. "I would never have been able to fix this myself. They are a godsend."
Those sentiments were echoed by Elaine Seeley who had several trees uprooted on her property and some landed on her roof and poked holes in it.
"I prayed through the storm," Elaine said. "I didn't know how I was going to clean all of this up and get my roof fixed. But God knew and He sent this orange army to help me."
Once the initial cleanup phase is completed after a disaster, Samaritan's Purse often returns to the hardest-hit communities to help hurting families with repairs, rebuilds, and new home construction.
In Mayfield, Kentucky, we launched a rebuild program following our response to a devastating tornado there in December 2021. The horrific twister left nearly 70 percent of the rental population in Mayfield homeless. Our rebuild effort will also include a subdivision with 50 half-acre lots for renters and a furniture assistance program to help 400 families. We also are installing storm shelters as we rebuild homes to provide protection during future storms.
Operation Christmas Child
Thousands of outreach events were held this year as millions of boys and girls received gift-filled shoeboxes packed in Jesus' Name. For many children, this was the first gift they received. The children heard the Gospel during the outreach events and learned about the Savior who loves them and created them to "walk worthy of the Lord, fully pleasing Him, being fruitful in every good work and increasing in the knowledge of God" (Colossians 1:10).
This year, your partnership helped us deliver 10.5 million shoeboxes to boys and girls in more than 140 countries. About 4 million children learned how to follow Jesus Christ and share their faith with others through our follow-up discipleship program, The Greatest Journey.
About an hour west of Abidjan, the largest city in Cote d'Ivoire, is the small fishing community of Dabou. Roads become nearly impassable during rainy season, leaving the town largely unreachable.
Fishermen from the nearby country of Benin sell their catch in Dabou. Along with their goods, however, they also bring voodoo worship practices, which has created a strong resistance to the Gospel in Dabou.
Samuel, 14, had always maintained and cared for his family's voodoo sanctuary. But he questioned everything he had been raised to believe after he attended an Operation Christmas Child outreach event hosted by a small church outside of Dabou.
Samuel joined 50 other children at the event, and many of them enrolled in The Greatest Journey.
After learning about God during the discipleship lessons, Samuel told his parents that he no longer wanted to continue voodoo worship. Although his parents insisted that he would die if he stopped practicing voodoo, Samuel knew that he could pray to Jesus for strength and protection.
The following night, four voodoo sanctuaries in the community burned to the ground due to an electrical short circuit.
The faithfulness of the small church outside of Dabou led Samuel's community to witness God's mighty power. Now about 25 adults and children in Samuel's village are meeting regularly and worshipping God.
From remote fishing villages to rainforests and deserts, our teams carry Christ's words in their hearts: "Go therefore and make disciples of all nations" (Matthew 28:19, ESV). We pray that each child who hears and believes in Jesus Christ through The Greatest Journey and Operation Christmas Child will become a steadfast Gospel presence in their community.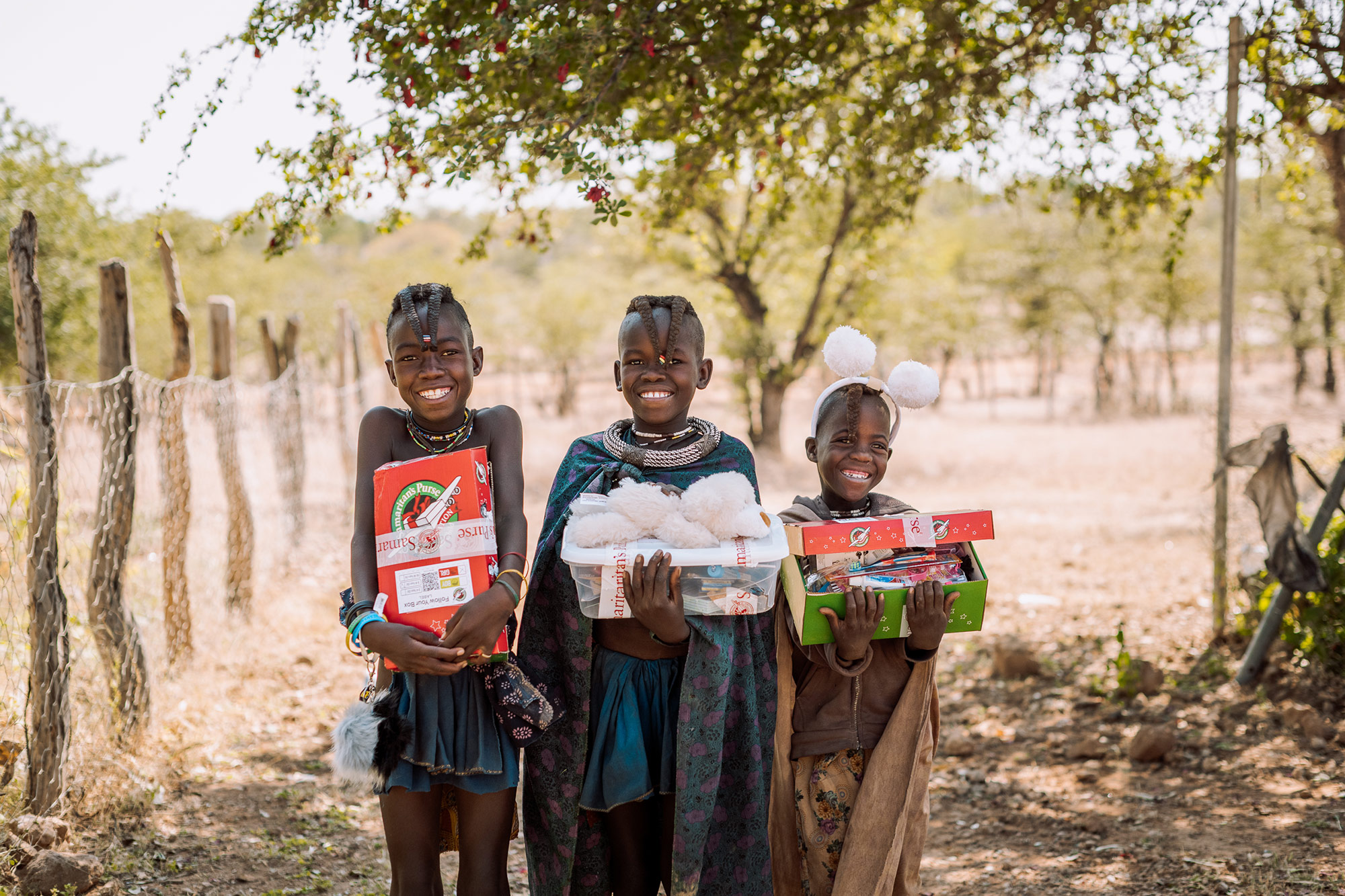 Water, Sanitation, & Hygiene
God provided our Water, Sanitation, and Hygiene (WASH) teams opportunities in 2022 to drill and rehabilitate freshwater wells, distribute household water filters, teach about the importance of hygiene and sanitation, and deploy emergency water filtration systems in disaster and conflict areas. As we met the need for clean water around the world, we also shared the Gospel and pointed people to Jesus Christ—the Living Water—as the only One who can satisfy their spiritual thirst.
We praise God that our teams reached more than 245,000 people in 16 countries through our WASH projects. Clean water access and better health allow parents to return to work and provide for their families, children to consistently attend school and dream of a bright future, and communities to raise healthier livestock.
Sok* is a village chief in a remote area of northwest Cambodia that has always lacked consistent access to clean water. Sok watched as families in his village suffered from waterborne illnesses. Children missed school because they were sick. Parents couldn't work, and their meager savings quickly dried up as they struggled to recover.
Impoverished families struggled to secure water for cooking, bathing, and washing clothes. Drought season also brought increased challenges to already vulnerable households, as livelihoods were threatened because farmers couldn't maintain their crops.
Sok, a widower and father of six children, didn't know how to help his village. He feared that his family and friends would remain trapped in a cycle of illness and poverty unless something changed.
The first glimmer of hope for a different, brighter future came when a Samaritan's Purse team arrived in Sok's village. We drilled multiple boreholes and constructed a network of pipes to connect individual households to the new water distribution system.
Sok and his community now have clean water to not only sustain daily household activities but also to care for their livestock, crops, and gardens.
Samaritan's Purse teams trained Sok and six other community members on how to maintain the new boreholes so that they will stay clean and functional, providing safe water for years to come.
Our staff shared the Gospel of Jesus Christ during these trainings, and by the end of the sessions, all seven individuals had received Jesus as their personal Lord and Savior. "I gave my life to Christ—I surrendered to Him. I live every day confessing Jesus as my Lord," Sok said.
Sok began meeting regularly with a local pastor and continued growing in his faith in Christ. His desire for more people in his village to know God led him to start a Bible study and prayer group in his home. Sok started hosting the group weekly, after word spread throughout the village and interest in learning about the Bible increased.
This year, we completed 708 freshwater wells throughout Cambodia, the Democratic Republic of the Congo, Ethiopia, Kenya, Liberia, Niger, the Philippines, South Sudan, and Uganda.
*Name changed for security.
Vocational and Agricultural Training
Hilba* gets up long before dawn and leaves her family of 10 at home. She travels down a side street in her town in Iraq to a small bakery where she joins a group of female partners in making traditional breads and pastries. This town has never had a bakery, and the fresh supply sells out each morning and afternoon.
Although women don't generally work outside the home, Hilba and her partners began the bakery after receiving vocational training from Samaritan's Purse. During two months of classes held three days a week, the women—many of whom are widows or single mothers—learned business skills and basic literacy that helped them launch their own businesses. A Samaritan's Purse grant of $3,000 provided the group with the capital they needed to buy startup supplies while their trainers helped them secure these items at a fair market price.
Since the bakery opened, the women have each earned $100 per month. For Hiba, these proceeds are a critical part of what motivates her to be in business. "As a family, we don't have a source of income," she said. "The money I get is for food."
Besides Hiba's group of bakers, 45 other groups of women throughout Iraq's Nineveh Plains have received vocational training.
In a drought-stricken area of Syria, Samaritan's Purse provided farmers summer and winter vegetable seeds and organic fertilizer. We also taught irrigation methods to help their new crops thrive. In this dry environment, the drip-irrigation kits allow farmers to control water flow and save up to 70 percent more water than traditional methods. The organic fertilizer also creates a moisture-preserving layer in the soil.
Farmers are now harvesting lush vegetable crops to feed their families and to sell in local markets. They are also utilizing food preservation techniques to save produce for the winter.
21,292
people trained on improved agriculture
13,361
people trained in livelihood topics
113,172
people provided with livelihood tools/assets
Alba, who cares for her seven children on her own, received vegetable seeds from Samaritan's Purse. She said that Samaritan's Purse was the first organization that truly saw her and provided support.
Alba was excited to start a vegetable plot after meeting our staff. She had cultivated smaller kitchen gardens before, but without an irrigation system, attempting anything larger was difficult and risky. With the kit we provided, she now tends a 5,000-square foot plot. "I do not have much in my home, but I can work in this field. I feel so relaxed," Alba said. "If I could spend all my time out there, I would."
Through our agriculture and livelihoods programming this year, thousands of people like Hiba and Alba were empowered to pursue a brighter future for their families. Through the support of faithful partners like you, the Gospel is being shared and families are experiencing the multigenerational effects of improved livelihood efforts.
*Name changed for security.
Puerto Rico Response
Samaritan's Purse responded after Hurricane Fiona tore through the southern and western parts of Puerto Rico. Torrential rainfall—30 inches or more in some places—triggered catastrophic flash flooding and landslides on the island. At least 1,000 people had to be rescued from raging currents. Winds of 85 mph knocked out power lines and damaged roofs.
We airlifted tons of emergency relief supplies, including shelter tarps, solar lights, community water filtration units, and portable water containers. Our teams partnered with many of the local churches that we worked with in 2017 after Hurricane Maria made landfall as a Category 4 storm.
Ukraine Response
The crisis in Ukraine forced about 7 million people to flee the country and left another 7 million internally displaced. Ukrainians were unable to access basic needs, such as food and shelter, as the conflict escalated and families were abruptly exposed to the horrors of war. Samaritan's Purse partnered with local churches to relieve physical suffering and to share the eternal hope of the Gospel.
Samaritan's Purse has spent years developing relationships through Operation Christmas Child, with more than 3,200 churches across Ukraine. This network of church partners provided an invaluable God-given opportunity to quickly mobilize a response. Our church partners have a deep knowledge of the areas where they live and serve, having spent their lives traveling the roads, speaking the language, and loving communities in Jesus' Name.
Our partners in Ukraine and Moldova distributed critical supplies such as hygiene kits, blankets, solar lights, and tarps.
"Most of the refugees come to stay here for a while and then go to the west," said Pastor Sergei, one of our partners whose church housed thousands of people in need. "They said, 'Thank you very much. You showed us the love and mercy of your God.'"
Food Distribution: Samaritan's Purse procured millions of pounds of food and then delivered the food to local church partners for distribution. More than 67 million pounds of food were distributed in Ukraine through our church partners.
Faithful Christians across Ukraine partnered with Samaritan's Purse to courageously truck this food as well as medical supplies into dangerous conflict zones. These brave pastors and partner church members served as unsung heroes by quickly moving the items we provided into areas where families were on the brink of starvation or worse.
Medical Care: Through ongoing airlifts to Ukraine aboard our DC-8 aircraft, Samaritan's Purse stemmed a supply shortage that threatened the life-saving work of hospitals in Ukraine. Many were forced to close their doors because they could not keep up with the massive patient influx. Our airlifts transported critical medical supplies, pharmaceuticals, and equipment to dozens of Ukrainian healthcare facilities, including many of the largest hospitals in the country. We also bolstered the overwhelmed medical system in Ukraine by deploying an Emergency Field Hospital along with several outpatient clinics.
Clean Water: The conflict in Ukraine has resulted in destroyed infrastructure, including water systems. To meet an urgent need for clean water, Samaritan's Purse partnered with local churches and deployed our recently developed advanced water treatment system that is capable of handling up to 2,000 liters an hour in a three-step process. Using this process, more than 14 million liters of water were made available to Ukrainians in 2022.