Samaritan's Purse helps Florida woman after years of steadfast service to her community.
Ayuda para desastres en EE. UU.
013622
When Hurricane Michael struck the Florida Panhandle in 2018, entire communities were demolished and hundreds of families were displaced from their homes by the Category 5 storm. Tina Belcher, lovingly referred to as "Miss Angel" by those in her community, was one of many struggling to recover in the ensuing chaos.
For more than 30 years, Miss Angel had provided hot, homecooked meals to her neighbors. Even though Hurricane Michael flooded the kitchen in which those meals were cooked, her desire to serve the community was not hindered but rather reignited with a new urgency to help affected families. She chose to focus on meeting the needs of others before addressing her own needs—serving meals to thousands of people affected by the storm.
Samaritan's Purse recently rebuilt and repaired Miss Angel's Chipley, Florida home—constructing an industrial-size kitchen along with a space for food storage and preparation to continue her unwavering support of people in need. The added space will allow for Miss Angel to feed an increased number of needy families at one time—a blessing for which she thanks God.
"Since Hurricane Michael, we've fed thousands of people," Miss Angel said. "Now that Samaritan's Purse has put in a new kitchen, we are able to accommodate more people and at a faster pace. I thank God for Samaritan's Purse and thank God for what He is doing in my life."
Samaritan's Purse staff and voluntarios joined Miss Angel to dedicate her new home to God on Nov. 21.
A Legacy of Service
Miss Angel says her sense of service developed after closely watching her mom care for overwhelmed families in their community. Growing up, she witnessed her mom collect innumerable items to assist people in need—distributing hygiene items, school supplies, clothing and food. Her mom's commitment to service and deep-rooted faith in Christ encouraged Miss Angel to likewise put the needs of others before her own.
"Right after Hurricane Michael, we had no power," Miss Angel recalls. "We pulled out generators and lights, I brought out my grills and crock pots, and started cooking. We began feeding everybody all around and I started taking care of people in the neighborhood."
As a result of her unwavering service after Hurricane Michael, Miss Angel was awarded the First Lady's Medal for Courage, Commitment, and Service, by Florida's First Lady Casey DeSantis. On the Fourth of July, 2019, the White House recognized her devoted community service, and she was honored by President Donald Trump for her faithful commitment to serving people in need.
"I'd like so much to share this with my mom and say 'look mom, look what has happened," Miss Angel said. "'I'm doing everything that you told me to do—you always say pray and when things look bad, keep praying. You always say treat people with respect, be kind to others, and now God has really stepped up and really opened that door."
Inspired by Miss Angel's ministry to her community, teams of Samaritan's Purse volunteers helped Miss Angel rebuild her damaged home—replacing sheet rock, insulation, roofing, plumbing and electrical work. "I was just surprised and shocked with all the support, the love, and the volunteers from all over the world—they're so sweet, so kind," Miss Angel said. She recalls this being the first time in more than 30 years that she has been on the receiving end of the help.
"Miss Angel set herself aside to minister in this community. She gives in a big way," said Tony Krofchik, Samaritan's Purse North American Ministries program manager. "She doesn't let up and she doesn't worry about where the resources are coming from. She just does it. We were able to come in and bless her by preparing her house, equipping her to minister even better the next time she's called on."
Today, in addition to providing meals to families from her new kitchen, Miss Angel continues to assist her area by collecting and distributing canned food, cleaning supplies, diapers, furniture, clothing and more. She has also supported more than 170 kids by opening her home to children between the ages of 4-19 through her self-run ministry called Youth in Action.
Miss Angel is excited to see how her new home and kitchen from Samaritan's Purse will help continue her ministry.
"It's not a [Hurricane] Michael thing. It's a Jesus thing. I love the Lord, and I love serving the Lord. My passion is cooking, and I love helping people," Miss Angel said. "Whether there is a hurricane or not, I'm still going to keep cooking. I'm still going to keep baking. I'm still going to keep helping people. Because the God that I have within me put me here to serve and that's what I'm doing."
—
Samaritan's Purse remains on the ground in and around Panama City assisting homeowners that were devastated by Hurricane Michael. Volunteers are coming from all of the country to help rebuild damaged Florida communities by gutting homes, replacing ceilings with fresh drywall, installing new insulation and laying new flooring.
In total, Samaritan's Purse plans to help 79 Panama City families return home–rebuilding 18 homes, repairing 31, and replacing 30 manufactured homes.
Please pray for hurting families in Florida as teams of Samaritan's Purse volunteers continue to rebuild and minister in Jesus' name. Find out more about volunteering.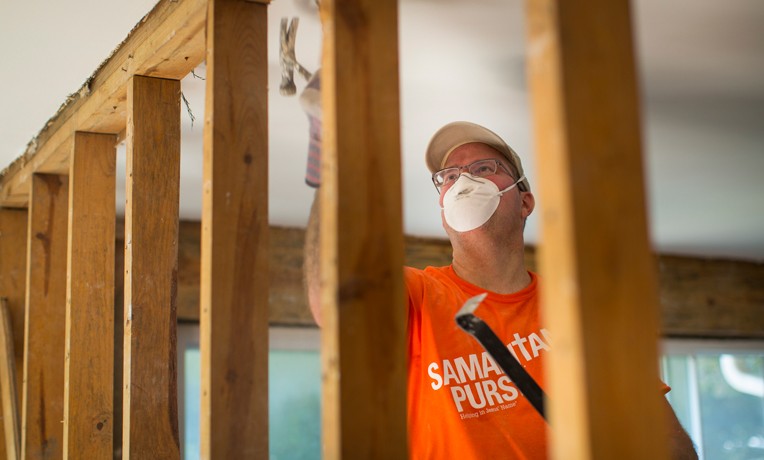 Ayuda para desastres en EE. UU.
Samaritan's Purse moviliza y equipa a miles de voluntarios cada año para ayudar a las víctimas de emergencias dentro de EE. UU. que han sufrido por fuegos forestales, inundaciones, tornados, huracanes y otros desastres naturales. Después de los daños producidos por las grandes tormentas, usualmente nos quedamos para reconstruir casas para las personas que no tienen a dónde más acudir por ayuda.
---
Ayuda para desastres en EE. UU.