"Day of Compassion" brightens Ouachita Parish and highlights continued need among flooded communities
Though most media outlets have turned their attention elsewhere, numerous communities throughout Louisiana's Ouachita Parish remain in great need after devastating floods. The call for more volunteers continues.
This is why Mark Fenn, Global Ministries Pastor at First Baptist Church of West Monroe, saw this past weekend's "Day of Compassion" as a necessary step in a long journey for his city to get its head, and houses, above water.
VOLUNTEERS NEEDED— FIND OUT MORE
"We've been blessed by people from all over coming in to help us," said Pastor Mark. "But we still need a big push of volunteers, because it's going to take a long time of concentrated work."
Over the weekend, 126 Samaritan's Purse volunteers—66 first-timers—removed mud, debris, water-logged belongings, and drenched, moldy drywall. Still, about 200 work orders have yet to be addressed, and many homes are still under water and inaccessible.
The "Sea of Orange" of Samaritan's Purse volunteers who showed up to work hard this weekend was a welcome sight for residents. And it's hopefully the beginning of a resurgence of efforts in the area. Pastor Mark said he would like to see other churches in Ouachita Parish and surrounding areas host a similar "Day of Compassion."
More Work to Come
What some are calling a "little Katrina" all began about five weeks ago as almost 27 inches of rain overwhelmed the Ouachita River and its tributaries. Ouachita Parish, which sits amid swampland and bayou, quickly found itself in the middle of historic flooding on March 8 and 9.
Relief efforts were further complicated Saturday as levee gates inadvertently opened, reflooding some homes and raising the water level in others in the Treasure Island community of West Monroe.
"I would have never thought that after five weeks you still couldn't get into homes," Samaritan's Purse U.S. Disaster Relief Program Manager Bruce Poss said.
Bruce said he was encouraged by the volunteer efforts of local churches who were making headway even before outside relief organizations rolled in to assist.
"Churches didn't wait for help to arrive," Bruce said. "We actually just came in and helped them do what they were already doing and provided leadership and organization to their efforts."
As Samaritan's Purse volunteers served this weekend and in previous weeks, their work in Jesus' Name caused some home owners to return to church and their faith, including one resident whose sandbagged home was the only one saved in her neighborhood. These sandbags were boated in by volunteers from local churches.
Between our two current Louisiana responses and our Orange County, Texas, response, 63 individuals have received salvation through the Lord Jesus Christ (as of April 12). A total of more than 225 homeowners have received assistance through Samaritan's Purse so far.
Samaritan's Purse staff are eager to see a renewed surge of volunteer groups to get the job done, a job that's many weeks from finished.
VOLUNTEERS NEEDED— FIND OUT MORE
We are currently scheduled to receive volunteers through May 15 at our host church in Ouachita Parish—White's Ferry Road Church in West Monroe.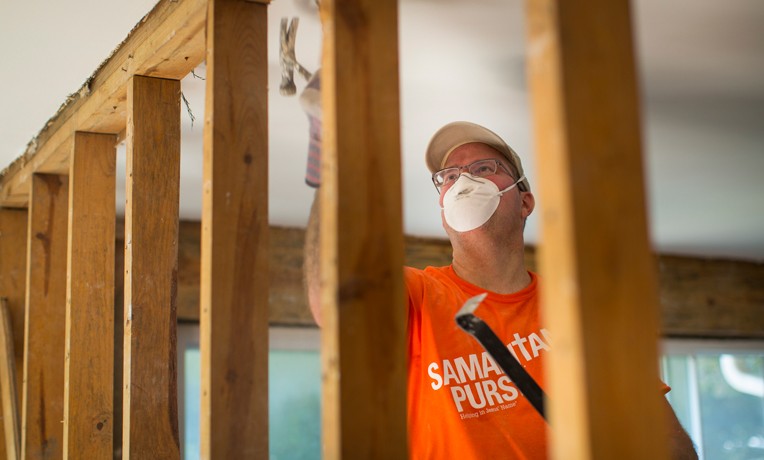 Ayuda para desastres en EE. UU
Samaritan's Purse moviliza y equipa a miles de voluntarios cada año para ayudar a las víctimas de emergencias dentro de EE. UU. que han sufrido por fuegos forestales, inundaciones, tornados, huracanes y otros desastres naturales. Después de los daños producidos por las grandes tormentas, usualmente nos quedamos para reconstruir casas para las personas que no tienen a dónde más acudir por ayuda.
---
Ayuda para desastres en EE. UU.