Samaritan's Purse volunteers heed God's call to serve distressed homeowners after a powerful storm pounds Albany.
When Phil and Sandy Sledge heard the report that a possible tornado was headed their direction, they piled pillows in a hallway just off their master bedroom. The two had been through a similar routine before, and Phil expected to rake up scattered pinecones and tree limbs in the morning. They even took a selfie at 10:17 p.m. to mark the occasion.
Ayuda para desastres en EE. UU.
013622
The lights soon flickered, followed by complete darkness. Then thick, monstrously tall pine trees that surrounded their 50-year-old home began falling. Phil grabbed Sandy and covered her. They cried out to God for protection.
One tree crushed the backside of the house, tearing into the kitchen. A cabinet storing eight sets of china was ripped from the wall, sending dishes cascading to the floor. Another tree crashed through the roof into their bedroom closet. One more plummeted and punctured the attic, knocking over the hot water heater. Water began pouring through the ceiling just above them. The winds were so fierce they sheared trees in half, catapulting the top halves toward the Sledge's home like javelins. One toppled onto their truck, smashing it.
Fearing the roof might collapse, Phil and Sandy rushed through the front door to escape. They were met with pounding rain and intense lightning. The powerful straight-line winds that had wrecked their home, however, had already moved on to terrify other residents of Albany and Dougherty County. Their "minute of terror" was over.
The Sledges were met by caring neighbors and spent the night with across-the-street friends. The next morning, when they stepped outside in the light of day, they were dumb-struck at the immensity of the damage, not only to their house but throughout their neighborhood. A strong smell of pine permeated the air, as trees were blocking roads in every direction.
"We were shell-shocked," Sandy said. "We didn't know what to do, where to start. Tears were rolling."
Getting Back on Track
Samaritan's Purse responded immediately to this disaster. A tractor trailer filled with relief supplies was dispatched, and staff hit the ground to assess how we would come alongside distressed homeowners in Jesus' Name.
One of our assessors came to the Sledges' neighborhood. And not too long after that a platoon of about 30 volunteers showed up at their house. For two days, they sawed the downed trees that had been removed from the house by crane. We also cleaned up their property, leaving not one stray pinecone.
"It was like the cavalry had arrived to our rescue," Phil said. "I was amazed that a lot of our friends were a part of those volunteers. Some of the guys I knew from the golf course. I went to grammar school with one of them. It was quite touching."
Two of the Billy Graham Rapid Response Team chaplains—Phil Graebner and Brian Nagy—stopped by to provide spiritual and emotional care. They engaged Phil and Sandy in an honest conversation about their faith.
"This storm was a wake-up call for us," Phil Sledge said. "We raised our sons Phillip and Toby in church, but after they graduated from school and moved away to take jobs in Missouri and South Carolina, Sandy and I got lazy in our faith and became spiritually complacent."
The couple bowed their heads and rededicated their lives to Jesus Christ.
Sandy added that the storm, scary as it was, served a grander purpose. "It's got us back on track where we should be," she explained. "Though we've lost a lot of our home, there are still positive benefits. One good thing is that we're staying with my sister Angel and her husband Davis, and we're growing closer to our 14-year-old nephew Jake. I thank God for that."
Albany, the eighth largest city in Georgia with a population of 77,400 people, is now in the process of recovery. Everyone is thankful that, though thousands of trees fell and as many as 3,500 homes were damaged, miraculously not one person died.
Volunteers "Do the Word"
Samaritan's Purse volunteers continue to fan out throughout the city and county, providing assistance where needed. To date, nearly 500 volunteers have invested more than 6,000 hours in serving over 100 families.
"Samaritan's Purse has been a Godsend to our community," said Ken Bevel, an associate pastor at Sherwood Baptist Church, one of the churches with which we're partnering. "We knew they were going to come minister the Gospel and to help, and that they weren't going to leave until everything had been taken care of."
Andy and Katrina Fletcher traveled 90 minutes from near the Georgia/Florida border to volunteer. "The heart of Jesus is to be a servant and to share His Gospel, and it touches my heart to see how God can use me to help meet a homeowner's need and that they're so grateful," Katrina said.
Andy added: "The biggest thing for me is to be obedient and to do the Word and not just talk about it."
Don and Lisa LeBel, from New Hampshire, were in the area and sensed the tug of God to take part in this deployment. They're retired and travel around in their 38-foot camper, going where God leads them to minister.
"It's been rewarding to share the hope of the Gospel with those who have not heard it and to show Jesus' love through our help," Don said.
Lisa added, "It's amazing how many people have said that Samaritan's Purse came to help us and that they've not been abandoned." She continued, "Wow, we don't want to miss moments from God like this to do His will."
So far, 27 people have trusted Jesus Christ as Savior and Lord, including a 90-year-old man named Lester. As our volunteers worked at his home, he talked with RRT chaplains. Lester said he has attended church for many, many years but he had never repented and received the grace of the Lord Jesus. Asked if he would like to pray and accept Christ into his heart, he immediately said yes. Afterward, Lester told the chaplains, "I'm glad you guys came by here today." Thinking about that later, Joe Tinsley, one of the chaplains, said, "It really wasn't us who came by, but we were led by the Holy Spirit in His time and for His purpose."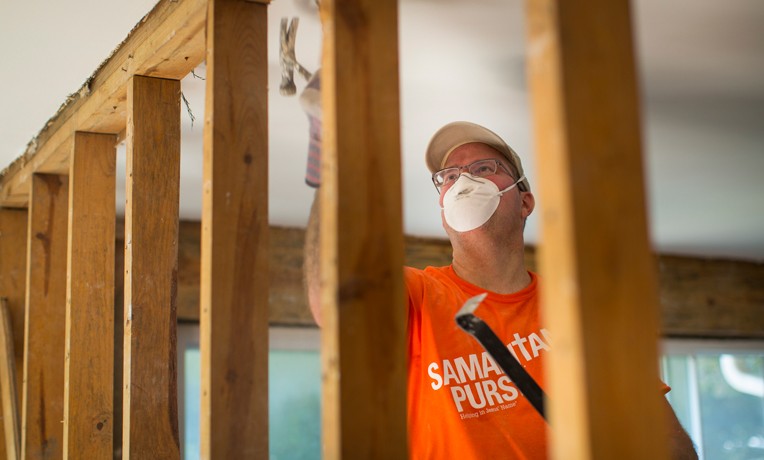 Ayuda para desastres en EE. UU.
Samaritan's Purse moviliza y equipa a miles de voluntarios cada año para ayudar a las víctimas de emergencias dentro de EE. UU. que han sufrido por fuegos forestales, inundaciones, tornados, huracanes y otros desastres naturales. Después de los daños producidos por las grandes tormentas, usualmente nos quedamos para reconstruir casas para las personas que no tienen a dónde más acudir por ayuda.
---
Ayuda para desastres en EE. UU.