CJ, granddaughter of Franklin Graham, and a group of her fellow Lipscomb University athletes were among thousands who turned out this weekend to serve those recovering after tornadoes hit Middle Tennessee.
Ayuda para desastres en EE. UU.
013622
[Update March 21: Our initial disaster relief responses in Nashville, Mt. Juliet, and Cookeville have ended. Samaritan's Purse will continue to support these communities in an ongoing way; details will follow. We are thankful for more than 6,000 volunteers who completed clean up on 475 homes in these Middle Tennessee communities, working in Jesus' Name and sharing the love of Christ in word and in deed. Over the course of our response, we praise God that 32 people made decisions to follow Jesus Christ as Lord and Savior.]
Several thousand volunteers came out to serve this weekend with Samaritan's Purse at three tornado-damaged locations across Middle Tennessee.
Included in this army of orange shirts were CJ Graham and a group of fellow students from Lipscomb University, a Christian university based in Nashville. CJ is the oldest daughter of Will Graham, the oldest son of Samaritan's Purse President Franklin Graham. Will serves as Vice President and associate evangelist at the Billy Graham Evangelistic Association in Charlotte.
Will, CJ, and her uncle Edward Graham worked together earlier in the week helping residents of a condemned apartment complex quickly move out of their homes. On Sunday, CJ, some of her fellow athletes, and the women's soccer coach at Lipscomb worked hard in the Lockeland Springs community of Nashville clearing debris from yards and sharing the love of Christ with homeowners.
Lipscomb University evacuated its students to a basement at 12:45 a.m. Tuesday as deadly twisters passed through the Nashville area. Students later learned on the news just how much devastation the storm had caused throughout the region. This inspired CJ and her friends to put their faith into action.
"We're all students here, we live here now, so it's our community that was affected. Being a Christian school, this was a great way not only to help our community with physical needs but also spiritual needs," CJ said. "It's a perfect opportunity to witness to others."
At the home of Michael Putty, volunteers worked cutting up a downed tree and carrying pieces of it out of the yard. Putty says the twister that caused damage to his property and a number of other properties along his street woke him up as it was tearing through his yard.
"It was pretty rough," he said. "I heard a window blow out. I could hear it roaring—very loud. After about 30 or 45 seconds it was gone. When it got light we realized just how lucky we were."
This was Putty's second time going through tornadoes in the same location, but this was the first time he was blessed to have such a large group of volunteers help him.
"There's lots of really good people here helping out," Putty said of our volunteers making easy work of large branches. "I didn't expect an army to show up but that's OK. It just makes it easier on everybody."
Since the beginning of our Tennessee tornado response, many thousand volunteers have joined our efforts across our worksites in Nashville, Mt. Juliet, and Cookeville, which were all devastated by tornadoes with winds in the EF-3 and EF-4 range.
CJ Graham's classmate Kristi Jones says she was eager to help Nashville residents who'd suffered through so much. Her family experienced the fury of Category 5 Hurricane Michael as it devastated the Florida Panhandle in the fall of 2018.
"I witnessed firsthand the suffering and loss of property during that storm," Kristi said. "It's not just a house. It's not just stuff. It's people's memories and lives. And it's easy to feel forgotten. But when you see people are there who want to help you and walk with you, it just gives you hope for the future. I want people to know that we serve a good God, there is hope in this, and that they're not alone."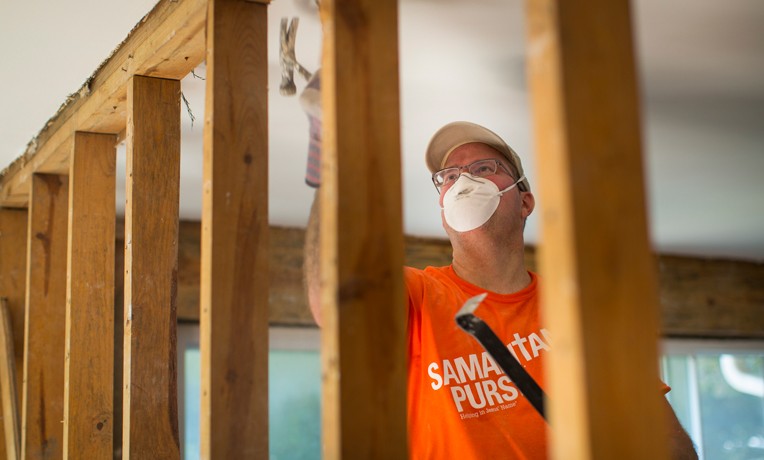 Ayuda para desastres en EE. UU.
Samaritan's Purse moviliza y equipa a miles de voluntarios cada año para ayudar a las víctimas de emergencias dentro de EE. UU. que han sufrido por fuegos forestales, inundaciones, tornados, huracanes y otros desastres naturales. Después de los daños producidos por las grandes tormentas, usualmente nos quedamos para reconstruir casas para las personas que no tienen a dónde más acudir por ayuda.
---
Ayuda para desastres en EE. UU.