A group of mothers learns how to crochet at the Greta Home
Mornings at the Hogar y Academia Greta are a chaotic affair. Children run, jump, and play, enjoying the cooler temperatures before the oppressive Caribbean heat settles in and the sun becomes almost unbearable.
In one of the classrooms, a small group of women has gathered amid the chaos. They're quiet and happily working with their hands to crochet a skirt, a child's outfit, or a purse.
"They design all their own projects," said volunteer teacher Teresa Carter. "They have a real adventurous spirit."
As the ladies worked on their various patterns, Teresa walked around and assisted with any questions or offered gentle guidance when a project did not turn out the way the women expected. Often a missed stitch could throw off the pattern, but the women are creative and simply transformed the project into something entirely different.
"All five women were very proud of their work and simply having learned a new skill," Teresa said. "I don't think many of them have had much formal opportunity to learn because they seemed to be most grateful simply for my patience."
Throughout the lesson, the children living at the Greta Home milled in and out of the classroom. They had an air of quiet curiosity and respect as they watched the women work. It was obvious that these women were special to the children. In fact, every woman in the class has a child or two living at the Greta Home.
Desperate Families, Impossible Choices
Life in Haiti is exceptionally difficult, especially for women and children. As the poorest country in the Western Hemisphere, Haiti struggles with high unemployment, violence, a failing education system, and the disintegration of the family unit. Women often have multiple children, and there is little opportunity to earn a steady income.
Families struggle to put food on the table every day, which is why many turn to the country's various orphanages in the hope that their children can have a better life. Roughly 80 percent of children living in orphanages in Haiti have a living relative or parent.
For Laurene, a mother in the crochet class, a place like the Greta Home was the only answer after her son was born.
"She does not know what it is like to have a family," said Greta Home Director Penny Fairo. "She was an orphan herself and grew up in an orphanage. She had no skills, no schooling, and no training. She prayed for an orphanage for her child."
Laurene's son currently lives at the Greta Home, but Penny hopes that this might change soon for him and others. Through a family reunification program, the Greta Home has successfully reunited seven children with their families. All those who have returned home continue to attend the school and receive spiritual and emotional support from the Greta Home.
The team hopes that the crochet class will help provide these mothers with a new trade, a stable income, and an opportunity to reunite their families.
New Skills for the Future
At the end of the course, Teresa had the opportunity to pick one mother to assist in creating an artisan line to sell in her online store, which she started in 2013. Her choice was a young mom, Kathia.
"Kathia was a total rock star," Teresa said. "A quick learner, eager, and attentive."
For Kathia and her family, the position is an opportunity to find some stability. Currently, she and her husband live in a small two room house with four of their children. They have one son who lives at the Greta Home and one child that died.
Though Teresa only had one available position, all the mothers said they were going to continue crocheting items for their families and friends. Laurene also plans on selling her items in the market. Teresa believes she'll have great success. There is a strong hope that these new skills can help these mothers pull themselves out of poverty and unite their families.
In the end, it's fitting that Kathia fills the role. Not only was she the best student, but she also has a personal family connection. The store is named DeBrosse after Kathia's 8-year-old son who lives at the Greta Home.
"For I know the plans I have for you, declares the Lord, plans for welfare and not for evil, to give you a future and a hope" (Jeremiah 29:11, ESV).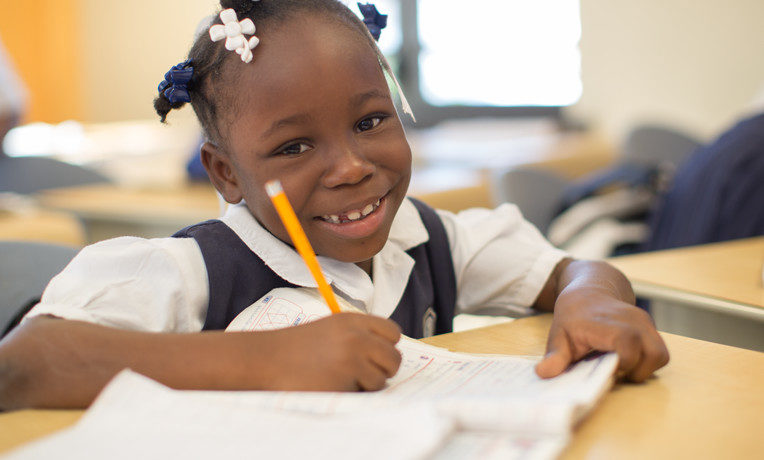 Hogar y Academia Greta
Samaritan's Purse inauguró oficialmente la Casa y Academia Greta en el 2012 en honor a Greta Van Susteren, para reconocer su trabajo en favor de las personas de Haití después del terremoto en el 2010. Tu donación ayudará a proveer un hogar y educación cristiana para niños, que puedan crecer y convertirse como el rey David, quién Dios llamó "un hombre conforme a mi corazón; él realizará todo lo que yo quiero" (Hechos 13:22).
---
Casa Greta & Academia en Haití 013962
Donación sugerida: $150 / Comparte el costo: $15