The Samaritan's Purse President saw the aftermath of terrible flooding in the state
Samaritan's Purse President Franklin Graham made a stop in East Baton Rouge Parish this morning to encourage homeowners affected by catastrophic flooding.
He saw just some of the devastation caused by the recent "monsoon depression" phenomenon, which dumped as much as 31 inches of rain on south-central Louisiana. At least 13 people died in the resultant flooding, and more than 60,000 homes have been damaged. More than 100,000 people have applied for federal assistance. [Numbers updated August 22.]
Samaritan's Purse staff and volunteers are now working in two storm-ravaged areas—locations around Baton Rouge and around Lafayette—to assist distressed flood survivors.
"The recovery is going to take months; it's not going to be a matter of days," Franklin Graham said. "This whole area went under seven feet of water. Samaritan's Purse is here helping. We need your help; we need volunteers. Please come to Louisiana."
"We need your help; we need volunteers. Please come to Louisiana."
Ayuda para desastres en EE. UU
013622
Our base of operations in East Baton Rouge Parish is Greenwell Springs Baptist Church, where Graham visited this morning.
He was joined by Republican presidential candidate Donald Trump and his running mate Indiana Governor Mike Pence, as well as other local and state officials, including Lieutenant Governor Billy Nungesser. They met with church leadership, including Tony Perkins, staff, and our volunteers, some of whom had homes damaged by the flooding.
The group took the time to meet with local homeowners as well. One 70-something couple, Jimmy and Olive Morgan, escaped the flooding by taking refuge on their roof; they used the back of their truck and a ladder to get up there. They then huddled together until they were able to flag down a passing rescue boat.
Jimmy has lived his entire life in the area, and reports he has never seen flooding like this before. He has drawn comfort from the Lord in recent days. "I don't know how people get through it, if you don't know God," Jimmy said. "I laid awake in the bed two nights and talked to him, to the Shepherd—I didn't count sheep, I talked to the Shepherd."
Jimmy's wife Olive is grateful for the volunteers brought together by Samaritan's Purse. "When we heard that they would come, it was just like a relief, just to know that we didn't have to worry," she said. "To see them come in, and how willing they are to work, and how hard they work, it just means the world."
Olive added, "What we need from the rest of the country is their prayers and their volunteer support."
Gearing Up for the Long Haul
Both our Louisiana locations have one of our Disaster Relief Units based there. These tractor-trailers are stocked with heavy-duty tarps, generators, and other tools that will aid in the cleanup efforts.
Our orange-clad teams are working with homeowners to save precious belongings and take out items that are not salvageable. We also remove damaged walls, sheetrock, insulation, and flooring—and in some cases ceilings. Many more volunteers are needed to offer a helping hand to homeowners in Jesus' Name. To learn further about our response, you can read more and see videos in this recent article.
Please pray for wisdom, strength, and perseverance for residents of Louisiana as they face many daunting tasks ahead. Pray also for our staff and volunteers as they join them in this months-long cleanup.
Samaritan's Purse worked in Louisiana earlier this year as well when we deployed to West Monroe and Bossier City this spring. We helped nearly 300 families over that period.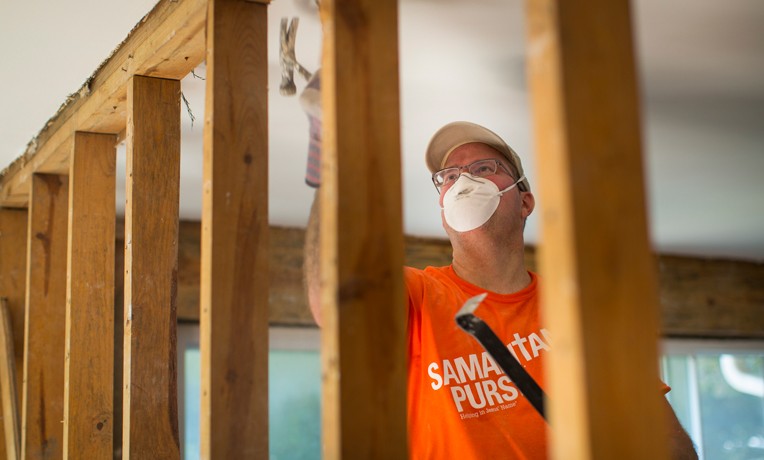 Ayuda para desastres en EE. UU
Samaritan's Purse moviliza y equipa a miles de voluntarios cada año para ayudar a las víctimas de emergencias dentro de EE. UU. que han sufrido por fuegos forestales, inundaciones, tornados, huracanes y otros desastres naturales. Después de los daños producidos por las grandes tormentas, usualmente nos quedamos para reconstruir casas para las personas que no tienen a dónde más acudir por ayuda.
---
Ayuda para desastres en EE. UU.