Samaritan's Purse steps in when an Oklahoma family devastated by last year's tornado runs out of money while rebuilding their home
The past year had been a nightmare full of uncertainty and heartbreak for the Hopkins family.
Their home was directly in the path of the EF-5 tornado that swept through Oklahoma last May. The family evacuated with their two children, 4-year-old Brooklyn and 2-year-old Kaden, to Heather's mother's cellar not too far away. They were safe, but when Heather and her husband Will returned, they were horrified to see that nothing was left.
"My heart sank coming up over that hill. And it's something you never want to look at," she said. "We didn't think that day when we left for the cellar that we wouldn't be able to come home ever again. It was crazy."
HELPING OKLAHOMA REBUILD: A year after the powerful twisters devastated the area, Samaritan's Purse is helping people recover by rebuilding and repairing homes and installing and storm shelters.
The young family was determined to rebuild. The house insurance covered what was left on their mortgage, so they used the insurance money they received from their lost personal items to begin working on their new home. In the meantime, the family of four lived with Heather's mother.
But six months after the storm, the Hopkins were running out of money. Progress on the house depended on what they could afford from paycheck to paycheck. Every free moment was spent building the house themselves, along with the help of some friends who volunteered.
Samaritan's Purse responded to the deadly tornadoes that battered much of central Oklahoma last year, sending staff, volunteers, equipment, and supplies to help homeowners. After the initial disaster relief phase finished, we launched a program to rebuild and repair homes for tornado victims most in need, and install storm shelters to provide safety and comfort the next time a storm strikes.
Our staff learned of the Hopkins' plight when we began setting up for our rebuild phase in January. We visited their home to see if we could supply volunteers to help them complete their project faster.
Our program managers met Will while he was working on installing his heating unit, and quickly realized that the family needed more than just physical labor because they couldn't afford to finish their home on their own. We decided to help them by providing financial and labor support for certain aspects of the house.
"This is very different [from how we traditionally do rebuild projects]," said program manager Michael Todd. "It's different but it's the same thing. We're still getting someone else home, whether we started from ground up or helped come alongside of them. It's like those marathon runners where they get so far and they're like 'I can't go on' and someone comes along and says, 'I'll help you to the finish line.' That's what we did."
Upon hearing his family would be receiving help, Will said he started getting teary-eyed and felt goose bumps, especially when we offered to install an in-ground storm shelter.
Samaritan's Purse supplied the drywall, tile flooring, and countertops with the help of volunteers to help ease the family's burden.
"They were like, 'We're going to be here to finish this house to the end,' and I was just like, 'Unbelievable!'" he said. "I can't believe they did that for us. This is weird to me, because I've never experienced anyone doing this kind of thing for people."
Heather said one of the best parts of the experience was getting to know the Samaritan's Purse volunteers who travelled from all over the country. In the early stages of the home's construction, each night after the volunteers had left, Heather and her children would search to see what messages or Bible verses volunteers left on the house's frame to encourage them.
"I can't believe the work they did and the way they did it was beautiful," Will said.
A week after the one-year anniversary of the tornado that destroyed everything they owned, the Hopkins finally got to move back home. Receiving the Bible along with the framed bill that stated "Paid in Full" brought the family to tears. Samaritan's Purse volunteers and staff cheered as the keys dropped into their hands.
"This is absolutely an answer to prayer," Will said. "My shoulders have been up the whole year, and now I can let them down, and I can relax in my own home, and that's more than enough or me."
Samaritan's Purse is continuing to help Oklahoma residents rebuild their homes and is supplying many homeowners with in-ground storm shelters to protect them from future storms.
Please join us in praying for the people still trying to recover from the storms, and consider volunteering to help these tornado victims in Jesus' Name.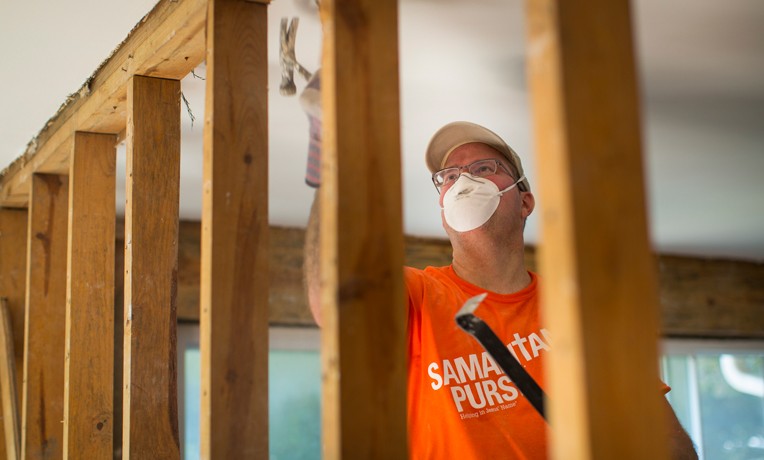 Ayuda para desastres en EE. UU.
Samaritan's Purse moviliza y equipa a miles de voluntarios cada año para ayudar a las víctimas de emergencias dentro de EE. UU. que han sufrido por fuegos forestales, inundaciones, tornados, huracanes y otros desastres naturales. Después de los daños producidos por las grandes tormentas, usualmente nos quedamos para reconstruir casas para las personas que no tienen a dónde más acudir por ayuda.
---
Ayuda para desastres en EE. UU.