Wounded Veterans and Their Spouses Experience Physical and Spiritual Renewal in Alaska through Operation Heal Patriots.
Bendice el matrimonio de una pareja militar
013960
Chad and Ellen Peacock were childhood sweethearts—growing up with close families and annual beach vacations together. The summer that Chad was set to leave for Marine boot camp, he asked Ellen to wait for him, planning to marry her when he returned.
The couple wrote 277 letters back and forth while Chad was away and were married soon after his return. However, the childhood sweethearts' relationship quickly turned sour when Chad was deployed only a month into their marriage.
Chad returned home with physical and emotional wounds. Four deployments and nine and a half years in the U.S. Marine Corps left him with a traumatic brain injury, severe PTSD, and anger issues. He struggled with how to cope with what he had seen—losing many of his best friends in combat or to suicide.
"I went to some dark places; I went through a slump. I went far away, went astray like a boat lost on the ocean from a lighthouse," Chad said.
Looking for a way to numb the pain, Chad became an alcoholic and his anger issues worsened. He began to take out his frustration on Ellen and their marriage quickly deteriorated.
"What hurt me the most was seeing how nice and friendly and funny he was with other people, but so hateful to me," Ellen said. "The resentment grew over the years, and I pretty much cut myself off from any type of emotional relationship with him to avoid getting hurt, which made him even angrier."
The couple had hit rock bottom and prepared to give up when a friend and past Operation Heal Our Patriots participant reached out to see if they would be interested in the program. The friend shared how our Christ-centered marriage enrichment training affected her own marriage, which helped Ellen make the decision to submit an application—never believing she and Chad would be chosen. When they got the phone call, they were both ecstatic.
Even so, the couple barely made it to Alaska. "We weren't at a good spot in our marriage. Even leading up to here we thought, 'Should we throw the towel in? Let another couple go? We don't deserve this. Someone else can go and fix their marriage,'" Chad said.
They argued the entire way from their home in Georgia, ready to quit their journey to Alaska and their journey together. "We were on our layover in Seattle, we were halfway here, and he was getting on a plane going home. He didn't want to come," Ellen added. "We could hardly make it here. We didn't know how badly we needed this."
As the couple spent the week attending Biblically-based marriage classes, participating in nature excursions, and spending time with our chaplains, their hearts began to soften towards each other and towards the Lord. Gradually, they begin to see that Jesus Christ was the foundation their lives needed.
Filled with an overwhelming sense of new hope and peace, Ellen gave her life to Christ and Chad rededicated himself to serving the Lord. Together, they made a public declaration of faith through baptism and recommitted their marriage to each other and to God.
"It feels like a brand-new light bulb is on inside of me, shining, and it feels good. It feels amazing; I don't know how to describe it," Chad said.
As they return home, they plan to connect to a local church and incorporate their new faith into their family. "Doing this together is amazing—I want to be that rock for my family, that leader, and that shepherd to lead them to Jesus Christ," Chad said. "I'm excited to leave, to go home with her, to use these tools and raise my daughters the right way."
Never Give Up, Never Surrender
JP Lane served as a combat engineer for the U.S. Army in Afghanistan doing route clearance and searching for improvised explosive devices (IED). His platoon was blown up on three separate occasions and on July 2, 2011, an IED penetrated their RG-31 truck—placing JP in a six-week coma and ending his military career.
He woke up to find that he had lost both of his legs, broken his right arm and pelvis, dislocated his spine, had a torso filled with shrapnel, as well as a traumatic brain injury.
"At the very beginning I had thoughts of suicide. I struggled to even want to look at myself in the mirror," JP said. "I had a lot of anger issues because my best friend was shot and killed by a sniper while we were on mission and then I lost my legs. That was just two of the ugliest things that could have happened while we were deployed—it was really tough for a long time."
With no strength of his own to keep him going, JP turned to the Lord for his strength. "It helped having my family's support there but most importantly I started relying on my faith and on God and started giving Him my life a lot more and handing Him the tough stuff so I wouldn't have to deal with it," JP said.
Music also became a coping mechanism for him and, ultimately, saved his life. "I was driving around and said, 'God if you don't give me something to do here, I'm going to end it. I'm done,'" JP said.
God spoke to him through a song on the radio—"Only a Mountain," by Jason Castro—and JP understood that his situation was a mountain that God could handle: "We are going to get past this, and we are going to be able to move on stronger than before." JP posted his version of the song on YouTube and his career took off.
It was in the midst of his success as a musician and motivational speaker when JP met his wife Crystal. She quit her job to help JP share his testimony. "I just had a passion for my husband. I just knew that this story would inspire millions. So, I was on a mission with him," Crystal said.
But, time on the road began tearing them apart. They were ready to file for divorce. "We inspire everybody for a living, but we didn't have anything left to inspire each other," Crystal said. Desperate, she searched for 'veteran marriage counseling' online and found Operation Heal Our Patriots and applied earlier this year—a "divine appointment," she says.
The couple reconnected and focused on each other in Alaska, working with chaplains and alongside eight other couples to gain the tools that they need to rebuild their marriage.
JP also realized that his Army motto can apply to more than just his career and injuries. "The military taught me something that never escaped my mind or my soul and that is to never give up and never surrender. Every day that's what kept me going," JP said.
"I would let my motto apply to everything else in my life, except my marriage. I would give up easily because I'm just tired of it. I was tired of the way I looked in the mirror and just being an amputee but yet I kept fighting. Our marriage is a part of my life and I need to fight for that."
The couple thanks the Lord for leading them to Operation Heal Our Patriots when they needed it the most, and pray that other veterans and their spouses will participate. "This program means everything to me because it is saving our marriage. We came in here with very little hope left," Crystal said. "It changed our mindset, it changed our love for each other, it changed the level of faith we have now. This program will continue to change lives."
—
Please continue to pray for God to move in the hearts of wounded veterans and their spouses as they come to Alaska this summer for marriage enrichment. For more on the 2019 season, see this year's Operation Heal Our Patriots landing page.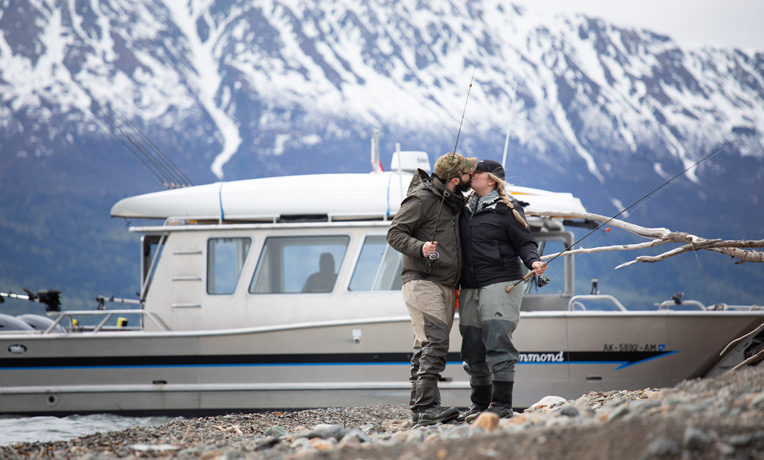 Bendice el matrimonio de una pareja militar
Operation Heal Our Patrios ayuda a las parejas militares a construir una sólida fundación espiritual durante una semana basada en talleres bíblicos, actividades al aire libre para reconstruir relaciones y atención individual, por medio de nuestros capellanes retirados. Ofrecemos todo esto sin costo alguno para estos héroes americanos como una muestra de nuestra gratitud por su servicio y sacrificio. Tu donación nos ayudará a cubrir los costos, inclusive el transporte, hospedaje, actividades y cuidados a largo plazo de las instalaciones, para poder ayudarlos a encontrar esperanza en el Señor.
---
Operation Heal Our Patriots 013960
Donación sugerida: $60