After Hurricane Harvey destroyed her house, Francisca Castañeda finally moved into a new home on June 10, thanks to a Samaritan's Purse rebuild project in La Grange, Texas.
Ayuda para desastres en EE. UU.
013622
Ever since Hurricane Harvey hit southeast Texas in 2017, Francisca Castañeda has wondered where to call home. The house she'd lived in for 12 years in La Grange, west of Houston, was condemned shortly after the storm, which dumped more than 60 inches of rain on some areas of the Lone Star State.
"There was little to nothing left that I could salvage. My heart broke," Francisca said. She recalls how when the flash flood warning came, she left everything behind—believing all would be OK because such extensive damage had not occurred in more than a century.
But upon her initial return, she discovered that her most valued belongings, including cherished photos, were sopping wet after floating around her home for days. Water from the overflowing Colorado River had risen knee deep in her house.
For almost three years now she has lived between others' homes—her oldest son's, her brother's—after her three months in a FEMA trailer expired.
"I'd started thinking maybe I will have to roam around homeless the rest of my life," she said.
Hope on a Hill
Francisca is one of nearly two dozen residents in her neighborhood who were left homeless after flash floods wiped out the whole mobile home community. But, praise God, she is the first of these residents who will step foot into a brand-new home built by Samaritan's Purse volunteer teams working in the area since this February.
"I feel like I'm finally getting the chance to live again," she said in the days leading up to her official move-in, now nearly three years after the storm. "It's given me my life back and given me hope again."
She said every morning on the way to work she'd driven by the home as it was being built, counting down the days until she could call it her own.
And finally, on June 10, Francisca was given the keys to her new home during a special ceremony with our volunteers and Samaritan's Purse leaders.
"Today we are receiving a home from Samaritan's Purse and I'm really happy. It feels like this is the best day of my life, because now I have a place where my son and I can live. It's a wonderful feeling to know we have a place for my family to be happy," Francisca said. "I was very excited to see our new house. I can live the rest of my life in peace. I'm very happy that I finally have a home."
A Debt Paid in Full
During the home dedication ceremony, Francisca was presented with keys and with a bill for all the expense and labor that went into building the home. But that special bill had already been covered by the generous support, prayers, and tireless volunteer labor of God's people. Stamped across that bill were the words "PAID IN FULL."
"This home is paid in full. It's paid for by the body of Christ coming together," said Edward Graham, son of Samaritan's Purse President Franklin Graham, during the special dedication. "We want you to know that God loves you and we love you and we give you this home in Jesus' Name."
The neighborhood we are constructing in La Grange is called Hope Hill, because it's actually built on a hill high above any flood plain and because we're praying that, through the work of our volunteers and staff, people experience the hope found only in Jesus Christ.
"These homeowners know that when they move there, their property is going to be high and dry and that they won't have to worry ever again about flooding," said Brent Graybeal, director of U.S. recovery and development for Samaritan's Purse, who has overseen the project. "God has used Samaritan's Purse in a mighty way not only to relocate this neighborhood into new homes but also to share the hope of Jesus Christ with them."
When the community is completed, Hope Hill will be a neighborhood of 20 brand-new stick-built homes. It is just one of several rebuild projects in southeast Texas that Samaritan's Purse has been a part of—helping restore homes and communities ravaged by winds and water during Hurricane Harvey.
"This is our first dedication. But we're not here just to celebrate the building of a new subdivision," said Chris Barton, a rebuild superintendent with Samaritan's Purse. "We're here for the homeowners and to celebrate the work God is doing in these lives. The parable of the Good Samaritan teaches us not to walk by people in need and that's why we are here—to help families in need."
VOLUNTEER FOR A SAMARITAN'S PURSE REBUILD PROJECT
After our initial months-long recovery efforts in the Houston area and in other spots along the coast, our rebuild projects have been ongoing since November 2017. Since the start of our rebuild work in Texas, we have helped more than 1,100 individuals return home. In addition, we have assisted with the rebuild or repair of more than 150 damaged churches. More than 4,500 dedicated and hardworking volunteers have made this happen.
Please continue to pray for the people of La Grange, Texas, for our staff and volunteer teams and for the many other Samaritan's Purse rebuild projects throughout the country.
—
Nota: In addition to our project in La Grange, we continue to have ongoing rebuild work in Rockport, Texas, related to Hurricane Harvey. We are also rebuilding and repairing homes in hurricane-ravaged areas of the Florida Panhandle (Hurricane Michael 2018) and in the eastern Carolinas (Hurricane Florence 2018).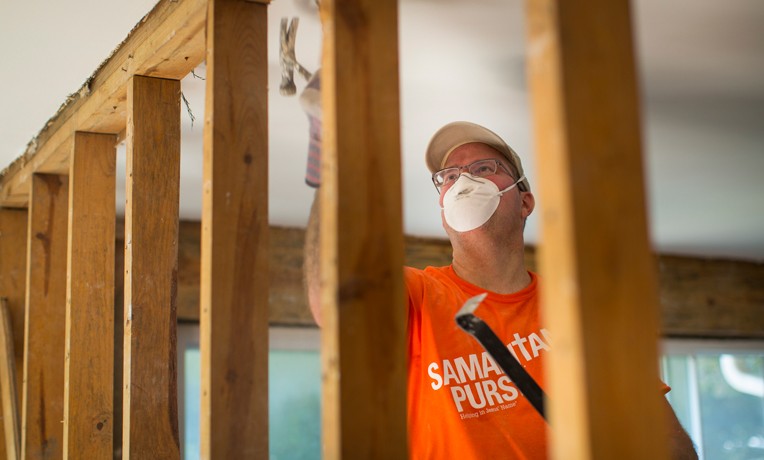 Ayuda para desastres en EE. UU.
Samaritan's Purse moviliza y equipa a miles de voluntarios cada año para ayudar a las víctimas de emergencias dentro de EE. UU. que han sufrido por fuegos forestales, inundaciones, tornados, huracanes y otros desastres naturales. Después de los daños producidos por las grandes tormentas, usualmente nos quedamos para reconstruir casas para las personas que no tienen a dónde más acudir por ayuda.
---
Ayuda para desastres en EE. UU.