Samaritan's Purse programs are bringing comfort to storm victims in the Philippines
Typhoon Haiyan, among the strongest storms in recorded history, slammed into the Philippines on November 8, 2013, with sustained winds up to 195 mph and storm surges as high as 20 feet. More than 6,000 people perished and 4 million were displaced.
The very next day, the first of many Samaritan's Purse staff members arrived in country to begin assessing the situation and prayerfully coordinating a response.
Help Disaster Victims Around the World
That quick reaction resulted in numerous opportunities for continuing ministry, and two months later we had met a long list of critical needs for tens of thousands of storm victims. The focus of our initial response has been on the basics of life—health, clean water, food, and shelter—always working in partnership with churches to meet spiritual needs as well.
Health
On the hard-hit island of Leyte, Samaritan's Purse medical personnel have been working with doctors and nurses of the Schistosomiasis Control and Research Hospital in Palo since mid-November.
After we removed significant debris, United States Air Force members set up a three-tent mobile field hospital on the premises to treat outpatients, freeing up space on the hospital's first floor for inpatients. The second floor was severely damaged by the typhoon, which is known as Yolanda to Filipinos.
"We are fortunate that you are helping us. We could not do it alone," said hospital administrator Charlemagne Escape.
More than 5,200 patients have been treated at the hospital and through mobile medical teams since we arrived. In addition, 1,190 children were screened for malnutrition. Vaccinations against polio and measles have been provided as well. Alongside a group of other nongovernmental organizations (NGOs), Samaritan's Purse is also offering cholera preparedness training to the Philippines Department of Health.
Agua
Water, sanitation, and hygiene (WASH) projects are crucial for communities struggling to cope with the aftermath of a major natural disaster. Samaritan's Purse has installed several community water filtration systems, three storage bladders, and one in-line chlorinator on Leyte.
The community systems can filter 10 gallons a minute (or 7,200 gallons in 12 hours) and include 6-faucet tap stands.
"We really need this safe water," said Willie Cadayong, a resident of Barangay San José, a neighborhood in Dulag with 1,200 families. In late November, when we installed a filtration system at his home for the community's use, he said 50 percent of the area's deep wells had been damaged by the storm.
In addition, four wells have been drilled, 1,930 jerry cans have been given out, and 164 household water filters have been put in place. A 2,000-liter water tank was given to a school in Dulag also. Between Bantayan Island and Leyte Island, Samaritan's Purse provided residents with 56,000 aqua tabs, chlorine-based water disinfectants.
More than 25,000 hygiene kits have been distributed in the country. Each kit contained matches, soap, a plastic pail with cover, dishwashing liquid, feminine products, toilet paper, toothpaste, and toothbrushes, among other items.
More than 26,000 people participated in additional hygiene education on Bantayan Island. Some of the kits provided to families on Leyte also contained important kitchen items, such as plates, a rice pot, and utensils.
La alimentación
Samaritan's Purse packed and distributed over 30,000 household food kits for struggling families. Each kit contained corned beef, canned sardines, canned tuna, noodles, coffee, sugar, and rice, among other items—enough to feed a family of five for three days. We were one of the first international NGOs to report completing food distributions to affected populations.
Also, we were the first NGO to sign a field level agreement with World Food Program for large-scale feeding in the wake of Typhoon Haiyan. Through that partnership, we have distributed another 2,000 metric tons-plus of commodities, mostly rice.
High-energy biscuits have also been given to children in 49 elementary schools.
Refugio
"One of the most important relief items you can give after a disaster is a piece of plastic sheeting," said Ken Isaacs, the vice president of programs and government relations at Samaritan's Purse.
Samaritan's Purse distributes high-quality plastic sheeting (extrusion-laminated scrim-reinforced polyethylene) that can withstand the elements for years, though it is intended for short-term use. Approximately 2,409 rolls of tarp were given to churches, schools, and, primarily, families, providing critical shelter from the sun and heavy rains for tens of thousands of individuals. Approximately 6,000 blankets and 3,700 mosquito nets were also provided to storm victims.
Local pastor Joel Lerios was among our church partners who helped with a tarp distribution in November in Tanauan, Leyte, which took a direct hit from the typhoon. He used the time to build relationships with others in his community.
"It will take years for them to recover," he said.
Pastor Lerios knows that even though church buildings have been destroyed, the believers' evangelistic work does not stop.
"It's very easy to bring them [nonbelievers] to the Lord when you build a relationship," he said. "You don't need to bring them to the church, we will bring them to Jesus in their homes."
In recent weeks, Samaritan's Purse has been providing families with full shelter kits, which include metal roofing sheets, tarp, and framing materials. An accompanying tool kit, with hammers and nails and a shovel, is provided for multiple families to share.
More than 4,000 families have received kits already, and future distributions should increase the total to 20,000 families.
Sustentos
Some local residents are helping to rebuild their homes in a special way. Through our chain saw teams, skilled Filipino workers are cutting and milling lumber from fallen palm trees. They earn a needed wage and these planks of wood are then used in the shelter kits.
In a separate cash-for-work program, day laborers earn income for clearing debris, doing odd jobs, and packing relief supplies for others affected by the typhoon.
"This cash-for-work project is a gift from God," beneficiary Jun Anthony Abaloyan said. "I am very thankful to Samaritan's Purse because they help me to do a job that can give me some money to buy food and milk for my daughter and my wife and my family."
Operation Christmas Child
Children often bear the brunt of the initial trauma and the ongoing risks associated with a major disaster. So Samaritan's Purse tried to brighten the holidays for Haiyan's youngest survivors.
Just before Christmas 2013, a 747 cargo aircraft was loaded with 65,000 gift-filled shoeboxes and sent from New York City to Cebu City, the second largest city in the Philippines. The Operation Christmas Child shoebox gifts were quickly given out through church partners in multiple distributions on Cebu, Bantayan, and Leyte.
Children were overjoyed to receive the gifts. A special distribution was even held for children being treated at the Schistosomiasis Hospital in Palo where we have been partnering.
"There are so many children who have lost everything," said John Pagliawan, a pastor in Tanauan. "We are reaching out to some of them with God's love through these shoeboxes."
Looking to the Future
Over the next several weeks, Samaritan's Purse will be transitioning from immediate emergency relief to establishing a long-term country office on this nation of more than 2,000 inhabited islands. We will continue to partner with local churches and ministries to respond to the profound needs of the people there in Jesus' Name.
"Working with the churches, working with the local believers, we can make a difference in this part of the world," Samaritan's Purse President Franklin Graham said.
Our continuing response is likely to include projects in the areas of reconstruction (including churches), health (mobile medical units), livelihoods (income generation for the poor), food security (garden crops), and WASH.
Please pray for the registration process to go smoothly and for expanded opportunities to bring relief and comfort—both physical and spiritual— to the resilient people of the Philippines.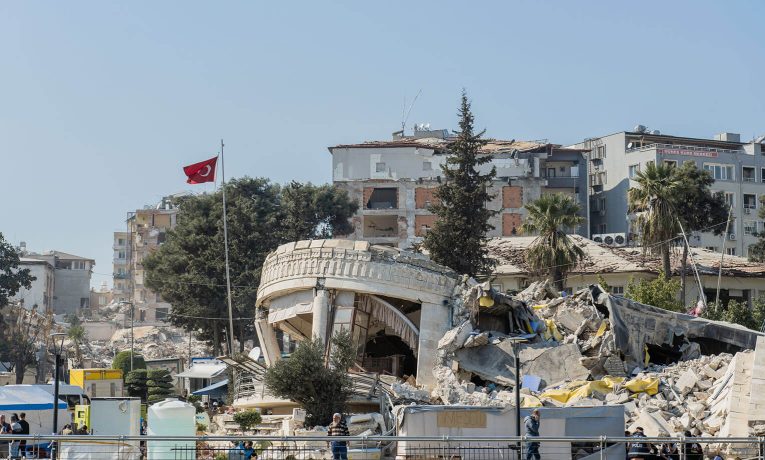 Ayuda internacional de emergencias
When natural disasters strike or armed conflict causes people to flee, Samaritan's Purse responds quickly to bring relief to those in urgent need. We can provide food, clean water, and shelter, among other necessities. One way we help in disaster situations is by handing out "family survival kits" that include warm blankets, buckets with water filters, cooking utensils, soap, and other daily essentials. For just $45, we can provide a lifeline to a family that has lost everything, to help them get back on their feet.
---
Ayuda internacional de emergencias 013310
Donación Sugerida: $45