2019 Operation Heal Our Patriots Reunion: Wounded veterans and their spouses were challenged in Dallas to fight for their marriages and grow in their faith.
More than 500 military couples attended the 2019 Operation Heal Our Patriots Reunion in Dallas, March 29-31. This was the seventh annual reunion for the Samaritan's Purse project, which has provided Biblically based marriage enrichment training and follow-up care for about 1,000 wounded veterans and their spouses since 2012.
This year's Reunion began with many changed lives.
"The only way that God can come and fill the emptiness in our lives is through Jesus Christ," Samaritan's Purse President Franklin Graham told attendees as he presented the Gospel through the parable of the prodigal son from Luke 15. "All of us have sinned and fallen short of God's standard, but Jesus Christ came to this earth on a rescue mission to save you, to take your sins, to die on your behalf."
As Franklin invited attendees to make decisions for Christ, scores of couples came forward Friday.
"The Bible says that if just one sinner repents, all of heaven rejoices," Franklin said. "Heaven is rejoicing because of the prayer you prayed just now. God loves you. He's forgiven you."
Bendice el matrimonio de una pareja militar
013960
A Weekend of Transformation and Challenge
The annual reunion is one part of our Aftercare program, which provides ongoing care, support, and encouragement for the military couples who've joined us at Samaritan Lodge Alaska. Operation Heal Our Patriots Aftercare also gives our veterans and their spouses access to our team of chaplains, marriage enrichment training, and regional gatherings.
Attendees were encouraged this year by addresses from Samaritan's Purse President Franklin Graham; veteran news commentator Greta Van Susteren; Pastor Chip Ingram, founder of Living on the Edge Ministries; former Arkansas Governor Mike Huckabee; Jack Graham, pastor of Prestonwood Baptist Church in Plano, Texas; and surprise guest, former professional baseball player Darryl Strawberry.
In addition to hearing from powerful speakers on the main platform, couples attended breakout sessions addressing marital intimacy, finances, apologetics, and parenting. Couples were also encouraged to sign up and serve on special disaster relief teams through Samaritan's Purse. Our Disaster Relief Unit 1, a tractor trailer stocked with supplies and tools, was on display at the Hilton Anatole and veteran couples were encouraged to join our Disaster Relief work across the United States.
"We're dealing with the most capable human beings in the world through Operation Heal Our Patriots," said Corey Lynch, who works with our North American Ministries team and is helping lead the initiative. "This is a chance to get back to that feeling of brotherhood and to help people in need. This is a startup, but we're ready to get rolling."
At least a couple hundred attendees signed up to join the new Samaritan's Purse initiative that will involve our wounded veterans and their spouses in responding to tornadoes, hurricanes, flooding, wildfires, and other disasters throughout North America.
"We know there are limitations, but I promise we will find a place for you to serve," Edward Graham told attendees.
Throughout the day on Saturday, couples visited the tractor trailer to learn more about the program and express their interest in volunteering.
"I want to get out there. Get the job done," said 31-year Army veteran Charles Ellis who signed up with his wife Miriam. The Ellises became a part of Operation Heal Our Patriots in 2012. "Whatever we need to do. Just because my tour of duty ended doesn't mean I'm done being a soldier. I'll be a soldier till the day I die."
The Spiritual Battle for Marriages, Families
At the event, couples were also encouraged to keep fighting—for their faith, their marriages, and their families. The veterans and spouses who become a part of Operation Heal Our Patriots face challenges in their lives and marriages caused by the wounds of war—both visible and invisible.
Chip Ingram encouraged them to face the battle head-on.
"Don't you realize that heaven and hell are at battle around your marriage," Ingram told attendees on Saturday. "And you will have a greater impact for Jesus Christ than almost anyone on the planet, because they've seen what you've been through and they see you hang together and love each other.
"There's great reward, but there's times when it's going to be difficult and you have to fight. This isn't for passive people. And when you fight, God will deliver."
Governor Huckabee reminded couples of God's ongoing work in their lives, especially through the difficult times.
"The Bible says that all things, even the bad ones, work together for good," he said. "God is so wonderful, so powerful, that He can take all the worst things this world can do to you and turn them into something better than you ever believed. He's not finished with you yet because, if He were, you wouldn't be here. Our God is a great God and has great things that He can do with broken lives."
Please pray for our wounded veterans, their spouses, and their families that God would continue to strengthen their faith and relationships. Also pray for the 150 couples scheduled to come this summer to Samaritan Lodge Alaska.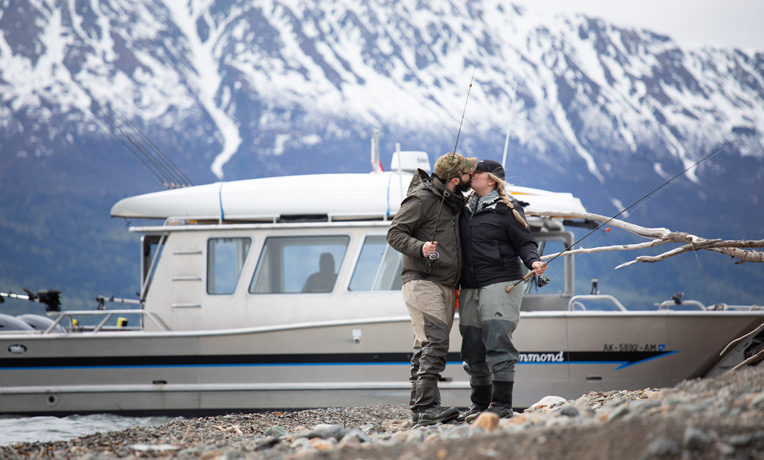 Bendice el matrimonio de una pareja militar
Operation Heal Our Patrios ayuda a las parejas militares a construir una sólida fundación espiritual durante una semana basada en talleres bíblicos, actividades al aire libre para reconstruir relaciones y atención individual, por medio de nuestros capellanes retirados. Ofrecemos todo esto sin costo alguno para estos héroes americanos como una muestra de nuestra gratitud por su servicio y sacrificio. Tu donación nos ayudará a cubrir los costos, inclusive el transporte, hospedaje, actividades y cuidados a largo plazo de las instalaciones, para poder ayudarlos a encontrar esperanza en el Señor.
---
Operation Heal Our Patriots 013960
Donación sugerida: $60