A Marine and his wife were among six people baptized during Week 6 of Operation Heal Our Patriots
Week 6 of Operation Heal Our Patriots began with an Independence Day ceremony in which combat-wounded veterans, their spouses, Samaritan's Purse staff, and volunteers gathered to celebrate America's birthday. During the ceremony, Army Specialist William Taylor carried the flag out and passed it to each veteran and spouse before Marine Staff Sergeant Chris Hardister raised it on the flagpole at Samaritan Lodge Alaska.
After Chaplain Jim Fisher read from Psalm 33, he led the group in prayer. Then the week began with excursions and classes designed to heal and enrich marriages.
Operation Heal Our Patriots, a Samaritan's Purse project aimed at strengthening the marriages of service members wounded post-9/11, brings military couples to Alaska for a week of Biblically based marriage enrichment. Husbands and wives confront critical issues in daily classes led by retired military chaplains and also enjoy a variety of wilderness activities together.
Building Foundations on Christ
Week 6 of the 2016 season ended on Friday, July 8. Six people, including two couples, received baptism, and five couples rededicated their marriages to God and each other. Among them were Marine Sergeant Ralph Harris and his wife, Yesica.
Ralph joined the military because he "wanted to be somebody." He said he wanted to explore and have adventures and—most of all—get out of Alabama. He joined after high school as his high school sweetheart, Yesica, went off to college.
On September 16, 2013, Ralph was in his fourth month in Afghanistan. That day, he was driving with four other Marines when he hit an improvised explosive device. He woke up in the hospital.
When he called Yesica, he didn't tell her what had happened. Despite having a broken back and a torn hip and shoulder, he didn't tell anyone about his pain. When the hospital discharged him at his insistence, he continued his service in Afghanistan for three months until his deployment was over. It was only when he returned home that he admitted that he needed surgery.
Yesica and Ralph got married after his return, but it was hard for her to see him depressed and in pain. In the period before his medical retirement, they struggled financially, and soon they found out Yesica was pregnant.
Their lives became more stable once they found a new home, Ralph was medically retired, and the baby was born. But it was still a welcome respite when they were accepted for Week 6 of Operation Heal Our Patriots. Despite being married for less than a year and a half, they had already faced many struggles. Through the marriage enrichment classes at the lodge, they grew closer.
"It builds a foundation between you and your spouse," Ralph said about the classes. "I like the fact that God is in this so it can bring us closer together so we can have a stronger relationship with Christ."
Throughout the week, the couple experienced spiritual change in their lives. Ralph was able to open up about resentment he was holding toward his mother and to let go of that. Yesica was able to share how her life had changed since Ralph's injury and about her hopes for the future.
"I felt that since his accident I kind of turned my back a bit on God, questioned why did this happen," she said. "But now that we're here I've learned that things happen for a reason. And I just want to get closer to God, but I want to do it with Ralph."
Early in the week, both Ralph and Yesica agreed that they wanted to be baptized in Lake Clark. He said he grew up in a Christian tradition, but he had strayed from the church. With Yesica by his side, he believes he will stay close to God this time.
"This baptism will be a first step for the two of us in our marriage," he said. "That way we can set a strong foundation through Christ."
Another couple at the camp, Air Force Technical Sergeant Krys Bowman and wife, Lacy, joined Ralph and Yesica in the chilly waters on Friday. Krys served for nearly 20 years in the Air Force and sustained multiple injuries. When he returned home, Lacy had to come to terms with the way he had changed. The classes in Alaska helped them communicate about those changes better and has also brought about spiritual change in their lives.
"I feel like I was almost kind of trying for acceptance rather than accepting the Lord, fully accepting Him into my life and giving Him everything that is me, and I don't want to be that anymore," Lacy said. "Now I'm ready to let all of that go."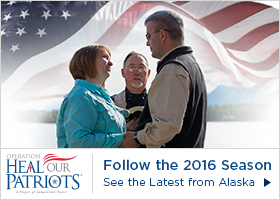 During a talk with the chaplains, the Bowmans also decided that Krys should pursue more involvement in the church. Before coming to the camp, their church had asked him to become involved in ministering to the youth or serving as an elder. Now, with Lacy by his side, he feels ready to answer that calling.
Both couples also rededicated their vows on Friday. They all said that they are happy to renew their marriages with God at the center this time.
"It's a new beginning for our family," Yesica said.
Please pray for Week 6 couples as they integrate back into everyday life. Pray that they will rely on God each day for strength. Pray also for the coming weeks' couples as they arrive at Samaritan Lodge Alaska and begin their week of marriage enrichment.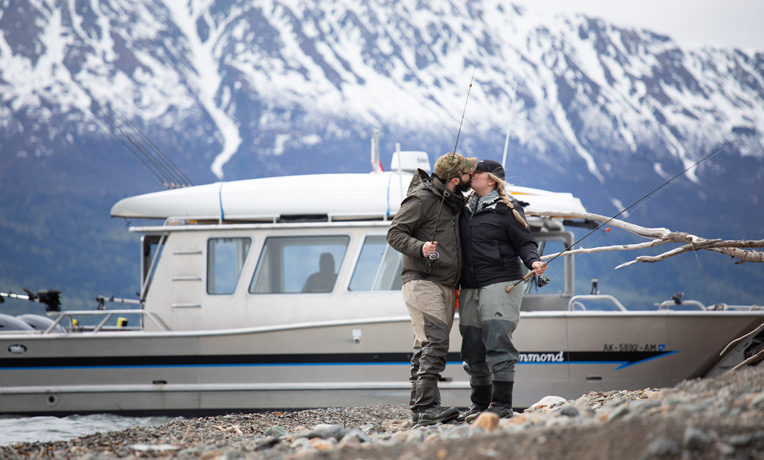 Bendice el matrimonio de una pareja militar
Operation Heal Our Patrios ayuda a las parejas militares a construir una sólida fundación espiritual durante una semana basada en talleres bíblicos, actividades al aire libre para reconstruir relaciones y atención individual, por medio de nuestros capellanes retirados. Ofrecemos todo esto sin costo alguno para estos héroes americanos como una muestra de nuestra gratitud por su servicio y sacrificio. Tu donación nos ayudará a cubrir los costos, inclusive el transporte, hospedaje, actividades y cuidados a largo plazo de las instalaciones, para poder ayudarlos a encontrar esperanza en el Señor.
---
Operation Heal Our Patriots 013960
Donación sugerida: $60