A soldier and his wife found renewed hope for their marriage and discovered the joy of the Gospel of Jesus Christ while in Alaska. They were just one of 10 military couples who were strengthened during Week Seven at Samaritan Lodge.
Army Sergeant Marco Solt expected to find improvised explosive devices (IED) during their route clearance mission in Iraq. That was his job as a combat engineer. They'd find the bombs and neutralize them.
But this bomb found their vehicle first.
In the confusing seconds after the explosion, he thought he'd lost his teeth. However, it wasn't his teeth he found loose in his mouth but peanuts from a candy bar he'd bitten into at almost the same time the blast went off beneath his seat.
Having his teeth intact was, however, no consolation at all.
Bendice el matrimonio de una pareja militar
013960
His fellow soldiers in the vehicle were alive but severely injured. The driver was strangling on his seatbelt. It was only as he reached to cut the driver free that he realized his own dire situation—his legs had been shredded.
And still he attempted to follow protocol—check his weapon, check the perimeter, exit the vehicle.
"My rifle could have shot around a corner," he said, recalling how the blast had bent the barrel of his gun.
That would be the last time he'd hold a rifle as a soldier in the U.S. Army.
Both his legs had to be amputated in Afghanistan, and soon he knew he would be medically retired from the military—stripping away a beloved career. As he flew home on a C-130 surrounded by the coffins of fallen soldiers, he wondered why God had let him down.
"I grew up in a [religious] household so prayer was nothing new to me. We prayed before every mission, but stuff just kept happening anyway," Marco recounts. "When I came home, I healed up very well physically, but mentally and spiritually I was in a bad place. I was very angry at God."
A Soldier Wrestles with God
Even on the day he and his wife Gina were scheduled to fly to Alaska for Operation Heal Our Patriots this July, Marco was resistant to boarding the plane. "My wife said 'Nope. You're getting on that plane.'"
Praise God he listened because by Tuesday of Week Seven at Samaritan Lodge, Marco was in a heated discussion about God with one of our chaplains.
"I let Chaplain Dan [Stephens] hear it," Marco said. "Me and God needed to have a real conversation, because for the past six years I've blamed God for what happened and for taking me away from my military family."
By the end of the night, Marco says, he was done fighting.
"I felt like every word Chaplain Dan spoke, God was speaking to me directly. I had to tap out. I had no other option but to submit to the Lord. I tried to fight it and tried to fight it and tried to argue. But I couldn't figure out a way to blame God anymore. So I gave myself to Jesus Christ."
Both he and Gina received Jesus Christ as their Lord and Savior that night. Marco said that for the first time in recent years he felt truly happy and peaceful.
"My life has been changed," Marco said. He knows God has plans for him and his wife to be active and serve others.
"Chaplain Dan told us 'God doesn't want you to live an idle life,' and I'm just not hardwired to sit around. I want to get after it and live my life.'"
During Week Seven at Samaritan Lodge Alaska, five individuals, including Marco and Gina, were saved; six couples rededicated their marriages to God; and five participants were baptized in Lake Clark. Please pray for current and future couples who will participate in Operation Heal Our Patriots this summer. About 160 couples total this year will be flown out to experience a week of Bible-based marriage enrichment in Alaska through this Samaritan's Purse project; ask that God would continue to strengthen marriages and heal hearts through the power of the Gospel.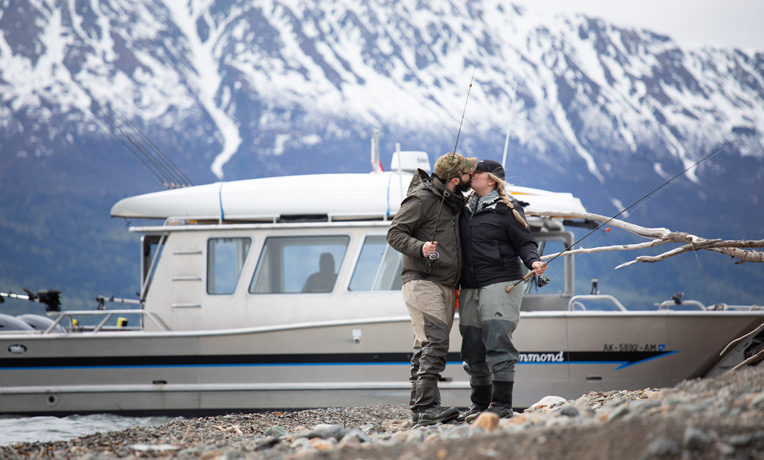 Bendice el matrimonio de una pareja militar
Operation Heal Our Patrios ayuda a las parejas militares a construir una sólida fundación espiritual durante una semana basada en talleres bíblicos, actividades al aire libre para reconstruir relaciones y atención individual, por medio de nuestros capellanes retirados. Ofrecemos todo esto sin costo alguno para estos héroes americanos como una muestra de nuestra gratitud por su servicio y sacrificio. Tu donación nos ayudará a cubrir los costos, inclusive el transporte, hospedaje, actividades y cuidados a largo plazo de las instalaciones, para poder ayudarlos a encontrar esperanza en el Señor.
---
Operation Heal Our Patriots 013960
Donación sugerida: $60