Watch the NBC TODAY video about our airlift to Puerto Rico.
Samaritan's Purse was recently highlighted on NBC's TODAY. Watch the video below, hosted on the NBC server.
---
Note: This story was last updated on Oct. 5, 2017. For the latest information, please go to our Maria and Irma updates page.
Samaritan's Purse continues to bring physical and spiritual aid to suffering people in the Caribbean as they struggle with the devastating effects of both hurricanes Irma and Maria. We are airlifting hundreds of tons of emergency supplies—including food, water purification units, hygiene kits, heavy-duty shelter plastic—to benefit several islands. We have dozens of disaster assistance response team (DART) members spread across Puerto Rico, Dominica, Antigua and Barbuda, St. Martin, and Turks and Caicos.
Ayuda en huracanes
013779
We continue to airlift tons of emergency supplies to San Juan, Puerto Rico, and distributions began Sept. 27. Thousands of households are receiving heavy-duty shelter plastic and a variety of non-food emergency items. Samaritan's Purse is working with an extensive church network on the island established from Franklin Graham's Festival in February and through our Operation Christmas Child project.
On Barbuda we have set up a desalination water point for workers and residents who are shuttling between the island and Antigua. We are assisting several churches that experienced hurricane damage, in addition to helping individual residents and families.
Our DART arrived on Dominica on Saturday, Sept. 23. The team is distributing heavy-duty shelter plastic and hygiene kits. Dominica was pummeled by Hurricane Maria and there is a sense grave concern on the island, though people are generally remaining calm and are grateful to be alive. Samaritan's Purse has deployed six nurses to help with some of the island's medical needs. Medical equipment and a four-person surgical team are also being flown in aboard our DC-8.
Our team has been well-received by locals and government officials on Dominica. One person asked our team lead, "Are you a tourist visiting, or are you trying to leave?" Our staff member explained that he works for Samaritan's Purse and told what we do. The local person replied, "I'm very thankful you're here."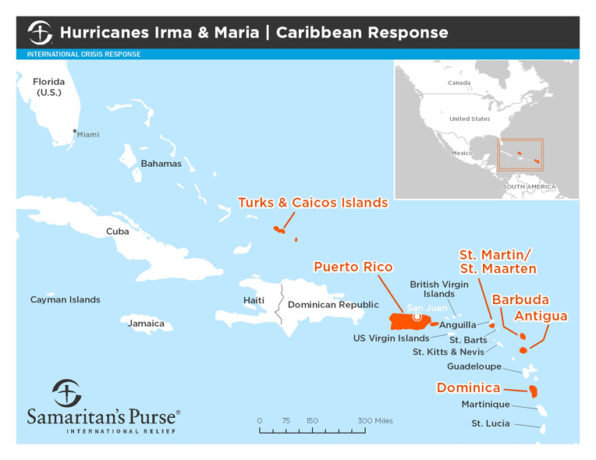 In St. Martin, we completed our mission on Sept. 29. We provided food, water, jerry cans, blankets, hygiene kits, and tarps to many thousands of people in the wake of Hurricane Irma.
Our work on the Turks and Caicos Islands has also recently been completed. More than 5,000 households received relief supplies. Our team trained more than 30 churches how to effectively bring physical and spiritual aid to the local community in Jesus' Name.
Please keep praying for those in the Caribbean struggling desperately after hurricanes Maria and Irma.
Ayuda en huracanes
Samaritan's Purse responde a las crisis de las necesidades de familias devastadas por los catastróficos huracanes. Dentro o fuera de los Estados Unidos, ayudamos a los damnificados con ayuda práctica y urgente en el nombre de Jesucristo.
---
Ayuda en huracanes 013779