Samaritan's Purse is responding after severe flooding left much of the Florida city underwater
One person died and nearly 25,000 homeowners were left without power in northern Florida after a storm system severely flooded the area. Particularly impacted was Pensacola, which received 15.29 inches of rain, just two inches short of meeting its all-time, annual rainfall record. Around 3,200 Pensacola homes were reportedly damaged throughout the county.
Help Storm Victims in the U.S.
Samaritan's Purse is responding to the area with volunteer teams to help homeowners deal with the water damage, remove wet insulation, and spray for mold while also bringing comfort and hope in Jesus' Name.
"The residents of Pensacola were not prepared for this type of disaster," said Todd Taylor, the assistant manager of U.S. Disaster Relief with Samaritan's Purse. "When we hear that flooding can happen anywhere, we think that because we are away from a river or away from a coast we are safe, but in this situation, anybody who's house was in a low lying area where there was even a foot of elevation drop was subject to flooding. There were many homes where one side of the street was a foot higher–the higher house stayed dry and the lower house flooded with 12 to 18 inches of water."
Our volunteer base is being hosted by Myrtle Grove Baptist Church in Pensacola. We began accepting overnight volunteers on May 12 and started serving the community on May 13.
"Pensacola is our vacation spot," said Jinnene Massey, a volunteer from Birmingham, Ala. "We happened to be online and saw that Samaritan's Purse was here. Instead of laying out on the beach, we get more fulfillment of serving. We wanted to do something productive with our time instead of doing something for ourselves–making a difference in people's lives."
Volunteers like Jinnene are coming from all over the country to help homeowners like Norma McKinney, whose house of 16 years was severely flooded as a result of the heavy rains. Norma was frightened as the water kept rushing into her Pensacola home. She hoped a rescue boat would come, but 911 never answered her calls, and a boat never came. Her niece next door began writing names and her address on her children's arms in Sharpie just in case something happened.
"I was scared to death," Norma said. "I thought we were going to drown. You could smell the sewage, just the vulgar nastiness of it all."
When Samaritan's Purse showed up to help, Norma was skeptical and fearful of being scammed. But it didn't take long for her to see how genuine our volunteers are as they completely gutted her home free of charge by ripping out flood-damaged Sheetrock, insulation, flooring, and spraying for mold.
"I realized, 'Now these are true Christian people,'" she said. "Sometimes things happen with no words that can explain how your heart feels, but I feel it in my heart. It feels physical, but there are no words to descirbe the gratefulness that I feel. Now I'm looking a little bit more optimistic. I was very pessimistic before Samaritan's Purse came, so heartbroken not knowing what to do."
Earlier this month, Samaritan's Purse established bases across four states as a result of the tornadoes that swept through Alabama, Mississippi, Kansas, and Arkansas. The bases in Baxter Springs, Kan., and Vilonia, Ark., closed May 10 and 11 after work was completed.
"As we were responding to the tornadoes, and we saw the damage that was occurring in Pensacola, our hearts went out to the people," Taylor said. "Our ability to respond to Pensacola as well as the tornadoes thrills me. I'm so excited to be here [with] the opportunity that Christ has given us to minister to the community with the transitioning neighborhood and the hurting people."
Please pray for the homeowners affected by this disaster and for our staff and volunteers to be diligent in their work as they continue being the hands and feet of Christ.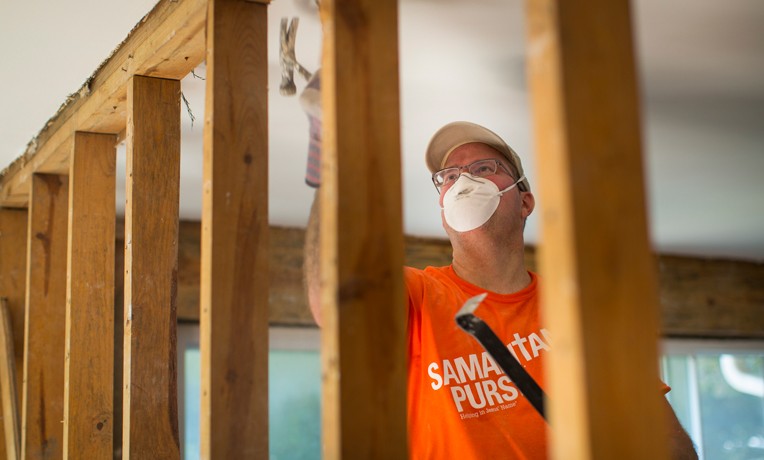 Ayuda para desastres en EE. UU.
Samaritan's Purse moviliza y equipa a miles de voluntarios cada año para ayudar a las víctimas de emergencias dentro de EE. UU. que han sufrido por fuegos forestales, inundaciones, tornados, huracanes y otros desastres naturales. Después de los daños producidos por las grandes tormentas, usualmente nos quedamos para reconstruir casas para las personas que no tienen a dónde más acudir por ayuda.
---
Ayuda para desastres en EE. UU.