Dr. Paul Osteen is a general and vascular surgeon from Houston, Texas, who has served 24 times with World Medical Mission. He recently returned from his sixth service trip to Mukinge Hospital in Zambia.
World Medical Mission
012004
The rugged bush country of Zambia's Northwest Province holds special meaning for Dr. Paul Osteen. At the foot of Mukinge Hill stands a nearly 70-year-old mission hospital complex, where patients flock to receive compassionate care as well as quality medical treatment. Mukinge Hospital has become a second home for the surgeon, a sacred place where he spends three or four months a year operating on patients and lending a helping hand to the overworked staff.
During his multiple trips with World Medical Mission, "Dr. Paul," as he is affectionately called, has developed quite a kinship with the Mukinge staff and the Zambian people. He says he feels like he has grown up with them. As brothers and sisters in Christ, they have shared their struggles, laughed and cried together, and strengthened one another in the faith.
So when Osteen heard that Dr. David Friend—Mukinge's only full-time staff surgeon—needed to take a leave of absence to attend to a family matter, he stepped in to fill the gap.
He was joined by Dr. Sylvester Kimutai, a fourth year Pan African Academy of Christian Surgeons (PAACS) resident from Tenwek Hospital in Kenya. Keeping up with the large volume of surgeries would have been even more challenging without the assistance of Dr. Kimutai, who served alongside him for a month at Mukinge.
Osteen has enormous respect for career medical missionaries like Dr. Friend who work long hours with limited resources. That's why he jumps at the opportunity to give doctors a break so they can enjoy extended rest and time with their families.
During the 3 ½ months he spent at the hospital, Osteen performed or oversaw more than 460 surgical procedures.
"It was exhausting, and at the same time, absolutely satisfying," Osteen reflected. "I was helping people and sharing the Gospel. Nothing can be more satisfying than that."
One of their patients was a little boy named John who had deep burns on 25 percent of his body, including his face and chest. His wounds required extensive care and skin grafting. Despite their best efforts, such injuries typically result in the death of the patient.
But Osteen and the medical staff weren't relying on their own skills and hospital equipment. They turned to God in prayer for His help, and for His healing power to be demonstrated in the life of the child.
"Six weeks later John was released and was able to return home to his family," said Osteen. "The team here at Mukinge was committed and persistent, and we trusted God to do amazing things."
Osteen was thrilled to see Kimutai become a more accomplished surgeon and experience Mukinge's strong community of faith during morning devotions and prayer gatherings. He hopes this will be the start of bringing PAACS residents with him on a regular basis.
"We trusted God to do amazing things."
"These young people are being well-trained, and this is a wonderful way for them to see what it is like to practice medicine in a rural hospital setting," he said. "I would like to see us do more rotations with residents from the PAACS program, at Mukinge as well as other mission hospitals in Zambia."
Often short-staffed, the Mukinge family has bravely battled through numerous challenges in recent years. The unexpected illness and death in 2016 of Dr. Sarah Lantz, a surgeon who came to the hospital through World Medical Mission's Post-Residency Program, left a huge void.
News of the arrival later this year of Drs. Stephen Snell and Kent Brantly have infused fresh excitement in the corridors and courtyards of the hospital. These former World Medical Mission Post-Residents and their families will be moving to Mukinge to become full-time medical missionaries.
Dr. Snell, a surgeon, is already well acquainted with the hospital and staff, where he served during his two-year assignment as a Post-residencia. For Dr. Brantly, returning to the mission field is a long-awaited answer to prayer. The family medicine physician made international news when he contracted the Ebola virus while serving as a Post-Resident at ELWA Hospital in Liberia in 2014 and was flown to the United States for life-saving treatment. Snell and Brantly, who are cousins, are eager to serve together.
And there are more reasons to anticipate a bright future for Mukinge. A few months ago, construction began on a surgical addition to the hospital complex that will include three operating rooms, two minor procedure rooms, two outpatient clinic rooms, a doctor's office, an 8-bed pre/post-op ICU, a sterilization room with autoclave, an isolation room, male and female locker rooms, and a lounge. The project is expected to be completed in December 2020.
"You can feel life coming back to Mukinge, a new excitement," said Osteen, who looks forward to doing surgeries in the facility when it opens.
In addition to hospitals in Zambia, Osteen's work with Samaritan's Purse has taken him to Kenya, Haiti, and many other places around the world. When he is not serving internationally, Osteen oversees missions ministries at Lakewood Church in Houston, where he has been a part of the pastoral staff for two decades. He and his wife, Jennifer, founded the Mobilizing Medical Missions (M3) Conference, held annually in February. The conference brings together medical professionals who are interested in using their skills to address healthcare needs around the globe.
"I want to do missions work for the rest of my life, as long as the Lord gives me strength," Osteen said. "This is what He has wired me to do."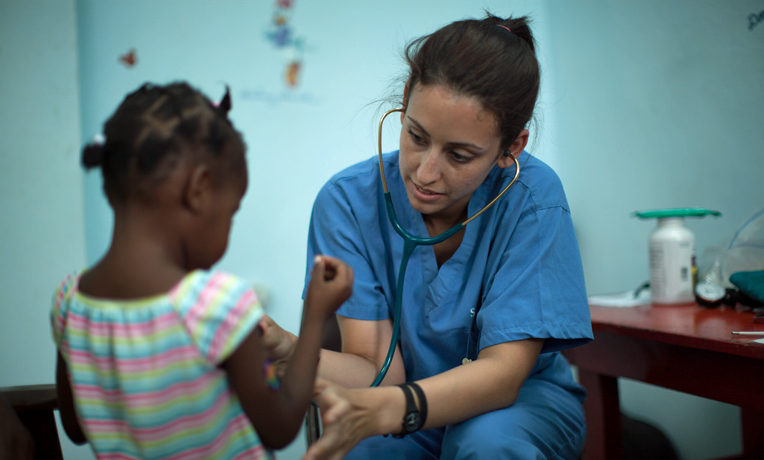 World Medical Mission
World Medical Mission fue establecido en 1977 para asistir a cirujanos generales que deseaban ir de voluntarios en viajes misioneros a corto plazo. Hoy en día, cientos de doctores cristianos voluntarios, así como dentistas y otros profesionales médicos, trabajan en hospitales y clínicas misioneras alrededor del mundo. También enviamos personal del Departamento de biomedicina y de bodegas, quienes proveen los equipos y suministros de suma necesidad para estas instituciones médicas.
---
World Medical Mission 012004