Samaritan's Purse volunteer teams are clearing out flooded homes and proclaiming the Gospel to homeowners
Wilford and Tangela Simpson knew early on April 18 that the sandbags around their doors wouldn't hold. The water in their kitchen was ankle deep. By 10 a.m. they struggled pointlessly in thigh-high water to salvage their car on four jacks.
By 2 p.m. they were loading their daughter and four foster kids onto a neighbor's personal watercraft. Soon after, the Simpsons left their dream home to the mercy of the 100-year flood.
VOLUNTEER IN HOUSTON— FIND OUT MORE
"The city had had other floods, and we hadn't been affected at all. Didn't even come close. We never thought this would happen," Wilford said of this month's "Tax Day Flood."
What forecasters predicted simply as heavy rain ended up dumping 17 inches on the city within 24 hours. A 17-inch downpour equals about 240 billion gallons of water—the equivalent of 88 hours of liquid flowing over Niagara Falls. This was Houston's second wettest day on record.
As with so many other Houston homeowners, the Simpsons didn't have flood insurance, and they were uncertain how to begin to find their new normal.
When Samaritan's Purse assessors showed up in their front lawn a day later, Wilford experienced a new kind of shock.
"When y'all described what y'all were gonna do, it put me at a standstill," Wilford said. "I'm hearing what you said, and it's registering about as slow as molasses in the wintertime. I'm thinking, 'So they're going to come in and they're going to clean everything out … and they're going to do it for free?' I'm still in shock."
In Our Own Back Yard
As word spreads about our work in the flood-affected areas of Houston, work orders and volunteer teams are growing. Samaritan's Purse is working alongside The Woodlands Church—our base church—and other Houston-area churches to clear homes of debris and remove compromised walls and flooring.
So far, more than 330 veteran and first-time volunteers have come from the surrounding area and from out of state to assist Houston homeowners in Jesus' Name.
VOLUNTEERS NEEDED FOR MULTIPLE PROJECTS—FIND OUT MORE
"Usually we're the ones calling Samaritan's Purse asking how we can help [in another location]," said Caleb Magnino, Executive Pastor of Local and Global Missions at Woodlands Church. "Now Samaritan's Purse is calling us and saying, 'How can we come serve alongside you?' Now we have an amazing opportunity to proclaim and demonstrate the Gospel in our own home town."
If you drive through Houston today under sunny skies, it looks like life has returned to normal. But if you talk to people like the Simpsons or like Donna Thompson in Hockley, Texas, who trudged two miles through floodwaters to reach high ground, you realize the recovery for thousands in Houston is far from over.
The volume of rain forced its way through the roof of Donna's home, flooding it from top to bottom. Samaritan's Purse volunteers cleared the inside of Donna's house down to the studs. Donna called the work of our volunteer crew a "miracle."
"I don't feel like a survivor," she said. "I feel like this is the beginning of a whole new life. I wasn't sure I was worthy of Jesus' love. But this has reminded me that He does love me."
Please continue to pray for homeowners and for our teams in Houston.
In addition to our Houston deployment, we have ongoing responses in Orange County, Texas, and in West Monroe, Louisiana, both pummeled by the same March storm system. Our successful and fruitful deployment in nearby Bossier City, Louisiana, has been completed. Between these three deployments that started in March, we have helped over 320 homeowners and 95 individuals have received salvation in Jesus Christ.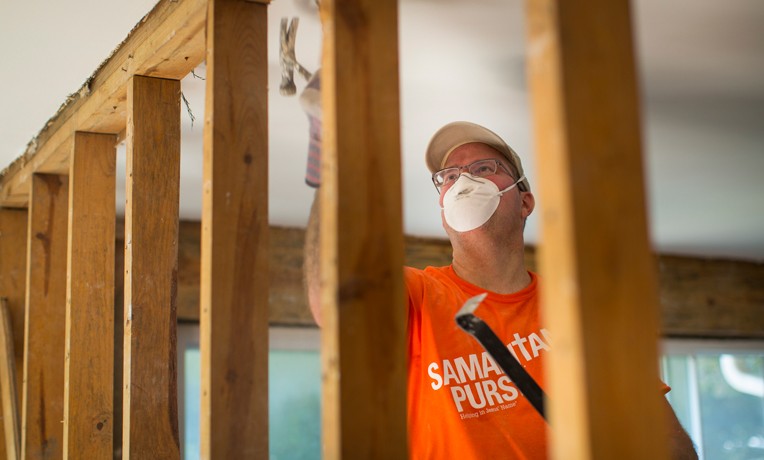 Ayuda para desastres en EE. UU
Samaritan's Purse moviliza y equipa a miles de voluntarios cada año para ayudar a las víctimas de emergencias dentro de EE. UU. que han sufrido por fuegos forestales, inundaciones, tornados, huracanes y otros desastres naturales. Después de los daños producidos por las grandes tormentas, usualmente nos quedamos para reconstruir casas para las personas que no tienen a dónde más acudir por ayuda.
---
Ayuda para desastres en EE. UU.