Samaritan's Purse is helping Caribbean farmers replace chickens and coops in communities still devastated by the 2017 storm.
Hurricane Maria affected every resident on the island of Dominica in September 2017, including poultry farmer Edmund Henderson. The Category 5 winds decimated his banana trees and tore the roof off his chicken coop, allowing rain to pour in and causing him to lose 250 chickens.
Edmund started his poultry farm fifteen years ago, and it provided a way for him to support those he loves.
"I use it to help to send my two daughters to school," he said.
Following the hurricane, Samaritan's Purse replaced the roof of his chicken coop with storm-resistant material and gave him hundreds of new chicks to reestablish his livelihood.
"I am very happy for people like Samaritan's Purse who came around and saw the need to help us," Edmund said. "I am very thankful—I am very impressed with what they did."
With hundreds of chickens now clucking and fresh plants standing firm again, Edmund happily shared how Samaritan's Purse not only gave him hope for the future, but his community as well.
"It's not only me," he said, "But also the people around me who I've spoken with, and who are getting needed assistance—they all get the same impression of Samaritan's Purse."
Affecting the Price of Eggs
"Maria was something else," said Kenneth Bruney. "It was an unforgettable experience."
As a farmer, Kenneth faced a major setback after the violent storm. Through a friend in the local community, Kenneth connected with Samaritan's Purse and received the materials he needed to construct a storm-resistant chicken coop for his farm located at the top of one of the many mountains in Dominica.
A few months after finishing construction Kenneth stood in front of his masterpiece, happily sharing his story. He loves the rewarding lifestyle of being a farmer, and Samaritan's Purse has been able to aid him in the pursuit of his passions.
As Samaritan's Purse poultry program provided chicken coops, chicks, and various types of equipment to farmers in need, it not only allowed them to support their own families, but also equip the community as a whole.
Eggs were scarce island-wide in the months following Hurricane Maria. As time passed, their price rose to a record high. Since Samaritan's Purse began providing layer chicks to farmers in early 2019, the price of eggs has decreased drastically and the community continues to benefit from the increased supply. A recovery that might have taken a decade has now been minimized to a couple of years thanks to the support of this poultry program.
"I must praise, I must thank Samaritan's Purse," Edmund said. "I must ask God to continue to bless Samaritan's Purse, and I must pray that we can continue to see more people like [you] coming around."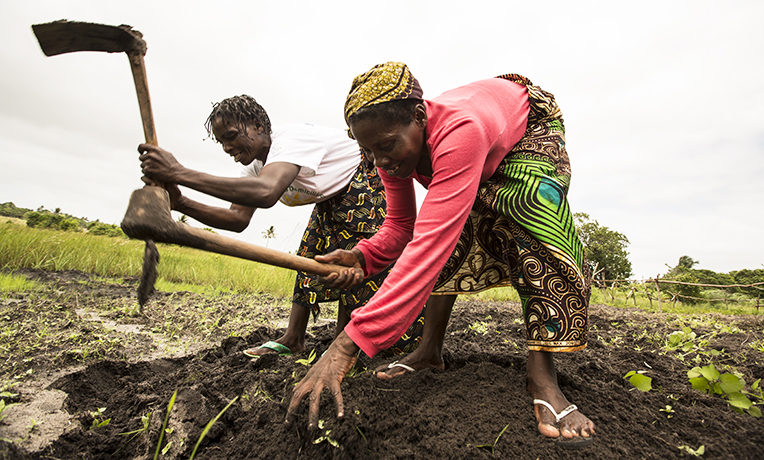 Sustentos
Al mejorar las cosechas de la granja y jardín, aumentar la productividad del ganado, abrir el acceso a mercados y dar entrenamiento en conocimientos básicos para negocios, estamos ayudamos a las familias y comunidades a hacer una transición de una forma de vivir de subsistencia a una generación que genera ingresos, asegurando así un futuro mejor.