Samaritan's Purse is on the ground after historically heavy rains soaked South Carolina.
Samaritan's Purse North American Ministries Disaster Relief and Billy Graham Rapid Response Team chaplains have deployed to Columbia, South Carolina, to assist homeowners as they recover from catastrophic flooding.
Our volunteers are giving their time and talents to help Columbia residents as they begin to recover after historic flooding devastated the area. Volunteers are hauling damaged furniture to the curb, cleaning and packing precious belongings that passed through muddy waters, and tearing out water-logged walls and flooring in order to gut homes "to the bare bones"—so that contractors can eventually come in and fully repair.
Samaritan's Purse leaders are fanning out throughout some of the worst-hit neighborhoods, assessing needs and determining where volunteers can make the most impact among homeowners requesting assistance. More volunteers are needed. Columbia Mayor Steve Benjamin has said he anticipates damage in the billions of dollars.
Dan Hollifield was glad to drive 65 to 70 miles to Columbia from Beach Island, South Carolina, just over the South Carolina line from Augusta, Georgia. He's helped on about 15 previous Samaritan's Purse disaster deployments.
"If I can help influence somebody else to lead them to the Lord, that's a blessing to me," he said.
Volunteer in South Carolina
Our host church is Shandon Baptist Church. At this base, we have a disaster relief unit—a tractor-trailer stocked with generators, tools, and supplies for our work—and other supply/shower trailers.
UPDATE 10-13-2015: Samaritan's Purse now has a second disaster relief unit on the ground based at First Baptist Church Jedburg in Summerville, South Carolina. Volunteers and staff will be active at this site for the next several weeks.
"It's Just Wonderful"
Among those we've helped so far is Nola, who had lived in her home since 2008. She woke up Sunday morning at 4:38 to the sound of water rushing into her house. She had the presence of mind to put some items atop her beds, then she grabbed her animals, threw them into her car and left.
"Later in the week when the water receded and I returned, I didn't know what to do, where to go or how to start," Nola said. "Then someone with Samaritan's Purse walked by Wednesday and told me, "Don't you worry about it. That's why we're here. We'll take care of you.'"
Nola has some previous experience with Samaritan's Purse as she said that when her three daughters were younger they had filled Operation Christmas Child shoeboxes. She was so pleased that our volunteers could work on her home.
Placing her right hand over her heart and with her voice cracking with emotion, she said, "It's just wonderful. Thank you."
Samaritan's Purse volunteers Bet Miller and Beth Hinson, longtime church friends, sat on the ground in Nola's front yard, cleaning and packing away eight to ten emu eggs. Nola and her husband had collected them from when the couple lived in the country and raised emu, ostriches and peacocks.
"These represent memories to her and they're important, so we were glad to help clean them for her," Beth said.
A 1-in-1,000-Years Storm
Precedent-setting, double-digit totals of rainfall poured down on South Carolina from October 1–5. The torrents caused deadly flooding, claiming more than a dozen lives. More than a dozen dams breached.
Multiple locations received 20 inches of rain or more over the duration of this five-day weather event. In total, 11 trillion gallons of water were dumped on North and South Carolina. That's enough water to fill an Olympic swimming pool for every resident of the Carolinas.
To sign up for volunteer email alerts or to learn how to subscribe to text message alerts, click here.
Please continue in prayer for South Carolinians in affected areas. Please also pray for our staff, volunteers, and the Rapid Response chaplains as they all minister in Jesus' Name to distraught homeowners.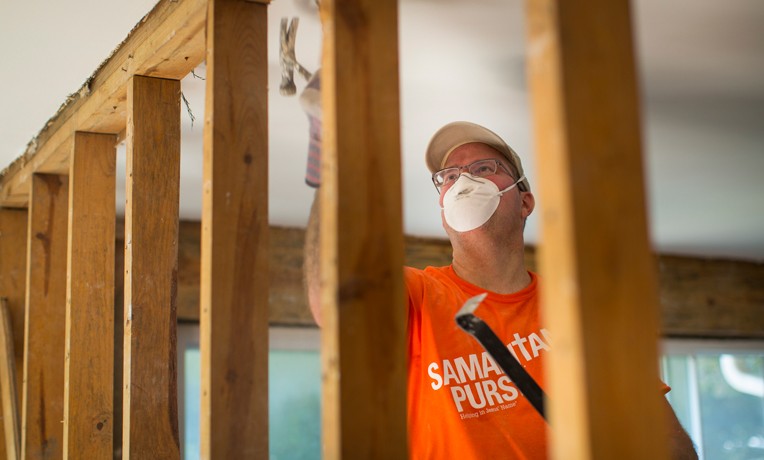 Ayuda para desastres en EE. UU.
Samaritan's Purse moviliza y equipa a miles de voluntarios cada año para ayudar a las víctimas de emergencias dentro de EE. UU. que han sufrido por fuegos forestales, inundaciones, tornados, huracanes y otros desastres naturales. Después de los daños producidos por las grandes tormentas, usualmente nos quedamos para reconstruir casas para las personas que no tienen a dónde más acudir por ayuda.
---
Ayuda para desastres en EE. UU.