Six combat-wounded veterans commit their lives to Christ during Week Four of Operation Heal Our Patriots. Four military couples rededicated their marriages to God.
Ten wounded service members and their wives arrived at Samaritan Lodge Alaska on June 19 for a week of Biblically based marriage enrichment classes and daily excursions designed to unite them as a couple.
These veterans carry with them the physical and emotional scars of war. Many suffer from post-traumatic stress disorder and traumatic brain injuries while others have joint problems, nerve damage, or amputations from battle injuries. Daily they endure the physical reminders of their time at war.
Beyond the physical scars, these military personnel also carry guilt and painful memories of combat and time away from their families.
Through Operation Heal Our Patriots, these 10 couples (among 160 scheduled to come to Alaska this summer) had the opportunity to step away from their normal routines and attend classes about Christ-centered marriages led by retired military chaplains and their wives. The veterans expressed how much they appreciated that these former military chaplains understood what they had been through since they too had walked the same path. Perspectives shifted and lives were changed as couples examined their own spiritual lives and their marriages as a whole.
"Tragedy can be something great," said Marine Lance Corporal Jeremy Brooking. "It makes you think about what you have in the world, who is important, and what is important." Jeremy and his wife, Tia, accepted Jesus Christ as their Savior and Lord during Week Four.
Five other veterans also received Christ, one of whom was Army Corporal Jonny Flores. Until this week, Jonny said that when people spoke about Christianity he felt like they were speaking a different language. When his wife, Nia, would say she was praying for him, he translated it as "I hope you are doing good."
This week that changed. Retired military chaplain Jim Fisher explained the Gospel to Jonny in a way that he could relate to because of their shared military experience.
"It's like a light bulb went off," Jonny said.
Jonny asked Jesus into his life and said he immediately noticed a difference in himself. He said it feels like he got a new pair of glasses because he sees things differently now.
Seven participants accepted Jesus as Savior, and four others rededicated their lives to Christ. On Friday, all 11 braved the cold waters of Lake Clark to be baptized and make a public declaration of their faith in Christ.
This week not only changed individual lives, but it also changed marriages. Four couples rededicated their marriages to God, promising to build their families on the foundation of Christ.
"Once we started bringing God into our relationship, everything changed for us," Jeremy said. "Now it's not just two of us; it's the three of us."
Fishing on Lake Clark, hiking in the Alaskan wilderness, and participating in marriage-enrichment classes left a lasting impression on all 10 couples. The week away from their regular routine allowed them to focus on their marriage and put Christ at the center.
"It's an incredible, once-in-a-lifetime experience," Jeremy said. "It makes you realize you aren't dead. You are alive and there are still things in life for you."
Please pray for Week Four couples as they integrate back into everyday life. Pray that they will rely on God each day for strength. Pray also for the coming weeks' couples as they arrive in Alaska and begin their week of marriage enrichment through Operation Heal Our Patriots.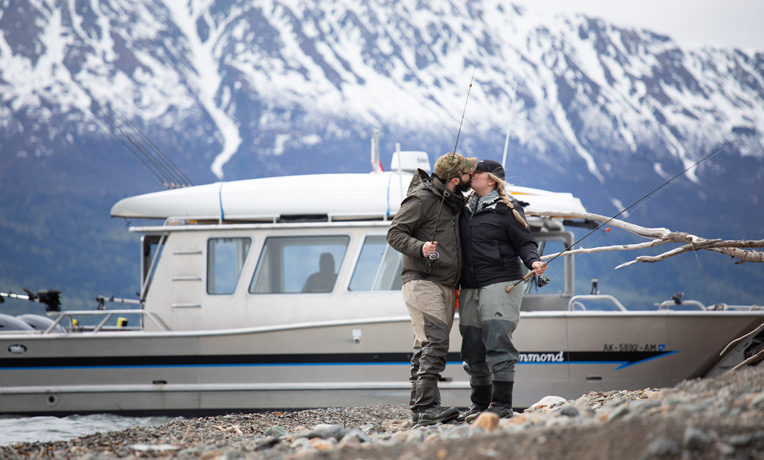 Bendice el matrimonio de una pareja militar
Operation Heal Our Patrios ayuda a las parejas militares a construir una sólida fundación espiritual durante una semana basada en talleres bíblicos, actividades al aire libre para reconstruir relaciones y atención individual, por medio de nuestros capellanes retirados. Ofrecemos todo esto sin costo alguno para estos héroes americanos como una muestra de nuestra gratitud por su servicio y sacrificio. Tu donación nos ayudará a cubrir los costos, inclusive el transporte, hospedaje, actividades y cuidados a largo plazo de las instalaciones, para poder ayudarlos a encontrar esperanza en el Señor.
---
Operation Heal Our Patriots 013960
Donación sugerida: $60