Samaritan's Purse teams are currently on the ground in Vidor and Winnie, Texas, bringing relief to affected communities.
Ayuda para desastres en EE. UU.
013622
"We bought this house last July," homeowner Kandace Higginbotham explained as she looked around at the water damage to her residence. "Just long enough to make two or three growth marks [for her children] on the wall. This was our first family home."
Kandace and her family were home together when the remnants of Tropical Storm Imelda dumped over 40 inches of rain in some areas north and east of Houston. Her husband noticed a pool of liquid in their bathroom, which quickly spread. As their home relentlessly filled with water, each family member packed a trash bag full of clothing before finally leaving.
"By the time we left, there was a little over a foot of water in the house. And it was only in about an hour and a half. It just rose that fast. We were wading in thigh-high water to put kids in the car," Kandace said.
VOLUNTEER IN TEXAS: WINNIE OR VIDOR
Inundated roads would not allow the Higginbotham family to return home for 48 hours.
"We came back to the house without the kids, opened the garage, and my heart sank because the mementos had been knocked over into the water," Kandace recounts. "The first real thing that I saw was a baby book from my childhood, my oldest daughter's baby book, and ultrasound pictures. Gemstone-like mementos that were completely ruined."
Not long after the water receded from their home, the Higginbothams gladly welcomed Samaritan's Purse volunteers who came to help. Our teams tore out damaged drywall, removed waterlogged flooring, and cleared debris.
"We're just being obedient to the call that God has placed on our lives," explained volunteer Lisa Dvonch. "This is what God calls us to do, and we love to serve the community. We love to see the impact that it has on people, directly, and that's where we thrive in service."
Volunteers helped Kandace salvage personal belongings, including her grandmother's dining room table where her family ate dinner together each night. The volunteer group continued to pray with Kandace as they worked to clear waterlogged wreckage.
Admiring the dedication of the volunteers, Kandace said, "They have to be really strong people to be able to go house to house, and continue smiling and working. I'm sure they know they are appreciated. None of us can give them anything, and they are still here helping us."
Military Volunteers Are an Answer to Prayer
A group of military veterans and their spouses, known as Team Patriot, joined with other Samaritan's Purse volunteers in Vidor, Texas, helping Imelda survivors begin to recover from the storm.
Team Patriot is made up of trained disaster relief volunteers who are also participants in our Operation Heal Our Patriots project, an outreach which aims to strengthen the marriages of U.S. service personnel wounded or injured during combat service following the 9/11 terror attacks.
Homeowner Aarohn "AJ" Dixon was stationed at Fort Sam Houston, away from his family, when Tropical Storm Imelda engulfed his house. He quickly returned to meet his wife and evaluate the damage to their flooded family home.
Painting a picture of the devastation, AJ said, "The floors were flooded, and the cabinets were ruined. Everything that touched the ground, or was 12 inches from the ground, was ruined. The walls were soaked, the paint was coming off the walls; everything was messed up. It was horrible."
Team Patriot volunteers prayed with the family and quickly began working in the house.
"They've given me a shoulder to cry on," said Jessica, AJ's wife. "We've cried together; we've talked; they are amazing people."
The team tirelessly worked to clear waterlogged flooring and remove damaged drywall while mucking out the home and spraying to prevent mold growth. As the volunteers concluded their relief efforts, they presented AJ and Jessica with a Bible and prayed over their house.
"I can't thank you guys enough for coming here and helping," AJ shared, overwhelmed with gratitude. "You're just taking all the weight off my shoulders, really being helpful and praying with me. I had a lot of people praying for me when they found out what happened, and I feel like you guys coming around was all their prayers being answered."
Samaritan's Purse continues to assist homeowners who lost so much to Tropical Storm Imelda. We still need more volunteers from across the country to help those devastated by the flooding. Please keep recovering families and our teams in your prayers.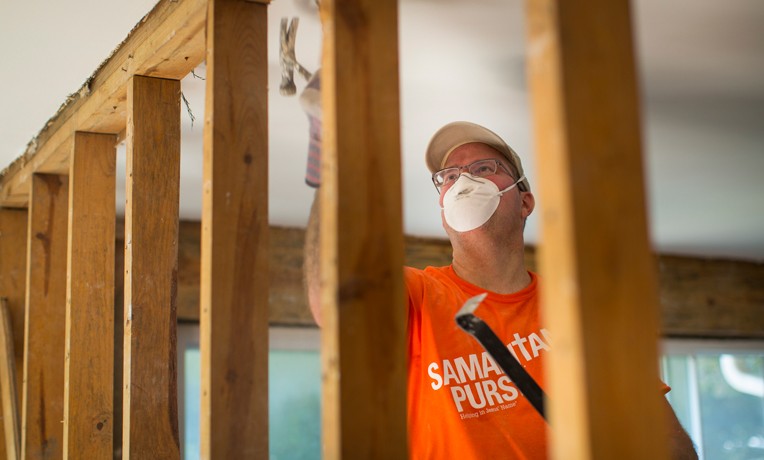 Ayuda para desastres en EE. UU.
Samaritan's Purse moviliza y equipa a miles de voluntarios cada año para ayudar a las víctimas de emergencias dentro de EE. UU. que han sufrido por fuegos forestales, inundaciones, tornados, huracanes y otros desastres naturales. Después de los daños producidos por las grandes tormentas, usualmente nos quedamos para reconstruir casas para las personas que no tienen a dónde más acudir por ayuda.
---
Ayuda para desastres en EE. UU.