Samaritan's Purse volunteers are serving and ministering to homeowners, who are under siege by rains that seemingly just won't quit
Like far too many Houston residents these days, Robert and Antonieta Landry are among those homeowners whose house has flooded more than once. Their home in Spring, Texas, directly north of Houston along I-45, was one of hundreds that have been inundated by raging floodwaters due to the recent torrential rains that have saturated Texas.
Ayuda para desastres en EE. UU.
013622
The Landrys were overwhelmed with the myriad details and tasks that had to be done after 2 feet of water rushed into their home. They were trying hard to do everything themselves, but they felt helpless. Enter Samaritan's Purse volunteers.
Our teams have again deployed to the Houston area to come alongside flood-weary residents in Jesus' Name. More volunteers are desperately needed to assist the number of families who are searching for help.
When Samaritan's Purse volunteers showed up this week to help, Robert's eyes welled up with tears.
"Angels in human skin" is how he described our workers. "It was very similar to a sunrise—everything lit up."
Volunteers served tirelessly, removing mud and tearing out damaged drywall, insulation, and flooring. They gutted the home, preparing it to be sprayed for mold and repaired at a later date.
It was a new day dawning for Robert and Antonieta. Samaritan's Purse gave them hope.
Relentless downpours continue to drench the metropolitan Houston area, as in other parts of central Texas. Fast-moving floodwaters are sweeping away vehicles, trapping occupants inside. The death toll is mounting, and Texas Governor Greg Abbott has declared a state of disaster for 31 counties.
On this redeployment, Samaritan's Purse is focusing on the smaller communities north and northwest of Houston, including Conroe, Magnolia, Hockley, Spring, and Tomball. The Woodlands Church is once again hosting our staff and volunteers, as they did the first time they were in Houston. That deployment ended May 21.
"Our volunteers are telling us stories of hurting, confused, sometimes angry folks who are stressed beyond their limits due to their recent devastating circumstances," said Wayne Shoemaker, our program manager overseeing this deployment. "Each of our volunteers and staff are being called on in many instances to minister on the spot as the situation presents itself. As they share, you can see God working in the midst of their presence.
"That's why we're here. It's another opportunity the Lord is allowing us to have to assist homeowners and share the love of Jesus Christ and to display the Parable of the Good Samaritan."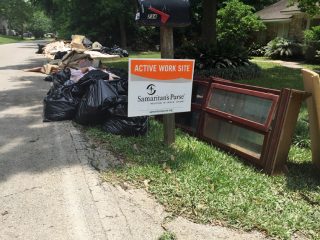 Billy Graham Rapid Response Team Chaplains are also on hand to provide spiritual and emotional care. As He did during the May deployment, God is using our blue-shirted chaplains and our orange-clad Samaritan's Purse volunteers to demonstrate the Gospel and to proclaim the Good News of Jesus Christ. On the first day, God brought another soul into His Kingdom as Chaplain Bruce gently led her into the loving arms of the Savior.
"Yes, I'd like to pray and ask Him into my heart," she said.
Please pray that God will lead an army of volunteers to Houston to help in Jesus' Name. Pray for their safety and for unique opportunities to listen to homeowners and to sense God's leading to share the love of Jesus Christ with those who are ready to hear that there is hope in Him.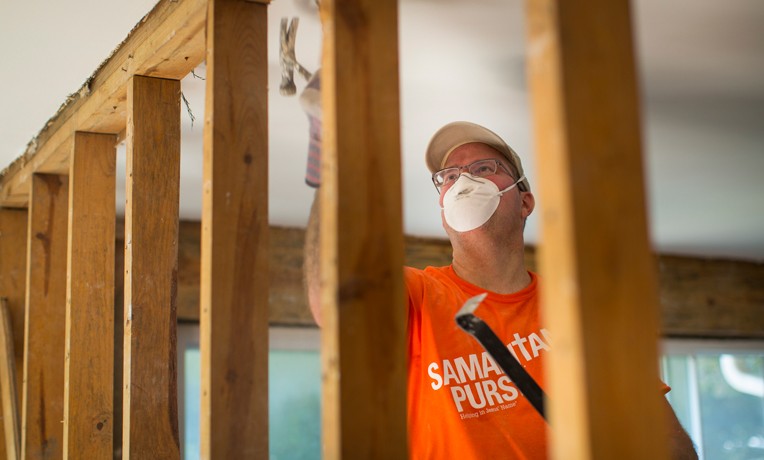 Ayuda para desastres en EE. UU.
Samaritan's Purse moviliza y equipa a miles de voluntarios cada año para ayudar a las víctimas de emergencias dentro de EE. UU. que han sufrido por fuegos forestales, inundaciones, tornados, huracanes y otros desastres naturales. Después de los daños producidos por las grandes tormentas, usualmente nos quedamos para reconstruir casas para las personas que no tienen a dónde más acudir por ayuda.
---
Ayuda para desastres en EE. UU.