Through a school fundraiser and a foundation formed to help children with heart defects, three Mongolian children were able to receive the heart surgery they needed
It might not seem like a Mongolian child with a heart defect, an American baby who lived for only 76 days, and high school students in South Carolina have much in common.
Help Provide Heart Surgery For A Child
But without Eastside High School, Emerson Rose's parents would not have been able to donate the money to help Nomin fly to Minnesota to receive life-saving surgery.
The details are inextricably intertwined.
Emerson Rose Heart Foundation
In 2010, Jason and Susan Smith found out they were pregnant with their first child. They discovered the child would be a girl. And then they learned that their little girl would likely have a heart defect.
Shortly after the diagnosis, an international disaster happened. The Smiths wanted to donate toward relief efforts. After doing some research, they decided on Samaritan's Purse.
As Susan donated on the website, she saw a link for something called Children's Heart Project and clicked on it.
She read that the project brings boys and girls from around the world to North America for heart surgery that they couldn't receive in their home countries. With their recent diagnosis still on their minds, the Smiths decided to also give to Children's Heart Project.
They had their next ultrasound a short time later. To their relief, nothing else was wrong with their precious daughter. However, their nerves were still on edge.
When they left the doctor's office, they noticed a voicemail from Samaritan's Purse. It was a call to thank them for the donation to Children's Heart Project and to ask them to pray for two children who were in Texas waiting to have surgery.
Jason asked Susan to call back and ask Samaritan's Purse to also pray for their daughter. That began their relationship with Children's Heart Project.
"The people with Children's Heart Project and Samaritan's Purse just surrounded us in prayer through my pregnancy with Emerson, and what you guys were doing, it touched us because we were also here in the U.S. traveling down that road with a child with a heart defect," Susan said. "There's just that instant connection."
On April 11, 2011, Susan gave birth to a beautiful daughter named Emerson Rose. She was born with hypoplastic left heart syndrome and underwent surgery to correct it.
Jason and Susan spent two and a half months in the hospital with their daughter. While there, they met families who were struggling financially and emotionally, sometimes having quit their jobs to be at the hospital with their children.
"We started feeling the Lord prompting us to help all the children we saw in the hospital that had heart defects and their families," Susan said.
During a conversation with Emerson's surgeon about the progress that has been made with heart defect surgery and care, they realized how they could help.
"[The surgeon] said there's so much they can do; there's just not a lot of funding for research," Susan said. "And I think at that point, God put it on our hearts to do something to help families and to help with research as best we can."
Tragically, Emerson Rose died at 76 days old as a result of complications from her heart defect.
A couple of months later, the Smiths formed the Emerson Rose Heart Foundation to help families with children with heart defects who are struggling financially and to fund research.
"Just like we dedicated Emerson back to Jesus and asked that He would use her for His kingdom, that's the entire purpose of this foundation," Jason said. "We're just grateful that He continues to let her little life bring Him glory."
Eastside High School
Every year for decades, Eastside High School in Taylors, S.C., has raised money during Spirit Week for a charity of its choice. The Smiths live about 45 minutes from the school, and they were aware of the enormous amount of money the students typically raise.
In spring 2013, they submitted an application on behalf of the Emerson Rose Heart Foundation to the school for consideration.
The student government narrowed down the applicants, and then they interviewed the final five.
"We just really liked what [Jason and Susan] were about and who they were," said Matt Daniel, an executive council member in the Eastside High School student government. "We really wanted to take on their charity and help them out."
The school agreed to donate all proceeds to the Emerson Rose Heart Foundation and began planning events to raise money, including a golf tournament and a Sadie Hawkins dance.
By the end of the week, the students had raised $80,000.
"When we applied, we decided if we were chosen to give half the money to Children's Heart Project and the other half to the Medical University of South Carolina for some specific quality-improvement project they were doing," Susan said.
Three Children from Mongolia
Keeping true to their decision, the Smiths donated part of the money to Children's Heart Project. A miracle was already in the works.
"Jason and I were driving to the school one day, and I said, 'You know, these high school students are working so hard this week to raise money for children.' It's just crazy to think there's a child somewhere in the world right now that this money is going to help," Susan said. "And that child and that child's family have no idea that these high school students in Greenville [County], S.C., are working to raise money for that."
One of those children was a young girl in Mongolia. She had been born the year before Emerson with tetralogy of fallot, a defect that includes a hole in the heart. At 4 years old, Nomin could barely walk. After just a few steps, labored breathing would push her into a squatting position, and her father would have to carry her.
Children's Heart Project accepted her for surgery along with two boys, Magnai and Bataa. The three traveled with their mothers and two interpreters to Minnesota for heart surgery.
Two weeks after their successful surgeries, the Smiths and Matt were able to meet the children.
"It was an incredible experience for me," Matt said. "Just after all the time and all the effort and planning that goes into Spirit Week throughout the summer and the early part of fall, just to be able to meet those children who we worked so hard for, it was quite unique. It's a great feeling knowing you were a part of something so great."
For the Smiths, the meeting was emotional. Emerson would have been only a year younger than Nomin. As they played tea party and read to Nomin, they thought about how God had used their own daughter to save a little girl from halfway around the world.
"We just prayed that God would use Emerson when she was in the hospital and we would pray over her every night," Susan said. "After she passed away, we prayed that God would continue to use her. To be in Minnesota and see three children that clearly God used Emerson to help bring over, there's just a connection that will always be amazing."
Nomin will return home soon with a healed heart and the story of a lifetime. Her father will finally have a break from carrying her, although he may be so happy to see her that he won't put her down. She will be able to play with her older brothers and sister. She can go to school without the worry that catching a cold could put her in the hospital.
"It's going to give her the experiences that normal children have on a day-to-day basis, running and playing and to not be limited by her condition," Matt said. "Knowing that she's healthy now, she can be a kid."
For Magnai's aunt, who accompanied him as his guardian, the change will be even bigger. While in the U.S., her host family and interpreter led her through a Bible study, and she accepted Christ as her Savior. Nomin's mother was already a Christian, but she said the trip deepened her faith and that she will share it with her daughter and take her to church.
"If we were able to somehow directly fund a project through the foundation that would save every child and eliminate heart defects, that's still temporary because they still die," Jason said. "We all die. We want to save children that have heart defects, but we want to do it for the bigger picture. We have an eternal perspective."
Looking Ahead
Jason and Susan want to continue their involvement with Children's Heart Project. They pray that God strengthens the relationship between their foundation and the organization and that they will be able to continue supporting it. On a personal level, they hope to transport a child home one day.
Matt said that Eastside High School rarely donates to the same charity twice in a row, but they might make an exception.
"Since I'm graduating, I'm really pushing for the kids to [choose the Emerson Rose Heart Foundation] again and they're really, really considering it because Jason and Susan are so great," he said.
A school fundraiser and a girl who lived for only 76 days were able to change the lives of Nomin, Magnai, and Bataa forever. In the coming months, the money that the Emerson Rose Heart Foundation donated to Children's Heart Project will allow more children to receive the surgery they need in the U.S.
Please pray that God will continue to use Children's Heart Project and the Emerson Rose Heart Foundation to bring hope and healing to even more children around the world.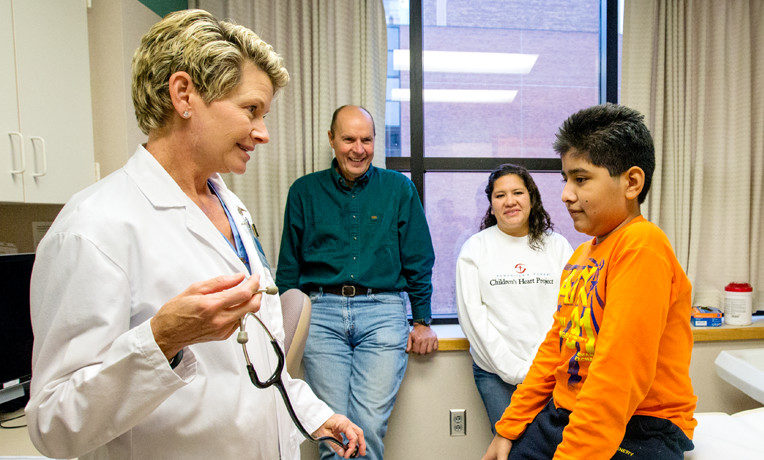 Salva la vida de un niño
Uno de cada 100 bebés tiene un defecto del corazón que los cirujanos pueden correr como algo rutinario. Desafortunadamente, mucho de estos niños han nacido en lugares pobres o muy remotos donde sus familias no tienen acceso a los servicios cardíacos que urgentemente necesitan. Por medio del programa Children's Heart Project, Samaritan's Purse transporta a niños y niñas de países como Bolivia, Mongolia y Uganda hacia hospitales en Estados Unidos. identifica niños con condiciones de corazón de vida o muerte que viven en países donde no tienen la tecnología y el entrenamiento para su enfermedad. El programa los conecta con hospitales y cirujanos de EE.UU. que donan su tiempo y servicios. Los doctores, los hospitales y las familias e iglesias que reciben a estos niños donan su tiempo y servicios, pero los costos de los vuelos aéreos son los gastos mayores usualmente de $2.200 por persona en un vuelo internacional. Con $50 de donación, puedes compartir el costo y ofrecer una cirugía que salvará la vida de alguien y la inigualable esperanza de Jesucristo "el camino, la verdad y la vida" (Juan 14:6). "el camino, la verdad y la vida". (Juan 14:6)
---
Programa Children's Heart Project 013687
Donación sugerida: $2.200 / Comparte el costo: $50