Super Typhoon Haiyan devastated Shistosomiasis Research and Training Center. Samaritan's Purse is working with the hospital staff to provide care for people injured during and after the typhoon.
The trees running up the mountains are tangled like windblown hair. Palm trees are the only ones left standing, only now becoming erect after being bent to the ground.
Help Disaster Victims Around The World
Houses are flattened, concrete buildings are missing roofs, and steel frames have been warped into unrecognizable masses.
Corpses still stick out of debris piles. Around 95 percent of the city is destroyed.
This is Tacloban after Typhoon Haiyan.
It looks like EF-5 tornado damage that stretches for as far and as wide as a person can see. It passes from Tacloban through Palo and into the other surrounding towns. There's no electricity and no running water, and food is scarce. In the first days, people fled by the thousands. Those who are left are desperate to survive.
CRISIS IN THE PHILIPPINES: See the latest reports as Samaritan's Purse helps victims of Typhoon Haiyan
HELP FOR TACLOBAN: Samaritan's Purse is bringing medical care, water, and shelter to the city devastated by the typhoon.
Virginia Ollen and her husband, Vicente, evacuated to a nearby school before the storm. As the wind blew stronger, it broke out the windows. A shard of glass flew into Virginia's head. Wood and metal zoomed through the window opening, hitting Vincent in the arm and chest. When he looked up, Virginia had fainted.
He took her to the municipal health center, which referred her to Shistosomiasis Research and Training Center in Palo, a small hospital that specializes in the tropical disease shistosomiasis and treats patients with general medical needs.
Virigina has been there for 11 days. She is slowly improving, but even when she is able to return home, she will have nowhere to go. For now, the hospital is better than what awaits her outside.
The Hospital
The administrative officer of the hospital, Melissa Dala, watched trees fly past the windows when Haiyan hit.
"We can only hear the sound, it's like a whirlwind, and it was so, so strong that our glass doors were broken and also our windows," she said.
The hospital staff evacuated the 42 patients on the second floor to the first floor just before the roof caved in. The hospital is only supposed to hold 25 patients, so it was stretched well past capacity even before the storm hit.
"We broke out our glass windows so it wouldn't hurt us," Dala said.
The winds first started blowing at 5:30 a.m. By 11, the chief of medical services, Dr. Agnes Aliposa, was worried about the hospital. She left the church where she was staying for safety and braced against the wind and rain to walk two blocks to the hospital. She joined the only other doctor at the hospital to treat more than 100 patients who had been hit by trees and other debris.
"There was a surge of patients with all sorts of injuries," Dala said. "Some were cut by the roof, some were nearly drowned, some just felt cold and some were hysterical. A lot of them were injured."
Aliposa worked for four straight days until the stream of patients began to ebb. Melissa still has not been home. She doesn't even know if she has a house left.
"All of the employees here were victims," she said.
The hospital began to run out of food and medical supplies. Because the infrastructure was broken, there was no way for the staff to get more. Recovery would take years; many patients would die before they could receive help.
"We were running out of our supplies," Dala said. "It was so heartbreaking when we cannot provide [the patients] with their needed supplies."
The Response
Samaritan's Purse teams arrived in the Philippines on Saturday, November 9. Because the airport was destroyed, getting into Tacloban was difficult. After a lot of effort, our medical advisor and a few other personnel were able to enter the area.
"When I first arrived, it was one of the most devastating disasters I've ever seen," said Dr. Lance Plyler, medical advisor for the Samaritan's Purse disaster response team.
Dr. Plyler worked with the department of health. His plan was to help a hospital recover from the storm and also temporarily provide an extension in the form of a mobile medical hospital. He was assigned Shistosomiasis Research and Training Center.
"When I heard that you'll be helping us, I was relieved," Aliposa said. "Now perhaps I can find more time to be able to sit down and think more coherently."
The medical team started working on Tuesday, November 19. Eventually the team will be 12 people. We are working with a crew to clean the hospital, and the doctors and nurses immediately paired with Shisto's medical team to give shots and administer other medical care.
"A lot of the patients we're seeing so far, there's a lot of wounds," said Kelly Sites, a nurse who will be working here for the next month. "People have been hit with debris or have stepped on things."
The Samaritan's Purse team is also at the hospital to minister to patients. Through the work they're doing, they hope to show Christ's love to people in desperate need of hope.
"This is an opportunity to share Christ to them," Aliposa said.
Please pray that we will be able to provide the necessary supplies to Shisto Hospital so that people can recover from storm injuries. Pray also for the staff there who have been working tirelessly since the storm hit and for our doctors and nurses as they come alongside to provide aid.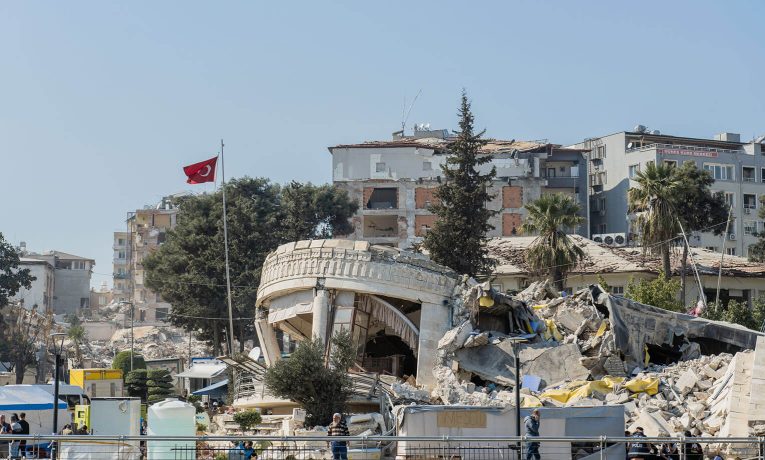 Ayuda internacional de emergencias
When natural disasters strike or armed conflict causes people to flee, Samaritan's Purse responds quickly to bring relief to those in urgent need. We can provide food, clean water, and shelter, among other necessities. One way we help in disaster situations is by handing out "family survival kits" that include warm blankets, buckets with water filters, cooking utensils, soap, and other daily essentials. For just $45, we can provide a lifeline to a family that has lost everything, to help them get back on their feet.
---
Ayuda internacional de emergencias 013310
Donación Sugerida: $45