Samaritan's Purse volunteers continue to aid Bayou State families in the wake of Hurricanes Laura and Delta. More workers are needed for this enormous task!
Ayuda para desastres en EE. UU.
013622
On Oct. 9, Hurricane Delta inundated the Gulf Coast—bringing high winds approaching 100 mph and heavy rains up to 17 inches in some places. The powerful storm ripped up a path nearly identical to that of Hurricane Laura, an even more powerful Category 4 storm that hit just six weeks earlier. In the wake of this destruction, more than 3,700 Louisiana families have requested help so far from Samaritan's Purse, which has four active deployments in the state.
Lake Charles was especially hard hit, and that's where Betty Jefferson has made her home for more than 40 years.
"You see it on the news and you hear about it, but you don't get the full effects until you put your eyes on it," Betty explained. "We've had two hurricanes back to back, people are tired. They work from the break of daylight until they can't see anymore."
Betty returned to her home four days after Hurricane Laura made landfall to find more than half of her roof damaged by the wind. She opened the front door to her home to find the ceiling collapsed into the house and the smell of mildew filled the air.
"My biggest question when I saw my house was: 'How do I pick up the pieces? How do I get started?'" Betty shared.
An army of Samaritan's Purse volunteers—including a group of volunteers from Adventures in Missions—arrived to Betty's home less than a week after Hurricane Delta made landfall and immediately got to work. The volunteers worked with persistent dedication to tear out waterlogged drywall, clear fallen debris, and salvage family mementos that survived the storms.
"There is so much devastation and even us being here brings a light of hope," shared Adventures in Mission volunteer Brent Long. "I'm so happy that we get to share that hope with the homeowners that we get to interact with and that we get to bless them by fixing their home and rebuilding their lives; but we also get a blessing deep down that is more than we could ever ask for"
Samaritan's Purse welcomes churches and Christian groups like Adventures in Mission to partner with us to bring emergency relief to the hardest hit areas of Louisiana—reminding families that they are not forgotten and that God loves them. The team that worked on Betty's home proved resilient as they removed the debris and mold from Betty's home—providing her with a fresh start. After they completed work on her home, the group prayed with Betty, and she praised God for His protection over her family.
"I'm going to keep calling on the Name of Jesus."
"I hold to God's promise. No weapon formed against me, there is nothing that the enemy can do that's going to harm me," Betty said of her Christian faith. "I'm going to keep standing and keep calling on the Name of Jesus and let's see where it goes. I don't waver in my faith. I don't question Him."
Volunteering Is One Way to Show You Care
While Samaritan's Purse has already helped more than 620 families across our Louisiana response locations—Lake Charles, DeRidder, DeQuincy and Jennings—there are still thousands of homeowners who need assistance after the two hurricanes.
Howard "Bud" Nash was born and raised in Louisiana and served 23 years in the military as a paratrooper for the 82nd Airborne, with service in the Navy reserves and the National Guard. His faith in Jesus Christ remains strong after surviving the recent storms.
Bud was home during both of the storms that barreled through Lake Charles. Strong winds from Hurricane Laura demolished his roof, and heavy rainfall from Hurricane Delta created a terrible mess. Just six days after Delta made landfall, a team of Samaritan's Purse volunteers arrived at Bud's home to help. The group tarped his roof, cleared debris, and tore out wet insulation and waterlogged drywall.
"I'm out here serving because I think serving like this is a really great way to share the Gospel and put it into action and not just words," said volunteer Libby Stipp-Puffer. "Through serving with Samaritan's Purse, you get to be the tangible hands and feet of Jesus and, now more than ever, people need relief from the hurricanes they've had here in Louisiana."
While clearing debris, volunteers helped Bud recover precious family memories that survived the hurricanes—including awards from his military service, along with an assembly of crosses that his late wife collected throughout their marriage.
Without ceasing, Bud praised God for the volunteers who helped him pick up the pieces of his home. "Volunteering is an important part of the Christian life." Bud explained. "The best way to show someone you care about them is by volunteering. It's important to reach out to people and help them when they are in need."
Please pray for hurting homeowners in Louisiana and also for our teams serving them.
—
Hurricanes Laura and Delta caused incredible devastation across southwestern Louisiana—leaving thousands of families displaced from their homes. Volunteers from across the nation are going to the hardest-hit communities to bring critical relief to those overwhelmed by these devastating storms. We also have a deployment in Foley, Alabama, where the needs are great as we respond to Hurricane Sally.
With such destruction along the Gulf Coast, Samaritan's Purse requires many more teams to complete the jobs ahead. Visit spvolunteer.org to learn more about how you can get involved!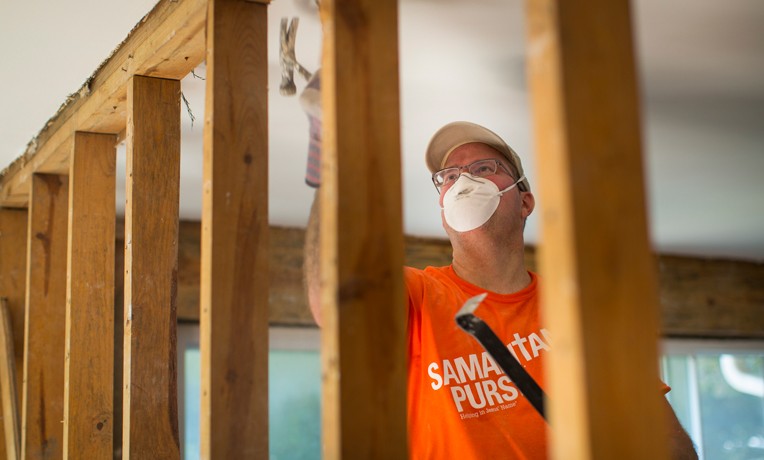 Ayuda para desastres en EE. UU.
Samaritan's Purse moviliza y equipa a miles de voluntarios cada año para ayudar a las víctimas de emergencias dentro de EE. UU. que han sufrido por fuegos forestales, inundaciones, tornados, huracanes y otros desastres naturales. Después de los daños producidos por las grandes tormentas, usualmente nos quedamos para reconstruir casas para las personas que no tienen a dónde más acudir por ayuda.
---
Ayuda para desastres en EE. UU.