Several days of emergency distributions in Nepal have now been completed by Samaritan's Purse in partnership with local officials and the Nepalese army
There are too many mountaintops to count in Nepal—from the foothills to the highest Himalayas.
Flying over them, row after row, it was difficult to distinguish one from another.
Give to Nepal
When the Mi-17 helicopter slowed, a Nepalese military crewmember motioned for the Samaritan's Purse team, crammed in the back with 200 duffel bags of relief supplies, to come look through the cockpit windows.
Suddenly, a mountaintop in Yarsa became different than all of the others.
Hundreds of villagers dressed in brightly colored clothes stood together around a plateau area, looking up in expectation. It was a powerful sight for both those on the ground and in the chopper.
Right before it landed, one of the crew slid the door open and jumped out. The touchdown set off a rush of movement as the blue bags were thrown out one after another after another. A stream of Samaritan's Purse staff and villagers ran back and forth to clear the bags as the blades continued to spin. In a matter of minutes, the job was done.
People held onto their hats, some turned their backs against the chopper's intense wind, and excited kids jumped up and down as the Mi-17 lifted up above the valley and disappeared into the clouds.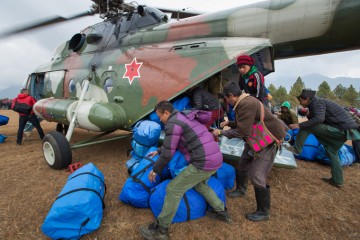 This process repeated itself for hours until enough winter relief bags for over 1,100 families reached Yarsa. Meanwhile, villagers who had walked anywhere from one to five hours to the site filed through the distribution line to receive their bags full of warm coats, blankets, socks, gloves, sleeping mats, and more.
All Together Now
The activities only lasted about half a day, but they'll stay in the memories of those involved.
"It has created this exciting event where people will be receiving goods as well as a wonderful environment for people from all nine wards [communities in Yarsa] to assemble here and watch the helicopters dropping goods for us," 28-year-old Dharma Thokra, a local social worker, said. "It's a happy and joyous moment."
Kanchi Maya Tidung, 30, said it was the only time she had seen people from all over Yarsa in one place. She wore a purple scarf around her head and spoke to the Samaritan's Purse staff like they were old friends—standing close, laughing, using animated hand gestures.
"It's only today that we get to meet everyone," she said. "Yes, some are still hungry, but we are all still smiling because there's so much energy here. It's a good feeling."
She and her mother-in-law had traveled several hours to the village the night before in order to be there in time for the distribution. Now, they were preparing to carry their winter supplies home. Kanchi put the two large duffel bags on her back, and her mother-in-law planned to carry the two smaller bags.
"We're doing it together," she said.
Heartbreak to Hope
After a smaller helicopter landed carrying additional supplies and personnel, the Nepali pilot got out to see what was happening. He stood close by as Samaritan's Purse staff handed full bags of supplies to each family.
"Look at their faces," he said with a sense of wonder, as he watched person after person move through the line. "You can see them change from sad to happy in an instant. Just look at them."

Some families quickly strapped the bags to their backs and headed off on their long journeys, while others found a spot on the grass to go through the supplies. One young man held up a few items for the children watching him. Another child waved a pair of socks in the air for her family to see.
Behind the commotion, an enormous landslide, caused by the April earthquake, scarred the mountainside across the valley. A handful of people had died in the event. In constant eyesight, it served as a reminder of what the villagers had suffered together. Most had lost their homes and belongings in the earthquake.
Now, winter had set in, and these isolated people were facing a new crisis: enduring the harsh conditions with little more than temporary houses and old clothes. Samaritan's Purse provided the warm jackets, blankets, hats, hot water bottles, and other items to help them combat the cold.
"We don't have a lavish lifestyle. We are deprived," 50-year-old Maina B.K. said. She came with her niece and young family members hoping to receive some things to keep them warm. When they opened their bags, Maina was elated to find the thick jackets, long underwear, gloves, and more. "These kids will be protected from the cold by these clothes, and it's going to prevent them from getting cold and sick," she said.
Rushing Aid to the Unreached
Country Director Darren Tosh led the Samaritan's Purse Nepal team in the recent emergency distributions to 5,000 households in six locations, including Yarsa, over the course of five days. Staff teams camped in the villages for several days in advance to help organize logistics and ensure the supplies could get out immediately once they arrived. With snow on the ground and below freezing temperatures in these high-elevation communities, there was no time to waste.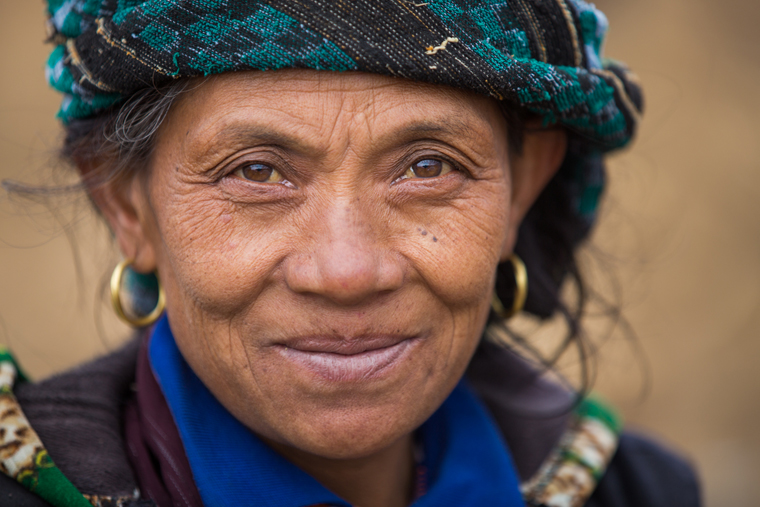 "These are areas that are going to get heavy amounts of snow, and without essential supplies, it's going to be very tough on communities, especially kids and the elderly. They're the first ones that are getting sick. These communities are actually losing some of their members because winter is coming, and they are dying because of exposure," Darren said.
"Being able to equip them with winter jackets, stoves, and blankets—these are small things that are going to make a huge difference in people's lives this winter."
Soft-spoken Kari Ghale, 24, was grateful to see people getting help that needed it the most. He sat on the grass with a few friends as the last group of villagers received their relief supplies.
"The people who got winter things today are the ones who are poor," he said. "So definitely they are happy and glad they got something warm to wear."
He explained how his community had received some relief goods in the past, but they had to walk farther to get them because Yarsa is so hard to reach. It meant a lot to him for these supplies to be flown in.
"It was good moment for me to see that helicopters brought the goods today. It was a beautiful sight to see that. It was the first time we saw goods being airlifted to reach us," he said. "Thank you for coming from all over the world to help people like us in the mountains."
"The earth is the Lord's and the fullness thereof, the world and those who dwell therein" (Psalm 24:1).