God works through Operation Heal Our Patriots to bring a Marine injured in Afghanistan to saving faith that restores his relationship with his wife
The second summer season of retreats through Operation Heal Our Patriots began June 2. Over the next 15 weeks, as many as 150 couples will enjoy outdoor activities, daily devotions, and marriage resiliency classes at our Alaska wilderness lodge. The following article and video tell the story of one Marine couple changed forever last year by their participation in the program.
Marine Gunnery Sergeant Felix Rivera's life after being wounded in Afghanistan four years ago is as simple—and as complicated—as 1, 2, and 3.
Give
By his own choice, he at first tried to manage his internal struggles alone. Then, determined to get better, he gradually opened up to his wife. Finally, he embraced the healing love of God in Christ during an Operation Heal Our Patriots marriage retreat in Alaska last year.
"And if one can overpower him who is alone, two can resist him. A cord of three strands is not quickly torn apart" (Ecclesiastes 4:12, NASB).
One
In March 2009 Felix sustained severe injuries during a suicide attack on an Afghan National Police compound.
<
A nothing-out-of-the-ordinary police truck loaded with explosives rolled into the compound that day and blew up, sending out cruel shrapnel on a lethal mission. Felix, only about 30 feet away from the blast, was engulfed in smoke and badly injured.
"I thought I was dying, there was so much blood [coming from my face]," Felix said. "I immediately remembered that I had sent a patrol out with Marines, so I grabbed someone's radio and called for them to come back. I knew there was going to be a complex attack on the police station."
Felix's gut was right and a firefight ensued. Despite numerous injuries, he managed to climb up a rickety bamboo ladder to the roof. As fellow Marines repelled their attackers, Felix went in and out of consciousness.
When the fighting eventually stopped, Felix was medevaced by helicopter to the U.S. air base in Kandahar. Four Afghan National Police, a dozen civilians, and Lance Corporal Daniel J. Geary, a 22-year-old Marine under Felix's command, died as a result of the attack.
From Kandahar, Felix was taken to Germany and then to Bethesda, Maryland, where he was treated. Only in July did he finally reunite with his wife, Sandra, and their son, Christian. It would soon become clear that Felix's emotional scars and physical injuries had changed him in dramatic ways.
Felix lived in his own world of post-traumatic stress disorder for well more than a year. Over and over, he relived the day of the attack. He remembered the truck exploding, the smoke, the blood, and the firefight. He wrestled with survivor's guilt when he thought about the loss of the Marine under his protection, asking himself "Why me?"
"I was like a zombie in a different world," Felix said.
His physical injuries also altered his life and relationships. It took three operations to repair his nose. He still struggles with hearing loss, back injuries, and headaches. Most significantly, he suffers from the effects of a traumatic brain injury, including short-term memory loss and cerebral atrophy.
Although Sandra and Christian did everything they felt they could to help, Felix was locked in his own mind. He alternated between anger and numbness.
"There were time where my wife had to literally snatch my son and run in a closet away from me," Felix said.
One day as the couple was sitting on the back deck of their home, Felix asked Sandra, "Why are you with me? Why don't you just leave?"
"Because I love you," Sandra said.
"I can't say I love you, because I can't feel," Felix responded.
"I'm not going to take that answer. I know you love me," Sandra replied.
Faith is a rock-solid hope that God is at work despite the circumstances. That's all that Sandra had left to cling to. She was determined not to let go of God or Felix, and she didn't.
"This is my husband. This is the father of my son," Sandra said. "How could I just leave him when he most needed me—because he's down, he's depressed, suicidal? You name it and he's been there.
"I went to every support group that was offered through the Marine Corps and I heard stories of wives saying [to their husbands], 'I'm done. I'm leaving. And then I would say, 'You're just going to get up and go? What about him?'
"Because of my faith in God, I knew it was going to be tough but I knew it was going to get better. I've known Felix since the age of 11 and I told him, 'It's easy to just get up and go, absolutely. It's much harder to stay and fight, and I'm going to fight for you.'"
Two
Sandra persevered and boldly continued to work with the Marine Corps to get Felix admitted to a series of hospitals for care. It was difficult for everyone. But then, the breakthrough finally came.
Felix clearly remembers the family counseling session that changed his outlook on life.
"I think I was the worst mess. I was crying. I didn't know how to deal with my emotions," he said.
Seeing his father's pain, 10-year-old Christian told him, "Hey, Dad, I've got your back."
The words pierced Felix's heart.
"That's what a father should be saying to his son," he said. "I made a choice. I decided I'm going to get better for my family, for my wife, and for my son."
From that point on, things began to change. Felix opened up little by little to Sandra, breaking free from a lonely mental prison. From one to two, he began to see beyond himself to the wife who loved him enough to stay.
"She stayed, for some reason, she stayed. She forced my hand and helped me get the help that I needed," Felix said.
During this time, Sandra worked with Felix to get him off pain medication, and, in countless other ways, she continued to be his day-in-and-day-out advocate. Their marriage and overall circumstances improved.
"We were in a good place, but not in a great place," Felix said.
Three
Major tensions remained in the Riveras' marriage. Spiritually, Felix and Sandra were on different pages. He had no use for religion, and church attendance was just a childhood memory. Sandra's faith in God, on the other hand, sustained her. She knew that if Felix simply trusted Christ it would change his life, their parenting, and their marriage in even more dramatic ways.
Over the years, Sandra had prayed for Felix. She'd argued. She'd pleaded for him to go to church with the family. Yet she saw no change. It was a fierce struggle, and, eventually, she stopped attending worship services herself.
In early 2012 she got a call from their military chaplain recommending Operation Heal Our Patriots, the Samaritan's Purse ministry to military couples with a spouse wounded or injured in combat after September 11, 2001. Couples are flown to Alaska for a week of marriage enrichment, physical refreshment, and the encouragement that can come only through the Gospel of Jesus Christ. The Riveras applied to the program and were accepted.
Upon arriving in July in Port Alsworth, Alaska, the Riveras and others in their group of veterans were greeted by townspeople and Samaritan's Purse staff waving American flags and cheering for their heroes. Felix said that show of support let him know something special was going to happen.
"They made us feel like they'd known us forever, like we were a part of their own family," Felix said.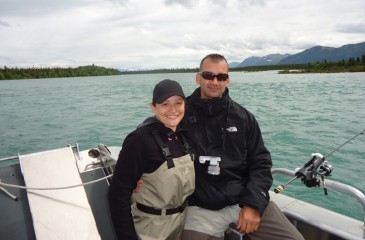 The days and nights spent together along the shores of beautiful Lake Clark drew Sandra and Felix together. As they kayaked, fished, and hiked, attended marriage resiliency workshops and devotions, and just talked in their cabin, the Holy Spirit worked on Felix's heart.
On the last day, retired Navy Captain Jim Fisher, a Samaritan's Purse chaplain, invited Felix into his office for prayer.
"That's when I gave my life to Jesus," Felix said. "He died for us. That's a lot. That's huge. If He did that for us, why can't I give Jesus a chance to work wonders through our life?"
When the couple returned home to North Carolina, everything changed.
"When we came back," Sandra said, "we vowed we were going to look for a church were we both felt comfortable and continue going. We have been so blessed. We have to praise Him."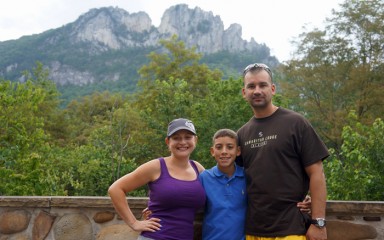 The couple found a local evangelical church last summer, where they today faithfully attend worship services along with their son. They've found unity in Christ and His Word for making life's decisions, including finances and parenting. Both feel the peace, joy, and fulfillment found only in a relationship with God.
"If you told me four years ago we would be here, I wouldn't have believed you," Sandra said. "I love Felix now more than even before we got married. My faith in God got me through."
And faith continues to buoy the relationship. "I'm still dealing with a lot of the same things, but I have a different outlook about it," Felix said.
Retired now from the Marine Corps, he's started studying psychology and works as a psychiatric technician at a mental health hospital on Camp LeJeune, the Marine Corps base in Jacksonville, North Carolina.
"This gives me an opportunity to be with the marines and sailors and do what I can to help them as little or as significantly as I can," Felix said.
"I believe God spared his life for a reason," Sandra said. "I'm so happy that he's happy.
Bold witnesses, the Riveras remain eager to share with others their story of struggle and ultimate victory in Christ.
"Everything that we have, that we've conquered," Sandra said, "is because of Him."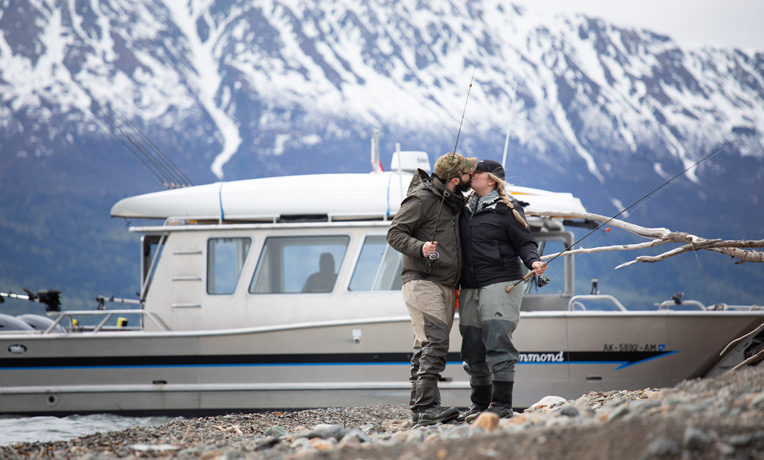 Bless the Marriage of a Military Couple
Operation Heal Our Patriots helps military couples build a strong spiritual foundation during a week of Biblically based workshops, relationship-building wilderness activities, and individual care by our retired military chaplains. We offer all this free of charge to these American heroes as a token of our appreciation for their service and sacrifice. Your gift will help us cover the costs—including transportation, lodging, activities, and long-term Family Care—so that we can help them find hope in the Lord.
---
Operation Heal Our Patriots 013960
Suggested Gift: $60