"God knew to put us here at this time," the couple says of their experience in Alaska through Operation Heal Our Patriots.
Bless the Marriage of a Military Couple
013960
Note: The 2019 summer season of Operation Heal Our Patriots ended on Sept. 13, and we thank the Lord for all He did in the lives of so many couples, including the Paynes. For more on this spring/summer, see the update at the conclusion of this article.
Army Specialist Tony Payne returned to his Evansville, Indiana, hometown as a hero. He had been seriously injured when an improvised explosive device (IED) detonated beneath the Stryker armored vehicle he was driving in Afghanistan. The blast fractured his neck and back, and he suffered a traumatic brain injury (TBI). He also received third-degree burns on both hands, but that didn't stop Tony from rescuing other soldiers trapped inside the charred vehicle and dragging them to safety. All six people traveling in the Stryker survived.
"But the newness of coming home wore off within a month or two," said Tony's wife Amy. Even worse, family and friends seemed to turn 180 degrees on them. Tony was medically retired and unable to work. Post-traumatic stress consumed him. People around town assumed he was just being lazy.
"For the first time in my life I did something to bring honor to my family, and they didn't care," Tony said. As for his friends, he came to realize they were a negative influence and had been for some time. "When I starting recognizing it, it crushed me. I really thought they loved me and cared about me. It all made me withdraw, and I just went off the deep end."
The deep end included heavy bouts of drinking and thoughts of suicide to combat the emptiness. But God was at work in Tony's heart. One day, he decided to pick up a Bible and read it for the first time. The experience was unsettling.
"I freaked," Tony said. "I woke Amy up out of bed I was so scared, because I realized that God didn't accept my behavior. I could also see why He pulled me from my friends and everybody else. He knew I believed in Him, but He wanted me to learn about Him."
And learning more about God was exactly what Tony did. But as he continued to explore the Bible and his new faith in Jesus Christ, Amy remained skeptical—and angry.
"I was angry at everything," she said. "I would try and try to help Tony, but he couldn't accept my help or I didn't know how to help him in the right way. It made us very distant and caused a lot of issues. I had nowhere to turn to."
But then Amy heard about Operation Heal Our Patriots, the Samaritan's Purse ministry to injured post-9/11 veterans and their spouses in Alaska, and applied. The application was accepted, and soon Tony and Amy were on a plane headed for Samaritan Lodge Alaska.
Tony's prayer when they arrived in Alaska on a Sunday was for God to reveal Himself to Amy before they departed on Friday. He had continually shared his faith with her over the past three years, but she found it difficult to accept.
"When I was trying to teach Amy about God, she didn't want to listen to me because she had followed me before, and I had failed her," Tony said. "That broke all the trust."
Amy arrived in Alaska wanting "to be good with God and Jesus," she said, although she was still skeptical that the faith Tony talked about was true. But God was also at work in Amy's heart.
In their marriage enrichment classes led by retired military chaplains, Amy heard the same things about the Gospel of Jesus Christ that Tony had been telling her.
"I looked at Tony and said, 'That is exactly what you were trying to tell me, and I just was not understanding it.'"
On Wednesday night, Amy invited Jesus Christ to be her Lord and Savior, and on Friday morning Tony and Amy both were baptized in the refreshing waters of nearby Lake Clark. God had answered Tony's prayer for his wife, and He used the week to strengthen Tony's faith and witness, too.
"This is the first time I've had to put into practice being sober," he said. "I've always had to drink to open up and try to communicate with people. But being around people here who opened up to me I've learned that I can do it sober and effectively."
"We went through hard, hard times," Amy said. "But I wouldn't change a thing because we wouldn't be here in this exact moment with these hopes for the future if none of that had never happened. God knew to put us here at this time with these particular people for everything to come into place."
Looking back on the week in Alaska, Tony was amazed and thankful for what God had done.
"Now we're both walking the same path together," he said. "We've finally got a set standard to live our life by that we're both in agreement with. We're serving God and that's the main point."
—
In the summer of 2019, over 16 weeks, a total of 155 military couples came to Samaritan Lodge Alaska and went through a week of Bible-based marriage enrichment training. Retired military chaplains taught daily classes, and our wilderness guides led couples on once-in-a-lifetime excursions. Time was built in for private counseling as well.
We praise God that 61 individuals received Jesus Christ as Lord and Savior during their time in Alaska. Sixty-eight participants were baptized. More than half of all couples, 81 in total, publicly recommitted their marriages to God and each other.
Operation Heal Our Patriots is a year-round ministry of Samaritan's Purse, connecting military couples to each other, to our aftercare staff, and to local chaplains and churches. We offer regional events and trainings, opportunities to serve those in need (Team Patriot), an annual reunion, and ongoing counsel, discipleship, and encouragement.
Since starting the project in 2012, Samaritan's Purse has welcomed more than 1,000 U.S. military couples into the Operation Heal Our Patriots family.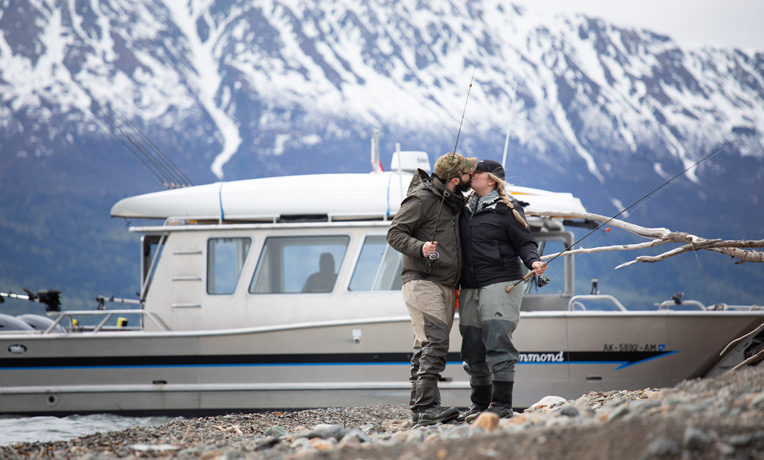 Bless the Marriage of a Military Couple
Operation Heal Our Patriots helps military couples build a strong spiritual foundation during a week of Biblically based workshops, relationship-building wilderness activities, and individual care by our retired military chaplains. We offer all this free of charge to these American heroes as a token of our appreciation for their service and sacrifice. Your gift will help us cover the costs—including transportation, lodging, activities, and long-term Family Care—so that we can help them find hope in the Lord.
---
Operation Heal Our Patriots 013960
Suggested Gift: $60